Young Sir turned one month old on Tuesday! How does time pass that quickly?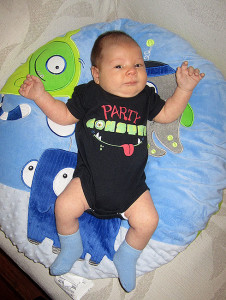 We weighed him on Monday night and he was 9lbs 10.5 oz! No wonder he sized out of newborn clothing and diapers the week before. He's getting sooo big.
YS is still a very efficient nurser and still pauses to burp and spit up. I'm still working on remembering his cues for this. Sometimes I miss them and end up getting baby spit up all over me. Eh, just part of being a mom. Because of this, he never just falls off the breast milk drunk. And even if he does, I have to move him upright so he can burp. I've tried to nurse him in a more laid back position or one where he is slightly more upright than sideways.  At night i make sure he's pillowed in my arm to nurse. That often helps, but sometimes I have to burp him at night, which is tricky when I'm half asleep and don't want to sit up. We sleep with a towel under us to help with the spit up and my leaks. He likes to get his hands into the way when he's hungry and sometimes he moves his head back and forth looking for the nipple when it's right in front of him, but we're pretty good most of the time.
YS is a SUPER chill baby most of the time. He can be put down when awake and he mostly doesn't complain (unless he's really hungry). He's in his playmat next to me right now just enjoying looking around at it while I am pumping and typing this.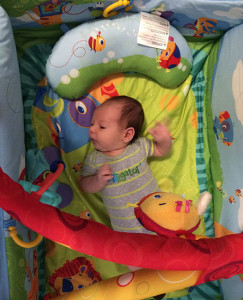 Ok, done pumping…10 min and got about 6 oz total. We're going to try introducing a bottle next week and I'm also working towards becoming a Milk Bank donor. Just need to sign and send in the paper work and get my blood test done.
YS is already developing good head control already, just like his brother.
He still doesn't like diaper changes. However, I think part of it may have been the wipes we were using. I got a sample of different wipes and he doesn't scream when we use those. Also, when using those his diaper rash started to clear up and when I switched back to the original brand it came back. Not sure if it was the cause or just a coincidence, but I switched back to the sample pack wipes and it seems like the rash is going down again.
Once he falls asleep, YS is a pretty good sleeper. We can play "transfer the baby" and he generally sleeps right through it or at least will quickly fall back asleep. This is super helpful in the mornings for the dropping off of Little Prince at daycare. The only time he gets restless when sleeping is if he and I are sleeping together all cuddled up skin-to-skin and I try to move away from him (to go to the bathroom or get dressed/deal with LP in the mornings). Then he tends to twitch and wake up. And as for most babies, getting put into a carrier = almost instant calm and sleep.
Ok, he's starting to get fussy in the playmat and I need to deal with the milk I pumped, so it's time to go.