Yesterday I washed two bottles and a sippy cup that had had breastmilk in it and thought, "This is it."
Remember how in March I said I was going to stop pumping at work around Little Prince's second birthday (which is at the end of this month)? Well, it happened last Thursday.
At daycare, Little Prince had started asking for milk less and less. In March I started sending only 5-6 oz. As he wasn't drinking all of that, I started sending only 3-4 oz. I dropped my pumping time at work to only 10 minutes.
In April I nervously asked his daycare teachers to always offer water first but to give him milk if he asked for it. Some days he did, and some days he didn't. Toward the end of April his sippy cup that I sent with milk was always coming home as full as I sent it. About two weeks ago we started hiding the cup of milk in the big fridge at daycare so he wouldn't even see it. Since then, he's never asked for it.
Last Friday I was really busy at work and totally forgot to pump. I didn't even notice, which any breastfeeding mom can tell you is a big deal, because if you need to empty a breast, you notice. So this week I decided to stop pumping and stop sending milk. I was really scared that on Monday Little Prince would randomly ask for milk again, but he hasn't. And it's so liberating not to have to pump, esepcially since I got to stop two weeks "ahead of schedule." After about 9 months of pumping twice a day and almost a whole year of pumping once a day, it's amazing to get the time back. And I'm really proud of myself for being as committed as I was and doing it for as long as I did.
We still have a small freezer stash (just in case) and if I'm away from Little Prince for a significant amount of time, I may need to pump a bit, but in general, I am DONE PUMPING! Hurray!
And now, in honor of the new Star Trek movie coming out this week, here's Little Prince yelling "Khaaan":
Well, it looks like we're actually on the path to a nice natural slow baby-led weaning.
6 months or so ago Little Prince was still breastfeeding/taking milk at daycare a good 8-10 times a day. I'd say 3 months ago it was still 6-8 times a day. Now we seem to be down to about 5 times a day. He's also eating more, which is probably partially just growing up and partially getting in his molars with canines not that far behind (oh our night times are fun these days!).
About six months ago Darius and I encouraged a bit of night weaning using the Jay Gordon Method (modified). Instead of picking a middle of the night 7 hour stretch, we picked from when he fell asleep (usually around 8:30-9) until 2am to be the time that "milk was asleep." It hasn't always been easy. Sometimes, like when he's sick or teething, we add a few more sessions back in. But most of the time this gives Darius and I a bit of evening time to ourselves and at least a few hours for me of uninterrupted sleep (before we started this, Little Prince was waking up every 2-3 hours to nurse… the joys of reverse-cycling). Sometime around the holidays I noticed that sometimes 2am was more like 3am, occasionally even 4am. But there would be a long long feed or three before it was time to get up for the day. Just recently I realized that the number of feeds overnight has seemed to drop to a 2 or 3am feed and then a 5 or 6 am feed. We've generally dropped a night session. I was going to start encouraging this in April (after the March craziness died down), but it looks like LP is starting to do this on his own.
Back in late January or early February, Little Prince's awesome daycare teacher informed me that he was not drinking all the milk I was sending with him each day; he was starting to ask for water instead. So I started sending about 6oz instead of 8oz. Yesterday I found out that he's not even drinking all of that. So now I'm going to start sending about 4-5oz. It was funny because she seemed so remorseful when she told me, but I was super excited that he was making this choice on his own. I think next month I'm going to ask them to always offer him water first instead of milk, because I plan on stopping pumping at work around LP's second birthday. While we still have some freezer stash left, it's not what it once was and I'm definitely pumping less milk than I was three months ago.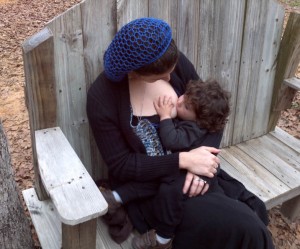 A few weeks ago I noticed that over the weekend (when Little Prince use to nurse about five times from when he woke up until when I put him to sleep), he had dropped the mid-morning and mid-afternoon nurse.
Ever since I started work, when Little Prince was 11 weeks old, we (almost) always had a reconnecting nursing session when we saw each other again. When he was a little, little one, this was a 45-60min nurse-nap session. As he's gotten older, it's been more like 10-15 minutes. In the past few months it's been "Couch, mommy, more milk…more milk, other side." He says it "meelk" which is super cute. But in the past week or so he mostly hasn't asked for milk when I've gotten home. It's kind of bittersweet for me, because I liked that reconnecting moment. That time where I could put aside my work day, relax, and become mommy again. But I've been getting a huge hug from him instead, so it isn't all sad.
Of course I still breastfeed him when he gets hurt or surprise-hurt. Sometimes he even says "hurt, ouch, milk" through his tears. I guess I'm doing (mostly) don't offer, (mostly) don't refuse. I still offer at bedtime and weekend nap time. And sometimes I'll try distraction/other food/water push off to see if he's more interested in that.
As for going to bed at night, I still offer every night and he still nurses in bed, but sometimes he doesn't fall asleep from it. Lately he'll alternate asking for milk and for water. Sometimes I think water is a distraction/I don't want to go to bed technique. And the whole daylight savings time thing really threw us off. Still, I guess it's time to start figuring out how to get him to fall asleep on his bed and without milk, other than walking him, which always works but I really don't want that to be the only way he'll ever fall asleep.
Last night Little Prince picked up a Lego block and three crayons. He'd put the crayons into the Lego block, dump them out and do it again, always in the same color order. I got video of some of it:
This morning when my Little Prince woke up, we did our normal weekday routine of him asking for "more milk" and me gently letting him know that it was time to get up and go to daycare and he could have milk there. Then I scooped him up and brought him to the bathroom where I took off his pajamas and overnight diaper and sat him on the little potty in there.
We've been doing the "sit on the potty" thing for a little while now. They do it at daycare twice a day just to get the kids use to it. So we started doing it at home right after he wakes up and right before his evening bath. He sits for a bit and sometimes reads a book. One time he stood up and peed on the floor right in front of it.
However, this morning when I took his diaper off of him, I noticed that it felt rather dry. This has been happening on and off for a little over a month now. Sometime mornings it's full and some mornings it's not. Anyway, we were sitting for a bit and he started holding with his penis, saying "penis, penis*" then all of a sudden he let it go and started peeing right into the potty. I was so excited for him. When he was done he seemed a little freaked out by the whole thing and wanted to cling to me a bit. I praised him and told him how proud I was of him for peeing in the potty. As I got a new diaper on him, I started wondering what I was to do with the urine in the potty. I hadn't expected anything like this to happen for a little while still, so I was still somewhat unprepared. I ended up bringing him back into the bathroom and showed him how the urine goes in the big toilet to be flushed and then I rinsed out the potty.
So I have no idea if it'll happen again soon or happen with any degree of regularity, but it's a start and that makes mommy really excited.
* After saying "penis" at home for a while now, he finally said at it daycare earlier this week. His teachers informed me of this the next day. I let them know that I knew he knew the word and I was just glad he wasn't calling it "belly" anymore.
The other week a mother in Houston was harassed when breastfeeding her child while shopping at Hollister. A ton of moms got together and staged nurse-ins all around the country. Some moms at a mall in Delaware were harassed by mall security at the nurse-in!
I took my Little Prince to a local one. There were only three of us moms there, but that's okay. We just sat around in the chairs at the entrance to the store and breastfed our children. Man, the music they play there is LOUD. The only thing that happened was that a store manager came out and told us we couldn't take pictures (after I took one of another mom – it's picture #12 here) due to it being their storefront or something. Whatever.
We were there for about half an hour, but it's nice to know that we were part of something bigger.
Maybe by the time my son is an adult we'll all get over this crazy hang-up our society has about breastfeeding and see it as a normal thing. Until then I'll continue to do my part to help normalize breastfeeding wherever I can and to give thumbs-ups to moms I see nursing in public (which I've done at the outlet mall and at the Houston airport).
Although I was sick on Yule, we had our Yule celebration (somewhat muted) anyway. We got our Little Prince his very own R2D2, which made him very happy, and a few other toys and books. He also got some Duplo from us and from his West Cost Grandparents.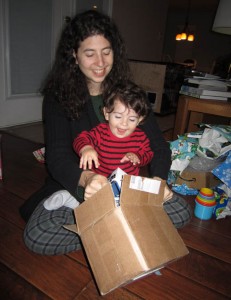 We had some friends come and help us wrangle LP so we could prepare for our very first plane trip with our little prince. On Christmas Eve we flew to Massachusetts to visit with Darius's family and some of our college friends. LP handled the first leg of the trip just fine. His ears didn't even bother him. Half way through the second (and much longer) leg, he started saying "all done airplane." It's very hard to explain to a toddler that we can't really stop and get off of the airplane right then. At least he fell asleep for the rest of the ride soon after that.
Overall we had a really wonderful visit with Darius's family and seeing some of our friends. Little Prince fell in love with my SIL2 and his cousins, my niece T and nephew N. I'm pretty sure LP spent more time in SIL2′s arms than in mine while we were there. We stayed in N's room, where there was a fish tank. This made LP very excited.
It snowed on Christmas morning. There's something magical about snow on Christmas morning, even if it's not your religion. So after the first round of present opening, we got LP all snow-suited up and played in the snow. Well, more like waddle around and throw snowballs, but he seemed to have fun.
During the trip we took LP and T to an indoor play area, where LP had a ton of fun in the bounce house (once I convinced him to go in it) and on the bounce house slide.
One day we even got to go into Boston with SIL2 and T. We visited the Children's Book Shop and Henry Bear's Park in Brookline and then went to the Aquarium. LP loved the big fish, the big turtles, the "Nemo" fish, and getting to pet the sharks. I decided that octopodes are creepy. We also hit up Legal Seafood for some chowdah, which usually LP loves, but he was tired and cranky after the long day, so he didn't want to eat much of it.
We had a playdate with some of our old friends from college and their baby. She's not even a year and almost as big as our little little guy. I wish I'd gotten a picture of the two of them next to each other. We also drove around another day with the best man from our wedding and I got to purchase another baby carrier. (No I don't have a problem. It's totally reasonable to have four carriers, especially when LP's already outgrown one of them.)
Before we left, it snowed a good couple of inches, so LP was able to experience sledding for the first time. As expected of a child who loves slides and being tossed around, he loved it. You can't really see it in the video, but he's grinning like crazy.
The trip home on NYE was pretty much exhausting. We did get to Skype with Tante for her birthday while SIL2 was driving us to the airport (I love living in the future). The flight from Boston to Houston took an extra 20 minutes cause of a strong headwind. LP slept for the first hour and a half/two hours, but after that it was kind of hard to keep him entertained. And he got really upset when I had to put away my phone, because he was watching The AristoCats (again) on it. However, the woman next to us commented that he was really well behaved so I guess it wasn't as bad as I thought it was. I was worried that LP wouldn't be willing to get on an airplane again after the long flight, but it wasn't a problem. Thankfully the second leg was so short.While we were in MA, Little Prince turned 19 months old. I can't believe just how much he's growing, saying, and doing these days. He's talking in full sentences, has started to get colors figured out, and can even step up and down stairs.
Our Little Prince was throwing up all Sunday evening to night from 6pm to about 3:30am. He was finally able to hold breastmilk down at 5:30am. Took the day off from work and stayed home with him. He threw up again once Tuesday night, but was fine after that. I'm still convinced it was because I took a Zyrtec on Saturday night and on Tuesday morning.
I woke up at 3:30 last night to breastfeed LP and was all shivery and my left breast was tender to the touch. Darius went to work (he leaves early) and after he left I started spiking a fever of 104-107°. For someone who runs 98°, this is a big deal. I couldn't drive myself anywhere, I felt too bad. My awesome almost-neighbor and LLL leader saw my posts on Facebook, came over, got LP dressed, got me to the ER and took LP to daycare. Darius met me at the ER. They gave me an IV of fluids and some strong antibiotics. I also got a prescription for strong antibiotics and I made sure they are breastfeeding friendly. For those who care, they're class B.
Came home. Rested, ate, pumped, watched Mythbusters and the rest of Your Highness, napped for a bit and relaxed for a bit. Fever is down to 99° last I checked and I'm all sweaty. My left breast still hurts a ton and is hard and tender to the touch.
Darius and LP will be home from daycare soon.
Mastitis sucks, but my friends are awesome.
Hope you're having a blessed Solstice.
Our Little Prince turned eighteen months old last week. That's a year and a half of this awesome little person being in our life. We had our 18 month check-up and while the pediatrician said he looks like he is "filling out," he's still a tiny guy: height 30¼", weight 19lbs 12oz. So in six months he's grown about 2 inches and put on almost 1.5lbs. Somehow it seems more reassuring that he is growing when I look at it like that.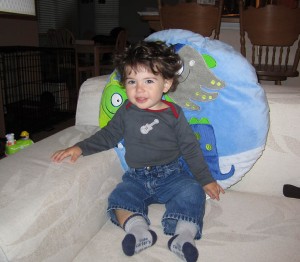 Here's a bullet list of 18 things about LP at 18 month, interspersed with a whole bunch of pictures and videos.
Lately he's been putting words together with alarming regularity. We have "cold outside", "school bus", "Ernie eat", "That's a kitty", and my favorite, "Mommy made apple pie." He's also hitting the "my/mine" stage full on.
At daycare they've started sitting him on the toilet twice a day. So we got a little potty and LP really loves to "sit on the potty." Hasn't "used" it yet, but we're getting the idea.
He loves to help around the house. He'll stir stuff in a pot, wash dishes, and sweep the floor.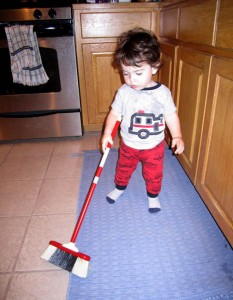 There were a ton of leaves in our front yard so I raked them into a pile and we played in the leaf pile for a while. Yes, he's wearing shorts and a t-shirt. I'll take my 100° summers to have 80° in December.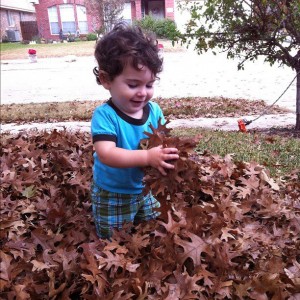 He loves books, Star Wars/R2D2, Elmo, Cookie Monster, and Ernie. He also went nuts when we showed him some of the Aristocats because he could identify the animals and had to tell us about them.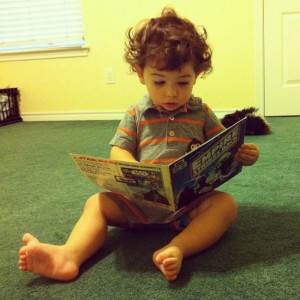 We are working on being the very best nerd-parents/totally messing LP up forever. He can say "die" and "dice" which is cute in general, but when he turns to me and says "mommy, die" it's a little weird out of context. Although when he said "tante, die" while we were Facetiming with my sister it totally made my night!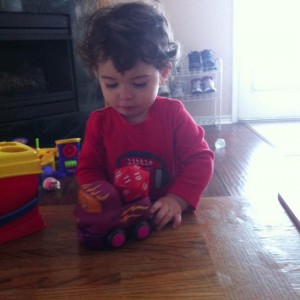 We've also taught him to clench his fists and yell "Khaaaaaaan" which is just super adorably cute. (Still working on getting video of that one).
He's still nursing a ton, although the "milk is asleep" from when he falls asleep until 2am is working out pretty well. Sometimes when he wakes up before 2am and I tell him that "milk is asleep" and he gives me this "No" wail that reminds me of Luke being told that Vader is his father.
He's also eating more. I try not to be worried when he's not interested in food at dinner time, but it can't always be helped. Then I remember that he eats well at daycare and he has a snack on the way home from daycare and also breastfeeds for a bit when we first get home.
He still loves apples more than just about anything. He also likes sweet potato fries, sweet potato puffs, crackers, turkey (but not chicken as much), pasta, blueberries, and strawberries.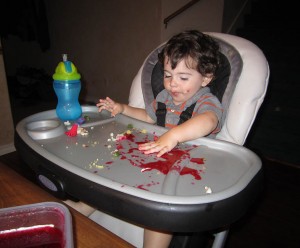 LP can go up and down stairs. When he says "up the stairs" it kind of sounds like "apple juice."
On that note, he had a big tumble down the stairs the other day. I thought he was at the bottom of the stairs, I turned around, turned back and he was half way up them. Then he turned around to see me, and lost his footing. He rolled down about four stairs sideways before I got to him. Picked him up and assured him he was fine. Breastfeed him for a bit, and then we went down and up the stairs again to make sure he wasn't afraid of them.
He currently has four top teeth, two bottom teeth, and a third bottom tooth is part way in.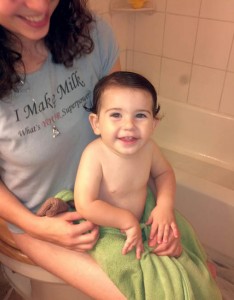 He loves slides. At the playgrounds he's figured out how to go up the stairs, over to the slide, and go down it.
Like his father, he's a "reaction junkie." If I react to something he does and he finds my reaction funny, he'll do it over and over again to try to get the same reaction. He loves to blow raspberries on my tummy. The other day he tickled my knee and when I squealed (I'm super ticklish) he did it again and again all night.
His favorite game to play with us is "boo/hi." He'll hide behind something, such as the couch or a wall, and then jump out and say "hi" or "boo." It's so cute!
We're trying out All-in-Ones/Pocket diapers again because a. I'm tired of using disposables when we go out and b. he doesn't need to be changed as often as when he was 3 months old and will tolerate a wet diaper more. So far so good. We've purchased a couple of the very nerdy diapers over on Seams Geeky, because who can resist Final Fantasy and glow-in-the-dark Tron diapers?
I currently have four baby carriers in the house, but one I don't use any more (the Moby) and one I'm borrowing from Austin Babywearers. There's another one I'm lusting over. I may have a small problem. But he likes to be worn and I still like to wear him.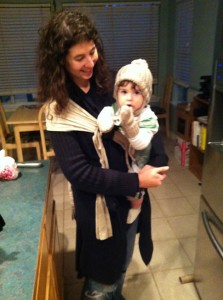 In closing, in case you are thinking about getting him anything for this holiday season, here's his Amazon wishlist. Clothing is also always appreciated. He's at that stage where he's in between the 12 and 18 month sizes.
Darius has been mentioning to me for months that our Little Prince's hair was too long and it should get cut. I kept protesting (and making some sort of "against my religion" claims…which are only partially not very not at all true). However the other week I actually pulled the start of a dred out of it. And it was starting to look straggly and get pulled easily.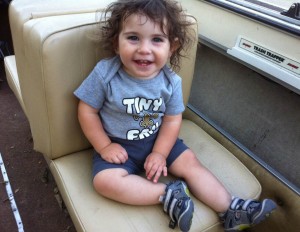 I finally consented that it needed some trimming and a shaping. So after asking some of my local mommy friends, two weekends ago we took LP to Pigtails and Crewcuts for his very first professional haircut (instead of a mommy hacking at his bangs after a bath cut). There was a long wait when we got there, so we added our name to the list and then played around in Half-Priced Books for a while. LP pulled a Star Wars book off the shelf, which made mommy proud, but it was an Episode I book, so I had him put it back. After a while we went back to the hair salon and he played with the train set for a bit.
When LP's name was called, we got to pick the seat. We went with the Taxi seat. As soon as the stylist put the robe on him, he got upset, and instantly there were bubbles and toys, The Jungle Book on a TV, and snacks offered. We were really impressed at how well they were able to calm him down. The stylist cut his hair and then asked me and I said it was okay to cut a bit more, but we wanted to leave the curls, just get a good shape. She was awesome and did a very good job. We got the "First Haircut" package, which included a picture and a lock of his hair as a keepsake.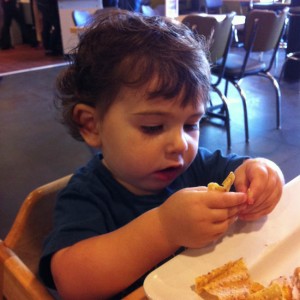 After the haircut we went out to lunch. I've been really happy with how his hair has looked since the haircut. It still has the curl and some of the wildness, but the shape is so much better. And he doesn't get mistaken for a girl quite as often now. We will totally bring him back there the next time he needs a haircut.
With the moving, the changing rooms at daycare, and Austin ComicCon, Halloween sort of snuck up on us this year. Also, I just couldn't come up with a good family costume that would "read well" (James, Lily, and Harry just doesn't read without the scar and if James and Lily are alive then Harry wouldn't have the scar…).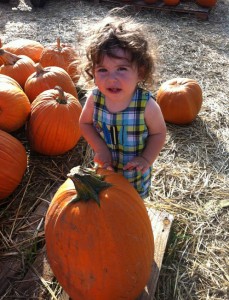 We did make it to a pumpkin patch to pick out a pumpkin. On Tuesday before Halloween, we set up in the kitchen to let Little Prince help pull all of the seeds and guts out of it. We thought that he'd have a lot of fun with it. Instead he decided that he didn't like the texture of the pumpkin guts and kept trying to put the seeds back into the pumpkin. At least we got some cute video of that:
On Halloween I just put Little Prince in his Star Trek TOS Engineering onesie. Darius said it doesn't count as a costume if you'd put him in it on other days, but I didn't care. I also had him in his awesome skeleton hoodie that his Tante got him.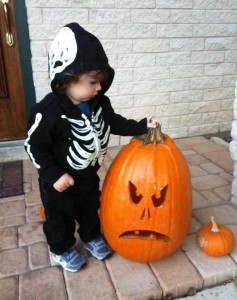 That evening I took him trick-or-treating around the neighbourhood in the stroller. At first he didn't have much of an idea of what was going on, but by the end of our time out, he kind of did. He'd hold once piece of candy in his hand, and then we'd come up to the next house. He'd sort of say "trick-treat" and then when the person went to give him a new piece of candy, he'd give me the old one and hold onto the new one. I also made sure he signed "Thank you" after being given the candy. He didn't really eat any of his candy, except for a few small bites over the past week. He's not really a huge fan, yet.