Yesterday Little Prince had a very busy day.
It started around 7:30 with Little Prince not wanting to wake up.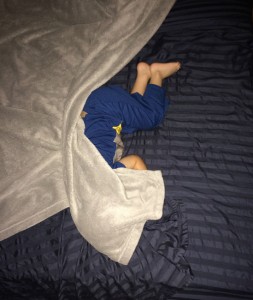 After he finally woke up, we got ready to go out and got kolatchies and donuts for breakfast. Then we headed out to the park.
At the park, we met up with friends, B and R, and their daughter, EB. We got EB and LP changed into special Marvel print outfits that B had made and did a little photo-shoot with the two of them.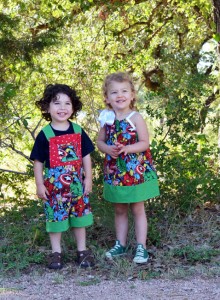 B runs the company Geek-A-Bye Baby and she wanted to get pictures of the overalls and the dress for her website. The kiddos did really well and had a great time. They were awesome about posing and smiling and taking pictures. They really liked it when we moved from the trees and let them play on the playground for a while.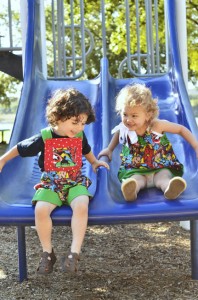 Then we changed into bathing suits and let them run around the splash pad that was there. Ok, I ran around with them a lot too.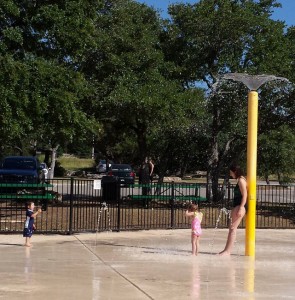 After a good long time playing in the water, it was a pause for snacks, then changing back into regular clothing and back over to the park again. They played there for a little while and then it looked like EB was running on about 5% battery power, so we said our good-byes and headed home. I thought LP would fall asleep in the car on the way home, but he didn't. He was super cranky during lunch and didn't eat too much. We were all pretty exhausted after lunch so we all got into bed together took a 1.5 hour family nap.
Then it was time to get up and get moving again. I'd made sure to get LP's swim suit and towel into the washer before our nap and quickly got it drying. Then we let LP watch one episode of one of his new favorite shows, Jake and the Never Land Pirates, (the other being Daniel Tiger) while Darius and I switched off showering and getting ready. Then we walked over to CR, AR, VR, and ER's house for VR's birthday party. There LP had fun showing off his overalls again. The party was good and low-key. All kids from VR and LP's daycare class and two older siblings. They played in the pool and the sand-pit and ran through the sprinkler and had cake. Darius and I could tell near the end of the party that CR and AR could use some help, so we invited them back over to our house after the party was over with an offer to make dinner.
Back home I gave LP a quick bath/shower and tried to get some of the sandbox sand out of his hair, which mostly worked… We made pasta with sauce and broccoli for dinner for the seven of us. LP was annoying/funny in that toddler way, claiming that he didn't like broccoli, but finally when I got him to eat a piece, declaring that he said that he likes broccoli and eating a few more pieces (but he only eats the stems).
After dinner, LP got to do what he really wanted to do, which was take VR out for a ride in his Jeep.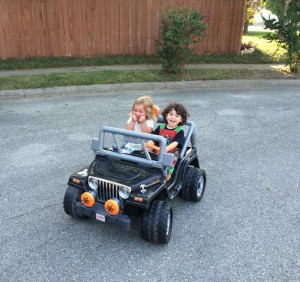 VR was both terrified and thrilled and couldn't quite figure out how it worked. ER had fun driving it, but at a tall 6, she almost didn't fit. Finally it was time for our friends to go home. We let LP drive around a bit more on his own and then it was time to go inside. He played a bit more and then we got him ready for bed. I thought he would fall asleep quickly, but he didn't. He finally did fall asleep, though.
This morning he was very hard to wake up, poor guy. I'm glad I'd washed his overalls last night, because he wanted to wear them to school this morning.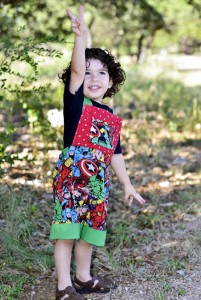 On May 28, my Little Prince turned 3 years old!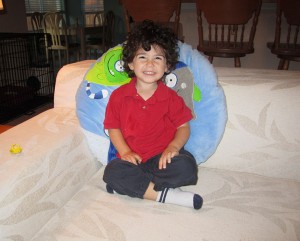 At his three year doctor's appointment he measured 24.6lbs and 34.2″ tall. Still a small guy, but growing right along his curve. His pediatrician said that he looks good and that he should be in print (seriously, if we only had time to take him on auditions, we would!).
For months now LP has been asking us for a Batman cake and a Justice League birthday party. So, on Sunday June 1, that is exactly what we threw him. I worked really hard to find JL decorations, bags, etc that included both the men and women of the Justice League together. Do you know how hard it is today to find that? Lots of eBay searching. But I think I did a good job.
We invited his whole class and some of our friends and neighbors to the party and had a great time. We rented a Justice League bounce house, which the kids (and adults) loved and was totally worth it.
My mom had gotten me the old Superman/Batman cake pan and I think that his cake turned out really well.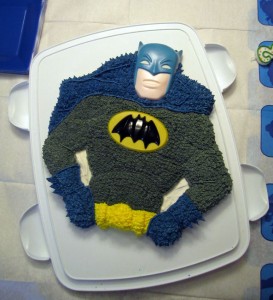 We also had push-pops to help everyone cool off and Darius made an awesome fruit salad that we served inside of the hollowed out watermelon.
LP got lots of great stuff. I think it helped that I included in the eVite a list of things that he's currently into.
For a long time now, when LP has said he wants something, I've replied that I want a million dollars and a pony. So he started responded that he wants a million dollars, a pony, and Batman boots. For his birthday I got him a Darth Vader lunch box with fake money in it (a million dollars), a Rainbow Dash doll (My Little PONY), and, of course, Batman rain boots. I thought that I'd done really well with the gifts.
But Darius got LP the best gift of all. He'd saved his overtime pay for months and surprised LP (and me) a Power Wheels Jeep. See, LP has been obsessed with Jeeps lately. And he kept saying that he had a black and chrome Jeep, but it was broken and he and daddy were going to fix it. So Darius got him a black Jeep that came disassembled. And the day after his party, they "fixed" it together and then LP got to take it for it's first ride around the cul.
Video from the party. Blame all cheesy effects on Tante:
Lots more pictures from the party can be found in the LP's Third Birthday Party Photo Gallery.
The other day Little Prince was playing outside with our neighbor's son, E, who is almost four and probably a head and shoulders taller than LP. E had a beach ball and the two boys were throwing it back and forth and up in the air. At some point the game became grab the ball on the ground, but really it turned into wrestling a bit. E's mom starts up with the "Be careful of LP. He's smaller than you." It's the first time I really started worrying about how others will see him because of his small size (he's in the single digits for height and weight and always has been). I'm thinking that LP can totally hold his own, especially since most of the noises coming from the boys is giggling. Then something happens and LP cries out unhappily. E's mom repeats the "be careful with LP" line. After checking LP was fine, he was, I go over to the boys and look at them both. I tell them, "You can keep playing like that, but keep it on the grass. But if you hear 'ouch,' 'stop,' or a cry from the other one, you have to stop right then. Got it." I'm not sure they totally did, but they went back to playing. And there were a few cries and we had to remind them to stop at that moment, but mostly they were silly and happy and giggling.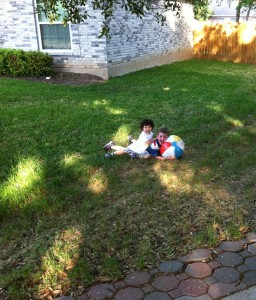 Yesterday when I was dropping LP off at daycare, one of his good friends was not having the best morning. He went over to her and tried to give her a paint brush she had dropped, but she kept moving away from him and sort of whining. He kept trying to be nice and hand her the paint brush, but she backed away and hid behind their teacher. I went over to LP and explained to him that she seemed upset and while I know he was trying to comfort her and that she's his friend, if she is saying no, ouch, or backing away, he needs to respect that and stop, even if he's trying to be helpful.
And that is one of the ways I'm starting to teach my son consent at a young age.
A few weeks ago Little Prince moved up to the next room at his daycare. The big change for this room is that they actively work to potty train the children in the classroom. Little Prince has been using the potty on-and-off since he was about 18 months old, but nothing has been super consistent. Sometimes he's great at it and sometimes he was afraid of it and sometime he absolutely refused to sit on it. Honestly, we haven't really been that consistent with him either. Partly because we hadn't made the mental effort and partly (for me at least) because I wanted to wait until after our Mardi Gras trip before we did a big push. Since we got back we've been working on it more, but LP still doesn't usually ask to go. It's more of us putting him on the toilet. And the only time he's pooped in the toilet was when I caught him mid-poop and got him on there. Still, he was really excited about that.
The other week we got the official "your child is ready to potty train" letter. In talking to his teacher, she said that he was really smart, and probably could get it quickly, so she recommended the cold turkey to underpants method. I'd been promising LP that he could have Batman underpants when he learned to use the potty. So we went ahead and ordered one package of Justice League underpants and one pack of just Batman underpants. They came in last week. We waited until this weekend to start. All last week we let him know that he'd be in underpants over the weekend.
I present to you Little Prince in his very first pair of underpants ever: Batman!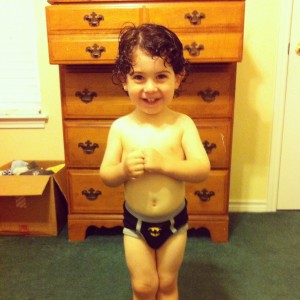 He was super excited to be in "big boy" underpants all day. On Saturday we only had one "oopsie." It was in the afternoon and he'd refused to go sit on the potty a little while before and we didn't push it. He was running to the door to greet V and E who came over for a playdate when it happened. I'm pretty sure we would have had a poop oopsie in the early morning, but he'd asked to keep his 'jamas on through breakfast and so we didn't actually put him in his underwear until after breakfast and he'd already pooped by then. On Sunday we didn't have any pee oopsies. We did have a poop oopsie in the late afternoon. He was playing by himself and I was downstairs with my mom when Darius caught him doing his "I want to be alone" poop behavior. By the time we got to him, he'd already gone. Oops.
He went to daycare today in underpants. He's definitely my child because as soon as he walked into the classroom he wanted to pull off his pants to show his Batman underpants to all of his friends and his teachers. We'll see how he does today.
It seems like the biggest obstacle we have to overcome is to get him to recognize when he has to go and tell us before it happens, not afterwards. We're working on it. Lately as soon as he pees he says, "See I told you I had to go" which is totally the opposite of what actually happened. We'll get there.
My only sadness is that we'll never get to put him in his Kickstarter diaper from Seams Geeky, as we haven't gotten it yet. Oh well, we knew that might be a possibility when we funded them. Now to figure out the best way to prep prefolds, covers, and pocket diapers for storage and to figure out what we want to do with the changing table in his room.
We decided that 2.75 would be the perfect age for Little Prince to experience his first Mardi Gras in New Orleans.
On Thursday, Feb 27, we got into the car nice and early and drove to New Orleans. The drive went pretty well overall. Little Prince used the potty twice on the way there, which was totally unexpected and cool. He did fight sleep for over half an hour after lunch time, which sucked. We were really hoping to get in to NOLA in time to head over to Tante's and catch Muses, but we hit some nasty traffic in Baton Rouge and by the time we got to Grandma R's, we were all just exhausted.
On Friday Grandma R showed us that she'd saved a huge amount of our childhood toys. Little Prince was in heaven playing with it all.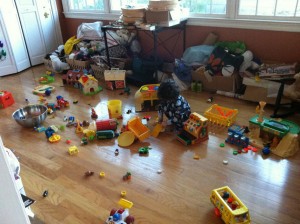 That evening we headed over to Tante and Bullit's for our very first Mardi Gras parades. Darius got to learn just how stressful parking during Mardi Gras can be. We got to Tante's, ate dinner, and then the parades started right outside her door.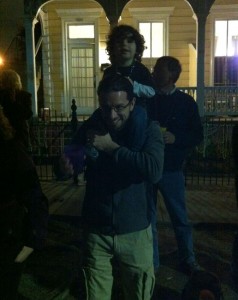 Darius with a drink in his hand and LP on his shoulders.
That's doing Mardi Gras right!
It was almost bedtime. I turned away from Little Prince for maybe half a minute. When I turned back around his nose was bleeding. It had to have happened quickly because there was only blood on him and three drops on the costume bin that's under the window. I have no idea how it happened, but I didn't hear LP call out in pain or fall or bang into anything. I called Darius into the room as I was dealing with LP and he was just amazing. He sat him on his lap, helped him get his head tilted down and stay that way, and held the tissues to his nose. I quickly looked up what to do with a nose bleed and when to head to a hospital. LP was very calm throughout the whole thing. He wasn't crying out in pain or upset at being held still. I think he was a bit freaked out. To help him stay still while the bleeding stopped, we showed him some videos on my laptop, mostly the minions songs from the Despicable Me series.
After about 10 minutes the bleeding had mostly stopped and LP had two good sneezes during which no blood came out at all. I took over the holding the child and pinching the nose closed with a tissue duty and after another few minutes there was no blood at all. We praised LP for being so brave, sat him on the potty (he peed! he's getting so much better at that!), brushed his teeth, and got him into bed. I must have fallen asleep with him because Darius had to come in and wake me up.
So that was our first nosebleed experience. We're sure it won't be our last. And now we know when to take a kid to the hospital for a nosebleed and when not to.
Oh we had a morning. One of those nothing is going right sort of mornings. Little Prince rolled out of our bed and hit his head on something at 5 in the morning and wanted an ice pack and not milk and then wanted milk and wouldn't fall back asleep. When he did fall back asleep for a bit, when i tried to move out from under him to take a shower, he woke back up. Let him watch the opening 10 min of Frozen on my phone while I showered. Nothing was right for the whole morning after that. I don't need to go into all the details, but there were plenty of meltdowns and contests of wills. Eventually I got him changed, into his uniform, and downstairs. I still love my Scootababy because he was finally willing to nurse in it for a bit while I got our morning stuff ready to leave.
We eventually got out the door. While LP was starting the car (he likes to do this every morning), I contacted Kid's Place Live (the kid's radio station) and ask them to play a song for him. I wanted a Doubleclick's song (it's his favorite band), but they don't have them in their library (yet), so my back-up song was Yoda by Weird Al. Finally got LP into his seat and got going. Turned on KPL and told him that it was the special LP station. He was still kind of pouty in his seat. As we were exiting the highway, the morning DJ said that the next song was for [LP] in Austin, Texas and they put on Yoda. When I pointed out that it was the LP station because they just said his name and he was in Austin, TX and listen it's the Yoda song he loves, he got the biggest grin on his face. He told me that I could sing along to Yoda but not Princess Elsa. He also (as always) got excited with the song mentioned Darth Vader. We got to school just as the song was ending. He then proceeded to tell the director and his teachers at school how the LP radio played Yoda just for him. It really made his morning.

Now if only I could get them to play the Doubleclicks.
We went to our local Faire yesterday for our friend's vow renewal ceremony. Little Prince fits much better into the outfit that Zee made for him last year (and we still have to pin it a bit, since she cut the necks HUGE). The day turned out to be cold and rainy, but we still had a great time. Maybe it was because the crowds were smaller or maybe because we were out so much last year that we've started to recognize and be recognized by the regulars, but we had way more interactions with cast and others this year than in previous years. Or maybe it was just how cute LP is. Two different gypsies asked me his price (he's much too young to sell to them yet) and I had to keep a close eye on him when the fae were around so they wouldn't steal him away.
The vow renewal ceremony went well. Afterwards we went to the Fest Hall for a feast. The food was good and the company was delightful. There was a little girl there, T, who had just turned 3. She and LP were running around chasing each other, and then her shoe fell off. I caught what happened on video.
Why yes, we've been watching a lot of Cinderella at our house lately, how did you know?
Yesterday, after over a month of sleeping in his own room, we moved Little Prince's own bed, the one that had been next to our bed since he was three months old into his room.
Darius and my room went from looking like this: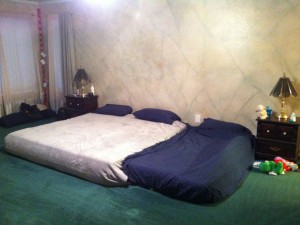 To looking like this: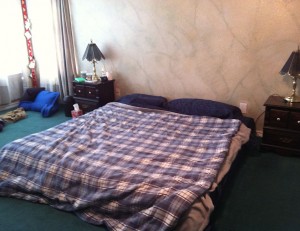 Not only did Little Prince get his own bed in his own room, he also has his special Superman set, a present from KR, on his bed: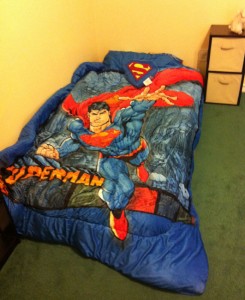 He was super excited about it.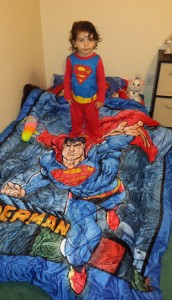 He slept for some of the night, but did come into our room earlier than he normally does these days. But that could be a symptom of just coming back from vacation.
This is what it's like to have a sick toddler with two parents who work outside the home:
It started last night. Little Prince wasn't interested in eating his dinner. He seemed a bit extra tired. He finally ate an apple. Being that that was all we could get in him and he's a toddler, we figured any food was a win. Since he was so tired, we decided to skip bath and go straight to bed. He seemed active and lively, but something was slightly off. We took his temperature, but he seemed fine. We know that is 2nd year molars are coming in, so we thought, maybe it's just teething. We gave him a bit of children's Tylenol before bedtime.
This morning Darius left for work early as he always does (he starts work at 6am!). LP had come into our room around 4am for milk and then fell back asleep, which is normal. I got up to take a shower around 6am. After my shower I was brushing my teeth when I heard him at the door to the bathroom. He usually comes in if he wakes up, but he didn't. When I was done brushing my teeth, I opened the door and found him asleep on the floor right in the corner of the bedroom in front of the bathroom door. Not normal, but super adorable. I wanted to take a picture, but I didn't want to wake him up. So I left him there and continued my morning.
Little Prince woke up and came to the top of the stairs and cried a bit while I was finishing breakfast. I scooped him up and brought him back to bed as I usually do. He started doing that sort of belly heave thing that comes before throwing up. I got him to the trash can at the edge of the bed but it was only a bit glob of spit-up that came up. I nursed him to see if that would help his stomach. I started thinking to myself, "He's not sick. He's fine. Just a bit of extra teething spit in his stomach. He'll be fine in a moment and can go to school. I have three meetings and a lot of project work to get done this morning. I have to go to work." He gets up after the alarm goes off and he seems fine, mostly. At least I'm pretending that he's mostly fine, just woke up early so is tired and a bit clingy.
I get him changed and dressed and downstairs. Get him his vitamins. He holds on to me and doesn't let me put him down. I have him on my lap and he starts to throw up again, some gets on the floor, but I get him to the sink and most of it gets in there. It's all clear, with a bit of snot looking bits (didn't you want to know that?). Reassure him, clean him up, clean up floor and sink. Tell myself that that's it. Now that he's gotten that's out he must be better. Because I have three meetings and a chiropractor appointment and reports that must be done before 10am.
I skip his morning banana. While getting shoes and jacket on, Little Prince alternates telling me that he's fine and telling me his belly hurts. I focus on believing he's fine and that the belly hurting is still left over from just throwing up a bit.
Get him in the car. He dances to En Vogue and Offspring. Figure that means he's feeling better. Start heading to daycare. Get 5 minutes from home when he throws up a bit on his jacket and car seat. Hand him a napkin to help with it. Change course from his normal daycare to  the Get Well Place daycare. Pull into a parking lot on way to text Darius and let him know what's going on.
Drive to the Get Well Place. I am so flustered that I take the long way instead of the short way. So what started off being a promising leaving time from home just gets later and later. Little Prince falls asleep in car on way to daycare. I think that if he falls asleep so quickly again he must be sick and maybe I could have just stayed home with him and he would have slept in the morning. Feel like an awful parent for not being able to stay home with him when he's sick. Especially when he's throwing up since I know how good breastmilk can be for vomiting babies and toddlers.
Get to the Get Well Place. Little Prince wakes up as soon as I try to get him out of car seat. He doesn't want to go to "special school." I feel guilty that he recognizes it. I carry him in carefully as to not to mess up my clothing too much. The nurse at Get Well Place greets him by name. I'm impressed that she remembers him and feel guilty that she knows his name. She tells me they are closing at 2pm today. I feel guilty that I don't have a change of clothing for him and that I have to leave him there. I clean up his car seat, while trying to think what I have to do after 2pm today and how I can work it out with Darius. Go back in and get a good-bye kiss from my sick boy.
Drive toward work. I'm thankful that my car has blue-tooth so I can call Little Prince's normal daycare to tell them he won't be in and cancel the chiropractor appointment. I have to stop by an ATM since the Get Well Place only takes cash or check (so we get to pay two different daycares for today, even though Little Prince will only be at one of them). In my distraction and planning I drive past two different bank/credit union ATMs but remember to stop at the gas station at the way to work that also has an ATM.
Get to work over 15 min later than my current normal time, hoping that I don't smell too much of kid vomit. Whip out the reports that are due with minutes to spare before first meeting. Email person with whom I have a meeting at 3pm to ask for a time change. Turns out her kids are sick too so we move the meeting to tomorrow. Good. Message manager to let her know what is going on. Try to focus on meetings and work without worrying about kiddo too much/checking phone to make sure haven't missed any calls from Get Well Place that Little Prince is getting worse. Worry about a 2pm pick-up time and what that means for his nap. Text with Darius about him getting home as quickly as possible from his job so that I might be able to get some work done this afternoon/this evening. Be thankful that I have sick time, an understanding manager, and a job that is flexible enough where I can work from home and during non-standard hours to make up time.
Am currently eating lunch at my desk to minimize lunch break-time and maximize work time so I don't have to make up as much later. I feel like I ran a marathon this morning.