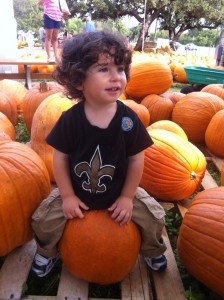 Last night after we put him in his pajamas, Little Prince started running around the bedroom yelling, "Go Sproles, Go Sproles." When I told him to run into the bathroom to brush his teeth, he ran in with a, "Go Sproles, Go Sproles," and then yelled, "Touchdown," when he got to the sink.
I believe this is called raising him right.
We have a Star Wars group costume this year. When asked two months ago, what he wanted to be for Halloween, Little Prince said, "I be Darth Vader. Daddy be Stormtrooper. Mommy be Batman." Some gentle persuasion convinced him to let mommy be Princess Leia.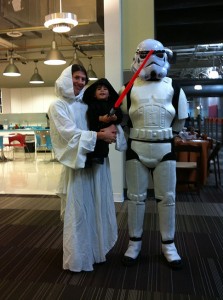 Here we are at my company's Fall Festival last week.
Of course we also dressed up today. LP was the only villain in his class. I was so proud.
After I stopped pumping at work, we took a few steps back and now Little Prince wants to breastfeed generally as soon as he sees me after daycare/work. But it's short sessions and then he's happy to play.
However, we are making more slow progress. A little over a month ago we were at Firehouse Subs for sandwiches before going to our weekly Dungeons & Dragons game. The food was almost ready and Little Prince asked to nurse. I really just wanted to get to game, so I told him that since we were out he could "Touch the milk" (aka reach his hand down my shirt) but he had to wait to "drink the milk" (aka breastfeed) until we got to our GMs house. I meant it for only that one time, but apparently it had an effect on him. Now, especially when we are out, he'll sometimes ask to touch the milk instead of drink it. When he touches it, we tease and I ask him if it's still there or he'll tell me that it's still there. I use this at home too when we're going to daycare/work in the morning and it's too late to nurse him (I have a no nursing after 7am on weekdays rule, except for in special circumstances, or we'll never get out the door). I like that I can still give him the comfort of my breasts without it turning into a nursing session every time.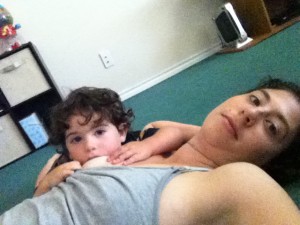 This is what breastfeeding a toddler looks like. He said "Lie down mommy. On the floor." And then "More milk" and latched on.
He still does like to breastfeed a lot, which is fine. But there are times where he just starts bouncing back and forth between "other-side, other-side, other-side" or when he declared he was finished and then wants to start up again a minute or two later. At that point, I usually give him a slow count to finish up, somewhere between 5-10. He almost always pops off at least two numbers before the end of the count and then goes along his merry way.
So we're probably down to about 4-6 times in 24 hours during the week and a bit more on the weekends. Still don't see an end date, but I'm glad that I'm able to enforce a few limits around when, where, and for how long we feed and that he is fine with that (most of the time).
A few days ago when he was "naked baby" he pulled at his own nipples and tried to see about getting milk out of them. One day he'll figure it out, but until then, it amuses me greatly.
Oh, and last weekend I gave away the rest of my "stash" to mothers of adopted twins, since when I went on a three day trip he never once asked Darius for mommy-milk. So that makes five families I donated milk to in the course of two years, giving Little Prince a total of seven milk siblings.

Recently Little Prince has been trying out using the potty more often. He's also gotten much more squirmy during the diaper change, even though we've been doing standing diaper changes for a while now. So recently Darius and I decided to switch over to diapers that LP can step into.
At home we just pre-snapped the bottom snaps of our pocket diapers, which allows us to pull them up just fine (mostly). Sometimes I do unsnap them right at the last moment and put them on as I would have before. Sometimes when pulled up they kind of get bunched funny and need to be unsnapped and refastened. But overall that works.
Little Prince's daycare doesn't take cloth diapers (I think I've mentioned this before, and how it's really one of the only things that disappoints me about where he goes). So for there we had to switch from Pampers Cruisers, which we've been using very happily for a while now to either Huggies Pull-Ups or Pampers Easy-Ups. I'm sure there are other pull up style diapers from other brands, but we can get these two very easily. I looked online for comparisons, but I can only seem to find comparison blogs for the girls styles. And since the boys styles are different, I figured I'd write my own.
I'd like to make a quick note here that while I'm generally against the over-gendering of products that we have for children (why can't I just see ALL of the shoes for toddlers in one place?), I understand the need for this product to be differentiated by sex, as it allows for specialized leak protection. I just wish the designs weren't so gendered.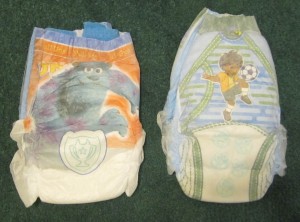 So here they are side by side. The Huggies is on the left and the Pampers is on the right. Huggies got in bed with Disney first and so the Pull-Ups are all Pixar characters: Sully & Mike, Lighting McQueen & Mater, and Buzz Lightyear & one of those alien guys from the arcade. Pampers Easy-Ups has Diego with a soccer ball and Diego with dragonflies (with LP keeps calling butterflies). So for visual characters I think that Huggies wins this round…unless you have a child who is terrified of monsters and refuses to wear the ones with Sully on them. Which did happen for a while in my house. We can all thank Darius for trying to show LP Monsters, Inc before he was ready for it for that. The other problem with a variety of characters instead of one character in different scenes is that your toddler might start to insist that he only wants to wear Buzz Lightyear.
Both of the diapers have wetness indicators. The Huggies have the trophy and the Pampers have something, maybe soccer balls? Whatever it is, it is printed lighter than the Huggies which makes it harder to tell/use.
Now let's look at size. These are Huggies 2T-3T and Pampers size 4, which claim to fit about the same sized child (18-34lbs/16-34 lbs). Looking at the pictures of one on top of the other, we an see that the Huggies are wider and shorter and the Pampers are taller and skinner.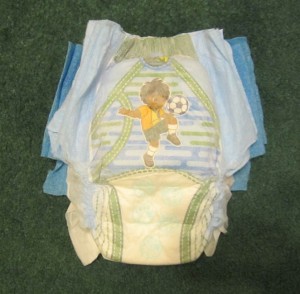 Even with the wings (sides) pulled out, the Huggies is wider than the Pampers.
Here is a side view of both diapers. Again, the hight difference is obvious, as the Pampers (on the right) comes all the way up to Cthlooloo's head and bunches there. These pictures also note to other differences. Pampers is longer from the bottom of the diaper to the leg opening (a little harder to tell on the white-on-white Huggies, but it's true) and Huggies have "easy-open" sides that work like velcro, where as Pampers do not.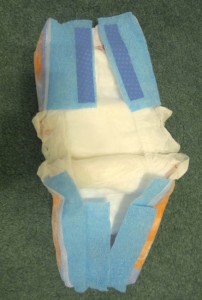 Huggies easy-open sides mean that you can open the diaper and close it back up again if you need to. Pampers you have to rip open to open them up and they do not go back together (unless you get out the glue…but with an active toddler you'd probably end up gluing the diaper to the toddler or your hand or a toy or…). While I thought I would like this feature in Huggies, I've found it often catching the side of Little Prince's pants, so the diaper comes half way open as I'm pulling his pants off. Not exactly something I want to happen. However, it does make it easier to quickly take off a soiled diaper.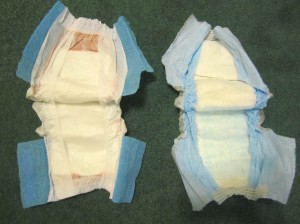 Here are the two diapers opened up. Not sure if you can see that the middle bit of the Pampers is folded over more cause it is deeper, but it is. Also not sure if you can see how the Huggies opens easily and the Pampers is ripped open. One of the things you can see when the diapers are open is that the Huggies design is more visible through the inside than the Pampers design, especially in the back. This is because Huggies has separate Pull-Ups for daytime and nighttime where as Pampers Easy-Ups are for both day and night use. I only have the day Huggies because we're still using Pampers Baby-Dry (not -Ups style) for nighttime. So daytime Pull-Ups are definitely more lightly padded than anytime Easy-Ups. Field tests confirm this as the only time in recent times that Little Prince has leaked through his diaper at daycare was when we sent a pack of Huggies daytime Pull-Ups. When we switched over to Pampers Easy-Ups, we haven't had any leaks. Then again, Little Prince runs on the tiny and skinny side of the scale, so maybe it was just the dimensions fitting him better instead of the amount of padding.
So overall, I'd say that while I'd like to like/use Huggies Pull-Ups, I think we'll stick with Pampers and use Easy-Ups. They fit Little Prince better, he doesn't leak in them as much, he doesn't show design preference as much, and so far they work well for us.
I keep wanting to write a "Little Prince is two and here's everything he's doing" post, but he's doing so much and keeping us so busy, that I don't have the time. For the record, at his two year check in, he weighed in at 21.8 lbs and was 31.75″ tall. Both numbers are in the single percentiles, but he's still growing, following his chart, and blowing the major milestones out of the water.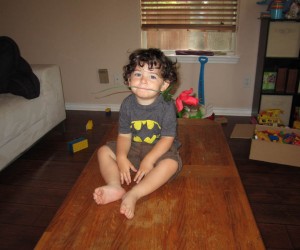 Ok, now that that's out of the way I can write about our last weekend.
On Saturday we got up late. We were going to go out to the splash pad, but we got moving so late that it wouldn't have been worth it. So we go our grocery shopping done early instead. Then we came home, ate lunch and went down for a nap. I fell asleep with Little Prince for the first hour or so. Then he woke me up to switch sides. He fell back asleep nursing and then popped off still asleep after half an hour and stayed asleep for over an hour more. He slept a good 2½ hours, which is unusual because his normal weekend naps are about an hour and a half (maybe two if we are lucky).
When he got up, we headed out to his friend from daycare's birthday party. It was at Inflatable Wonderland at the Mall. We'd never been there before but it was basically a big room with tons of bounce houses. Little Prince took to it like he was born to jump (he's really into jumping on everything these days). He went right into a bounce area that was supposedly for "bigger kids." All the other parents were like, "my kid is afraid to go in" and we had to say "well, this is his third time around these things so he gets them now." He had a total blast at the party, he even got some of the older kids to help him climb up the ladders so he could go down the big bouncy slides. The only things he didn't like was when the music was too loud and the shark head at the beginning of the Finding Nemo bouncescape.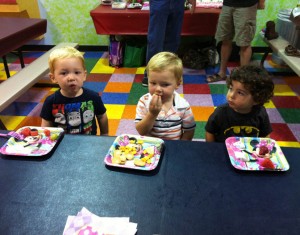 Here he is with his friends B and A. They are not even related, but they look so much alike that after two years of seeing them I still have trouble telling them apart sometimes.
It was really great to chat with the other parents of LPs friends. Most of these kids have been together since they were really little (some since they were all about three months old), so they know each other so well that it's great to see them play. And it's nice to talk to their parents too. So I started an online group for us so we can post about playdates and stuff. Yay for connecting. Also I know that LP is very verbally advanced, but after seeing him with his peers, yeah…wow. Even some of the other parents commented on how smart LP is.

After the party was over, we got mall food (cause it was getting late) and headed home.
This morning we got moving somewhat faster and we did make it out to the awesome Splash Pad where we had a great time.
 We remembered a ball and cups this time and Little Prince got right under the water without any hesitation. After about an hour in the water he wanted to go to the swings at the playground that's right there. So we snacked a bit and headed over.
We grabbed food on our way home, ate, and showered. Then it seemed like LP was about to nap, but he nursed for a bit and then wanted to go downstairs. Then Ms. G and Mr. D showed up for a visit. He was so excited to show off. So guess who, after napping so well yesterday, didn't nap at all today? But we had some downtime after our guests left by watching Wreck-It Ralph as a family. Then we played for a bit, FaceTime'd with Grandma R, and had dinner.
After dinner we played outside with the neighbors and I got to see our newest neighbor who was only 4 days old! So cute! Then inside for quick bath and after that we had meltdown I-didn't-nap toddler time, so we skipped teeth brushing, went straight to nursing and LP fell asleep super quickly, which gave Darius and I a little bit of extra hangout time.
I should also mention that LP peed in the potty quite a few times over the weekend and has started asking for diaper changes more often. So we're moving in the right direction, but nice and slowly, at his own pace.
Over the winter we decided that we were going to take Little Prince to New Orleans to visit Grandma R and Tante and have his second birthday party there. This gave our families time to plan for the trip. Pawpaw and Grandma A from my side and Aunt B2 and Cousin T were also able to make it in.
We drove in on Thursday before Memorial Day weekend. I was a little (a lot) nervous about doing a road trip with a toddler. But it went pretty well. In order to keep Little Prince occupied, I went to Target and got a few things from the dollar section (a plastic ring, Batman stickers, etc) and I put them into plastic Easter eggs. Whenever he started to get restless, we gave him a new egg with a prize. I also got him a Thomas book that has buttons that make noise. I knew that book would drive us nuts in about 5 minutes, and it did, but it also kept him happy for over half an hour, so that was totally worth it. He also slept for a good long while after lunch. We made the drive in about 10 hours, which wasn't bad. Got in in time for a late dinner and then put Little Prince to bed.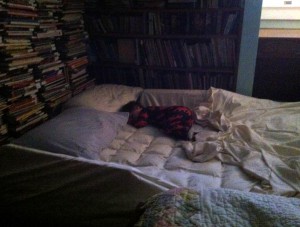 Yesterday I washed two bottles and a sippy cup that had had breastmilk in it and thought, "This is it."
Remember how in March I said I was going to stop pumping at work around Little Prince's second birthday (which is at the end of this month)? Well, it happened last Thursday.
At daycare, Little Prince had started asking for milk less and less. In March I started sending only 5-6 oz. As he wasn't drinking all of that, I started sending only 3-4 oz. I dropped my pumping time at work to only 10 minutes.
In April I nervously asked his daycare teachers to always offer water first but to give him milk if he asked for it. Some days he did, and some days he didn't. Toward the end of April his sippy cup that I sent with milk was always coming home as full as I sent it. About two weeks ago we started hiding the cup of milk in the big fridge at daycare so he wouldn't even see it. Since then, he's never asked for it.
Last Friday I was really busy at work and totally forgot to pump. I didn't even notice, which any breastfeeding mom can tell you is a big deal, because if you need to empty a breast, you notice. So this week I decided to stop pumping and stop sending milk. I was really scared that on Monday Little Prince would randomly ask for milk again, but he hasn't. And it's so liberating not to have to pump, esepcially since I got to stop two weeks "ahead of schedule." After about 9 months of pumping twice a day and almost a whole year of pumping once a day, it's amazing to get the time back. And I'm really proud of myself for being as committed as I was and doing it for as long as I did.
We still have a small freezer stash (just in case) and if I'm away from Little Prince for a significant amount of time, I may need to pump a bit, but in general, I am DONE PUMPING! Hurray!
And now, in honor of the new Star Trek movie coming out this week, here's Little Prince yelling "Khaaan":
Well, it looks like we're actually on the path to a nice natural slow baby-led weaning.
6 months or so ago Little Prince was still breastfeeding/taking milk at daycare a good 8-10 times a day. I'd say 3 months ago it was still 6-8 times a day. Now we seem to be down to about 5 times a day. He's also eating more, which is probably partially just growing up and partially getting in his molars with canines not that far behind (oh our night times are fun these days!).
About six months ago Darius and I encouraged a bit of night weaning using the Jay Gordon Method (modified). Instead of picking a middle of the night 7 hour stretch, we picked from when he fell asleep (usually around 8:30-9) until 2am to be the time that "milk was asleep." It hasn't always been easy. Sometimes, like when he's sick or teething, we add a few more sessions back in. But most of the time this gives Darius and I a bit of evening time to ourselves and at least a few hours for me of uninterrupted sleep (before we started this, Little Prince was waking up every 2-3 hours to nurse… the joys of reverse-cycling). Sometime around the holidays I noticed that sometimes 2am was more like 3am, occasionally even 4am. But there would be a long long feed or three before it was time to get up for the day. Just recently I realized that the number of feeds overnight has seemed to drop to a 2 or 3am feed and then a 5 or 6 am feed. We've generally dropped a night session. I was going to start encouraging this in April (after the March craziness died down), but it looks like LP is starting to do this on his own.
Back in late January or early February, Little Prince's awesome daycare teacher informed me that he was not drinking all the milk I was sending with him each day; he was starting to ask for water instead. So I started sending about 6oz instead of 8oz. Yesterday I found out that he's not even drinking all of that. So now I'm going to start sending about 4-5oz. It was funny because she seemed so remorseful when she told me, but I was super excited that he was making this choice on his own. I think next month I'm going to ask them to always offer him water first instead of milk, because I plan on stopping pumping at work around LP's second birthday. While we still have some freezer stash left, it's not what it once was and I'm definitely pumping less milk than I was three months ago.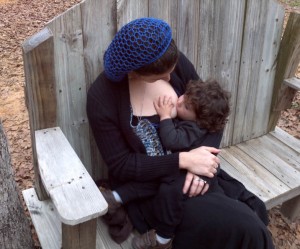 A few weeks ago I noticed that over the weekend (when Little Prince use to nurse about five times from when he woke up until when I put him to sleep), he had dropped the mid-morning and mid-afternoon nurse.
Ever since I started work, when Little Prince was 11 weeks old, we (almost) always had a reconnecting nursing session when we saw each other again. When he was a little, little one, this was a 45-60min nurse-nap session. As he's gotten older, it's been more like 10-15 minutes. In the past few months it's been "Couch, mommy, more milk…more milk, other side." He says it "meelk" which is super cute. But in the past week or so he mostly hasn't asked for milk when I've gotten home. It's kind of bittersweet for me, because I liked that reconnecting moment. That time where I could put aside my work day, relax, and become mommy again. But I've been getting a huge hug from him instead, so it isn't all sad.
Of course I still breastfeed him when he gets hurt or surprise-hurt. Sometimes he even says "hurt, ouch, milk" through his tears. I guess I'm doing (mostly) don't offer, (mostly) don't refuse. I still offer at bedtime and weekend nap time. And sometimes I'll try distraction/other food/water push off to see if he's more interested in that.
As for going to bed at night, I still offer every night and he still nurses in bed, but sometimes he doesn't fall asleep from it. Lately he'll alternate asking for milk and for water. Sometimes I think water is a distraction/I don't want to go to bed technique. And the whole daylight savings time thing really threw us off. Still, I guess it's time to start figuring out how to get him to fall asleep on his bed and without milk, other than walking him, which always works but I really don't want that to be the only way he'll ever fall asleep.
Last night Little Prince picked up a Lego block and three crayons. He'd put the crayons into the Lego block, dump them out and do it again, always in the same color order. I got video of some of it:
This morning when my Little Prince woke up, we did our normal weekday routine of him asking for "more milk" and me gently letting him know that it was time to get up and go to daycare and he could have milk there. Then I scooped him up and brought him to the bathroom where I took off his pajamas and overnight diaper and sat him on the little potty in there.
We've been doing the "sit on the potty" thing for a little while now. They do it at daycare twice a day just to get the kids use to it. So we started doing it at home right after he wakes up and right before his evening bath. He sits for a bit and sometimes reads a book. One time he stood up and peed on the floor right in front of it.
However, this morning when I took his diaper off of him, I noticed that it felt rather dry. This has been happening on and off for a little over a month now. Sometime mornings it's full and some mornings it's not. Anyway, we were sitting for a bit and he started holding with his penis, saying "penis, penis*" then all of a sudden he let it go and started peeing right into the potty. I was so excited for him. When he was done he seemed a little freaked out by the whole thing and wanted to cling to me a bit. I praised him and told him how proud I was of him for peeing in the potty. As I got a new diaper on him, I started wondering what I was to do with the urine in the potty. I hadn't expected anything like this to happen for a little while still, so I was still somewhat unprepared. I ended up bringing him back into the bathroom and showed him how the urine goes in the big toilet to be flushed and then I rinsed out the potty.
So I have no idea if it'll happen again soon or happen with any degree of regularity, but it's a start and that makes mommy really excited.
* After saying "penis" at home for a while now, he finally said at it daycare earlier this week. His teachers informed me of this the next day. I let them know that I knew he knew the word and I was just glad he wasn't calling it "belly" anymore.