We went to our local Faire yesterday for our friend's vow renewal ceremony. Little Prince fits much better into the outfit that Zee made for him last year (and we still have to pin it a bit, since she cut the necks HUGE). The day turned out to be cold and rainy, but we still had a great time. Maybe it was because the crowds were smaller or maybe because we were out so much last year that we've started to recognize and be recognized by the regulars, but we had way more interactions with cast and others this year than in previous years. Or maybe it was just how cute LP is. Two different gypsies asked me his price (he's much too young to sell to them yet) and I had to keep a close eye on him when the fae were around so they wouldn't steal him away.
The vow renewal ceremony went well. Afterwards we went to the Fest Hall for a feast. The food was good and the company was delightful. There was a little girl there, T, who had just turned 3. She and LP were running around chasing each other, and then her shoe fell off. I caught what happened on video.
Why yes, we've been watching a lot of Cinderella at our house lately, how did you know?
Yesterday, after over a month of sleeping in his own room, we moved Little Prince's own bed, the one that had been next to our bed since he was three months old into his room.
Darius and my room went from looking like this: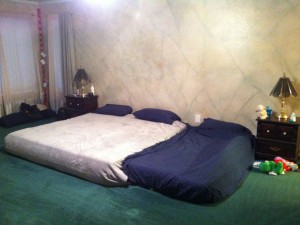 To looking like this: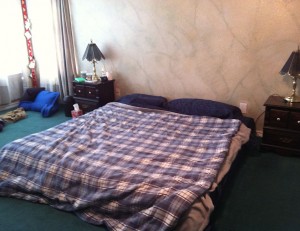 Not only did Little Prince get his own bed in his own room, he also has his special Superman set, a present from KR, on his bed: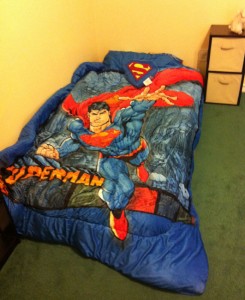 He was super excited about it.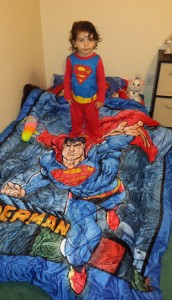 He slept for some of the night, but did come into our room earlier than he normally does these days. But that could be a symptom of just coming back from vacation.
This is what it's like to have a sick toddler with two parents who work outside the home:
It started last night. Little Prince wasn't interested in eating his dinner. He seemed a bit extra tired. He finally ate an apple. Being that that was all we could get in him and he's a toddler, we figured any food was a win. Since he was so tired, we decided to skip bath and go straight to bed. He seemed active and lively, but something was slightly off. We took his temperature, but he seemed fine. We know that is 2nd year molars are coming in, so we thought, maybe it's just teething. We gave him a bit of children's Tylenol before bedtime.
This morning Darius left for work early as he always does (he starts work at 6am!). LP had come into our room around 4am for milk and then fell back asleep, which is normal. I got up to take a shower around 6am. After my shower I was brushing my teeth when I heard him at the door to the bathroom. He usually comes in if he wakes up, but he didn't. When I was done brushing my teeth, I opened the door and found him asleep on the floor right in the corner of the bedroom in front of the bathroom door. Not normal, but super adorable. I wanted to take a picture, but I didn't want to wake him up. So I left him there and continued my morning.
Little Prince woke up and came to the top of the stairs and cried a bit while I was finishing breakfast. I scooped him up and brought him back to bed as I usually do. He started doing that sort of belly heave thing that comes before throwing up. I got him to the trash can at the edge of the bed but it was only a bit glob of spit-up that came up. I nursed him to see if that would help his stomach. I started thinking to myself, "He's not sick. He's fine. Just a bit of extra teething spit in his stomach. He'll be fine in a moment and can go to school. I have three meetings and a lot of project work to get done this morning. I have to go to work." He gets up after the alarm goes off and he seems fine, mostly. At least I'm pretending that he's mostly fine, just woke up early so is tired and a bit clingy.
I get him changed and dressed and downstairs. Get him his vitamins. He holds on to me and doesn't let me put him down. I have him on my lap and he starts to throw up again, some gets on the floor, but I get him to the sink and most of it gets in there. It's all clear, with a bit of snot looking bits (didn't you want to know that?). Reassure him, clean him up, clean up floor and sink. Tell myself that that's it. Now that he's gotten that's out he must be better. Because I have three meetings and a chiropractor appointment and reports that must be done before 10am.
I skip his morning banana. While getting shoes and jacket on, Little Prince alternates telling me that he's fine and telling me his belly hurts. I focus on believing he's fine and that the belly hurting is still left over from just throwing up a bit.
Get him in the car. He dances to En Vogue and Offspring. Figure that means he's feeling better. Start heading to daycare. Get 5 minutes from home when he throws up a bit on his jacket and car seat. Hand him a napkin to help with it. Change course from his normal daycare to  the Get Well Place daycare. Pull into a parking lot on way to text Darius and let him know what's going on.
Drive to the Get Well Place. I am so flustered that I take the long way instead of the short way. So what started off being a promising leaving time from home just gets later and later. Little Prince falls asleep in car on way to daycare. I think that if he falls asleep so quickly again he must be sick and maybe I could have just stayed home with him and he would have slept in the morning. Feel like an awful parent for not being able to stay home with him when he's sick. Especially when he's throwing up since I know how good breastmilk can be for vomiting babies and toddlers.
Get to the Get Well Place. Little Prince wakes up as soon as I try to get him out of car seat. He doesn't want to go to "special school." I feel guilty that he recognizes it. I carry him in carefully as to not to mess up my clothing too much. The nurse at Get Well Place greets him by name. I'm impressed that she remembers him and feel guilty that she knows his name. She tells me they are closing at 2pm today. I feel guilty that I don't have a change of clothing for him and that I have to leave him there. I clean up his car seat, while trying to think what I have to do after 2pm today and how I can work it out with Darius. Go back in and get a good-bye kiss from my sick boy.
Drive toward work. I'm thankful that my car has blue-tooth so I can call Little Prince's normal daycare to tell them he won't be in and cancel the chiropractor appointment. I have to stop by an ATM since the Get Well Place only takes cash or check (so we get to pay two different daycares for today, even though Little Prince will only be at one of them). In my distraction and planning I drive past two different bank/credit union ATMs but remember to stop at the gas station at the way to work that also has an ATM.
Get to work over 15 min later than my current normal time, hoping that I don't smell too much of kid vomit. Whip out the reports that are due with minutes to spare before first meeting. Email person with whom I have a meeting at 3pm to ask for a time change. Turns out her kids are sick too so we move the meeting to tomorrow. Good. Message manager to let her know what is going on. Try to focus on meetings and work without worrying about kiddo too much/checking phone to make sure haven't missed any calls from Get Well Place that Little Prince is getting worse. Worry about a 2pm pick-up time and what that means for his nap. Text with Darius about him getting home as quickly as possible from his job so that I might be able to get some work done this afternoon/this evening. Be thankful that I have sick time, an understanding manager, and a job that is flexible enough where I can work from home and during non-standard hours to make up time.
Am currently eating lunch at my desk to minimize lunch break-time and maximize work time so I don't have to make up as much later. I feel like I ran a marathon this morning.
On Saturday morning, KR and I took Little Prince to see Frozen in a movie theatre, mostly because I hadn't seen it yet and I really really wanted to. Darius and I had been wanted to take Little Prince to the movies for a while now, but either nothing good/that we wanted to see was playing, or we were worried that he wasn't ready yet. However, at home he'll sit through a whole animated movie or almost a whole one, so we figured he was probably ready. Darius didn't want to see Frozen, but KR did so we went to the movies.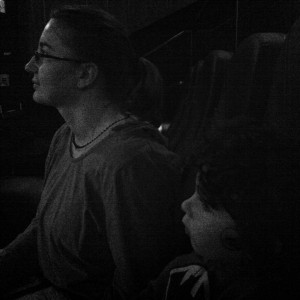 KR had never seen a Disney movie in the theatre before and it was Little Prince's first time. I am pleased to say that they both did a very good job :). I'm not sure if it was the huge bowl of popcorn or the movie itself, but Little Prince was less disruptive than some of the other kids who were older than he was. Mostly he watched the movie and only wiggled a little bit. He did eventually end up on my lap and toward the end, nursed a bunch, but hey, that helped keep him quiet, so bonus there. As for the movie itself, I loved it. I'd see it again in a heartbeat. And I seriously want Princess Elsa's coronation outfit. Little Prince has since declared that he is Princess Elsa. The only part of the movie that he really talks about is the ice monster. I'm glad we stayed until the end of the credits, so the ice monster is less scary to him than it was when the credits started. Still, not really sure what to think about the fact that all he talks about is the monster. He told all of his friends at school about it yesterday.
So the overall verdict is that Little Prince is at an age where he can handle being at the movies. I see much more movie going in our future.
And in case you are worried, no, I did not take that picture during the movie. I took it during the pre-show attractions, when the lights were still up and people were still getting seated.
On most Thursday nights we go over to a friend's house to play Dungeons & Dragons. Little Prince has always been interested in the dice. He used to like to try to make them spin, or have us make them spin. Lately he's been working on (gently) rolling them (mostly on) the table.
As I've posted before, as part of the weaning process, sometimes I do counting nursing. We call it "X milk" where X is the number I'll count to. Sometimes we negotiate the number. Sometimes he wants "S milk," which involves me counting to a random number and then saying "S," at which point he stops. I guess we're doing algebra already.
For the past two D&D sessions, toward the end of the evening (usually close to his normal bedtime), Little Prince will sit next to me and roll one of my dice. He then declares that he gets whatever number he rolled amount of milk. When he's done, he'll roll for the other side. Thankfully he mostly rolls D6-D10s. Yesterday he rolled 15 on a D20, but then turned it to 5, which was the number he wanted. My DM threatened to bring out his D100, but thankfully he couldn't find it.
Yup, that's my little nerdling.
Last Saturday night (so not last night, but the Saturday night a week before), while we were getting Little Prince ready for bed he asked to sleep in his room. He's asked a few times before but it was always on weeknight and Darius and I didn't want to try it then. But since it was on a weekend, we figured why not?
Back in the Fall we got a king sized bed for our room, so we moved our queen to the guest room and the (very old, OMG why do we still have this college futon???) full mattress to Little Prince's room. Since then we started doing the occasional nap in there, with more frequency since the new year started.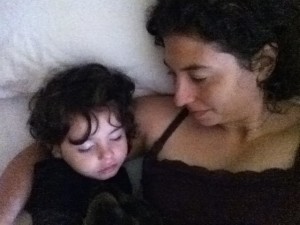 Nap time, aka Help, my arm's stuck
Even with that, it was still a total shock to me that he was insistent in wanting to sleep in his own room at night. I was so not ready for it. I'd slept next to him for over 2.5 years and I wasn't sure if I could handle it. But as Darius reminded me, the point of Attachment Parenting is that the child feels secure in their independence and will take the steps when they are ready. So we put him to sleep in his own room. And I fretted a bit that night. Around 1 or 2 AM I heard him crying out and found him at the top of the stairs, so I brought him back to our room because I'm just more comfortable on my bed.
Since that night he's slept in his room the first part of the night and at around 1 or 2 in the morning I'll wake up and notice him next to me and then fall back asleep. The only exceptions to this were Thursday night and last night when he asked to sleep in mommy and daddy's room. He also asked to nap in our room on Saturday. I think the novelty of his own room is wearing off a bit. But since he's still falling asleep in there, I think we'll keep putting him to bed in there (except when he's insistent about being in our room).
I must say that as much as I miss him a bit sometimes, it's nice to have our room back in the evenings and for falling asleep (especially since I know he'll be in at some point before the morning). We can put our clothing away after we fold it. We can read in bed with a low light on. Hey, I'm even writing this post in bed right now on my laptop (Darius is "breathing heavily" next to me).
It's funny, I always thought we'd have to do the move his mattress away from our bed, then move it against the wall, then slowly move it toward his room thing. And here he goes and is just ready to have his own space.
This morning when I woke up it had snowed (or something, well it had certainly weathered) overnight.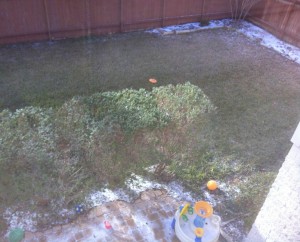 I checked and found out that all schools, and thus Little Prince's daycare, were closed. I'd already informed my boss that this might happen. So we had a snow day. Darius had already gone into work, was only working a half day. I went back to bed and snuggled with Little Prince. We had a nice leisurely wake up. Little Prince told me he had to use the potty as I was brushing my teeth, so I missed getting him onto the potty in time (but he still wears diapers). When I did his diaper change, we agreed that we'd both say in pajamas all day. And we did.
We went downstairs and had cereal, bananas, and juice for breakfast. He put his vitamins at the bottom of his bowl of cereal and we had to find them. After we ate some, I let him take the rest of his cereal upstairs and I put on Lilo and Stitch so I could get some work done. It was his first time seeing it and he liked it a lot. I did my best not to quote the whole thing while watching it. The he asked to do his yoga DVD with me, which he actually did for about 10 minutes until there was a "bear" and he freaked out and just wanted to watch it with me.
After that we decided to make cupcakes. I took out the butter and eggs to soften, but realized there wasn't the right kind of milk in the house and we were low on sugars. I asked Darius to pick up the milk and sugars on his way home. So Little Prince played by himself for a while while I got more work done. He even worked from home too.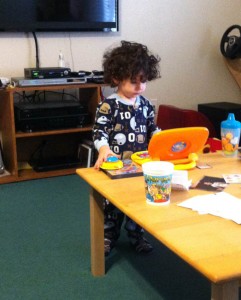 We got to video chat with Tante for a little bit. Next thing I knew it was lunch time and Darius was home. Luckily Little Prince had some of a left over turkey sandwich from last night so I didn't have to worry about making lunch for him. After lunch time, it was nap time. Little Prince actually peed in the potty, standing up no less, during his pre-nap diaper change. He fell asleep fairly quickly and I was able to get a lot more work done. Then he woke up. Darius tried to comfort him, but he only wanted mommy. So I went back into his room and we snuggled and he napped a bit more.
After nap, as promised, we made one giant cupcake. Okay, actually it was a cupcake shaped cake. And it took double batter, which I didn't realize until we'd already made only one and put it in. LP was quite a help getting ingredients out of the pantry, mixing, and eating the batter.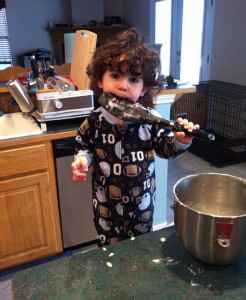 And he helped me clean up too.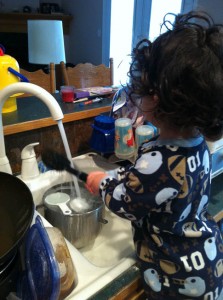 After washing dishes, his pajamas were soaked, so he switched to Superman pajamas.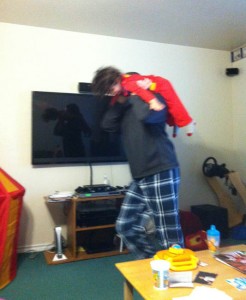 Darius and LP watched My Little Pony together while I got more work done. Then they played for a while until I finally got to a good stopping point in my work.
By that time the cake was cool enough to decorate and even though I hadn't used enough cake batter, it turned out that both sides were about the same size so it worked out okay in the end. Darius made dinner while I decorated and LP watched me. He picked the color for the "wrapper" part. I was done at the same time that dinner was.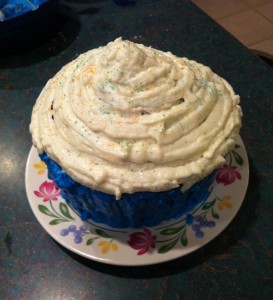 Dinner was homemade chicken parmesan with pasta and broccoli and cauliflower. Little Prince chowed down on the broccoli (eventually the whole pieces, not just the stems) and the pasta and sauce. Toward the end of the meal he ask for some of the chicken. He NEVER asks for chicken. He declared it "yummy yummy in my tummy" and had several more pieces of chicken after that. Then we each had a small piece of the giant cupcake. LP thought it was so good that he licked his plate clean.
It was way past bath time by this point, so we just did a diaper change, washed LP's face and hands, and brushed his teeth. I read him some of the Richard Scary book we're reading and nursed him for a while with the lights off. Then Darius took over to put him to sleep. He recently came out of the bedroom and is now playing Assassins Creed 3. I'm going to go do some yoga.
For the past few months or so, we've been watching the new My Little Pony: Friendship is Magic show with Little Prince. It's actually really really good and we've all been enjoying it.
We watched an episode of it yesterday afternoon. After it was over, Little Prince declared he was not Little Prince but Princess Celestia. He then stated that I was Apple Jack, Daddy was Rainbow Dash, and the boycat was Fluttershy. For the rest of the day, he would refer to himself as Princess Celestia, and address the rest of us by our pony names. He corrected me if I tried to call him Little Prince. When he woke up this morning, he was still Princess Celestia and the rest of us were still our same ponies. I made sure to inform his daycare teacher about his new identity and explained that it was from My Little Ponies, so she didn't get confused.
Yeah, he totally get this from me. When I was about his age and older, every morning I would pick a different character to be and I would only respond to that character's name. 80-90% of the time I was Dorothy from Wizard of Oz, but every once in a while I wasn't and my parents had to play the guessing game until they found the right name.
I guess it runs in the family. I wonder who he'll be tomorrow.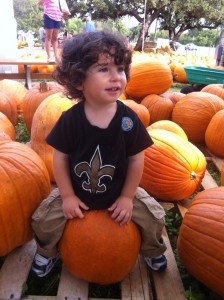 Last night after we put him in his pajamas, Little Prince started running around the bedroom yelling, "Go Sproles, Go Sproles." When I told him to run into the bathroom to brush his teeth, he ran in with a, "Go Sproles, Go Sproles," and then yelled, "Touchdown," when he got to the sink.
I believe this is called raising him right.