Young Sir, as I've started calling him (to go with Little Prince), is now about almost two weeks old. I probably can't remember everything that has happened since his surprising (to me) early arrival so here are so highlights as I can think of them.
First, this recovery for me has been a million times easier. Not having post-partum hemorrhaging and post-partum anemia certainly make a difference. Not to say it's all been roses. I feel like there are levels of pain that I'm uncovering. First there was the cramping as my uterus shrank back down. Mostly happened when Young Sir was breastfeeding, but happened once in a while at other times. The first few actually gave me flash backs to my labor, they were that intense. But slowly it hurt less and less and by Friday or so I didn't need Ibuprofen at all. Then came the intestinal cramping as all my insides moved back into their normal places and my bowels started to do their thing again after the fun that is castor oil. Now that that finally cleared up, I've noticed that the SPD that I thought was totally gone, while a lot less, isn't as gone as I thought it was. I guess I have some trips to the chiropractor in my near future.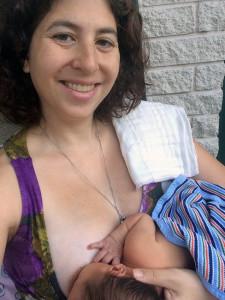 YS has been an awesome baby. He continues to latch really well and feed easily. At the 3-day nurse home visit on Tuesday morning YS was at birth weight! Darius and I weighed him a few days later and our baby scale said he was already up about 7oz from his birth weight. Two days ago when we weighed him, he came in at a pound over birth weight. At the visit the nurse also said that he wasn't jaundiced at all (yay!) and that he and I were doing really well.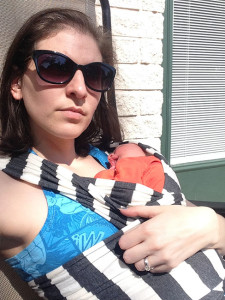 My sister was in town for the whole week first week of YS's life, which was great. She was a huge help around the house, with LP, and with YS. Seriously, I don't think we could have gotten through the week without her. She did laundry (so much laundry) and made dinner and got LP to bed and took care of him when we were at the birthing center and helped get him off to preschool in the morning and made sure I was fed and was all around amazing. Seriously. She also got to hold the baby a lot (and change diapers), so I'm sure it was a good trade off.
Last Friday YS's cord stump fell off while he was cuddled up to me. I looked down and saw it on my stomach.
Last Friday was Darius's birthday, so we surprised him with an ice cream cake from a local ice cream store. He was very surprised and it was awesome.
On Sunday we went out to the Webcomic Rampage and had three of our favorite artists (Joel Watson, Randy Milholland, and Lar deSouza) draw onesies for YS, just like we had them do for LP.
I also had my first NIP experience with YS. Figures that it would be at a comic and gaming store. I know I'm still recovering, but I seriously needed to get out of the house.
Then we picked up my mom from the airport. She'll be here through Sunday, which is awesome.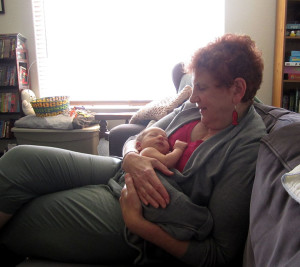 She has also been super awesome about helping with housework, doing grocery shopping, making food, changing diapers, engaging with LP, and holding the baby so I can get some me time. I have the best family!
Things we've learned about Young Sir in his brief two weeks on the outside. He is a fantastic nurser, but also a burpy baby. Don't go anywhere without a burp cloth when you have him in your arms as he is a spitter. It's different for me since LP wasn't much of a burper. I'm still trying to figure out how to burp him in the middle of the night without sitting up. He also doesn't mind a dirty diaper, which is very different than LP who hated being wet, so we have to remember to check and change YS's diaper way more often. The thing he seems to hate the most in the world is the diaper change. He will often scream and turn bright red (he turns red when he gets upset) when he is being changed. I put a soft toy for him on the changing table, and that helps sometimes. Also, watch out when you change him as he likes to pee while being changed. We've learned this now and are usually prepared/have him covered so we can catch it. He's been known to pee while being changed and then when you go to put the cover on the diaper, the diaper is wet again. And like LP, he's already trying out his neck muscles. I guess that's the advantage of having a small head.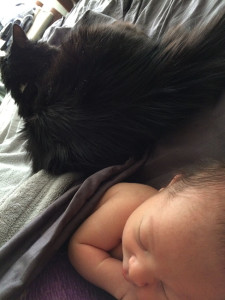 Unlike LP, the girl-cat is actually willing to be around him, even when he's screaming.
I swear he's getting cuter by the day. He's also having more alert times, which is cool.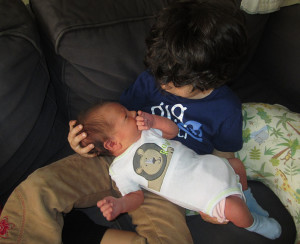 I'm not 100% sure how LP feels about YS. When he's around him, he can be super sweet. But we're having the typical four-year-old behaviors combined with new-baby-in-the-house behaviors. Apparently he didn't even tell people at preschool that his brother was born. Although I'm sure the excitement of having Tante and Bubbe in town was greater than having a new baby. I did get to put LP to bed last night while Darius wore YS (and got to game while he slept on his chest). That was nice for all of us.
While I sure didn't expect YS so early, I can't imagine him not being here right now. And he came early enough that I could put him in the special Back to the Future diaper that we got from Seams Geeky on 10/21/2015 (Back to the Future Day).