Archive for the 'Travel' Category
We decided that 2.75 would be the perfect age for Little Prince to experience his first Mardi Gras in New Orleans.
On Thursday, Feb 27, we got into the car nice and early and drove to New Orleans. The drive went pretty well overall. Little Prince used the potty twice on the way there, which was totally unexpected and cool. He did fight sleep for over half an hour after lunch time, which sucked. We were really hoping to get in to NOLA in time to head over to Tante's and catch Muses, but we hit some nasty traffic in Baton Rouge and by the time we got to Grandma R's, we were all just exhausted.
On Friday Grandma R showed us that she'd saved a huge amount of our childhood toys. Little Prince was in heaven playing with it all.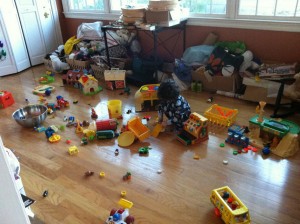 That evening we headed over to Tante and Bullit's for our very first Mardi Gras parades. Darius got to learn just how stressful parking during Mardi Gras can be. We got to Tante's, ate dinner, and then the parades started right outside her door.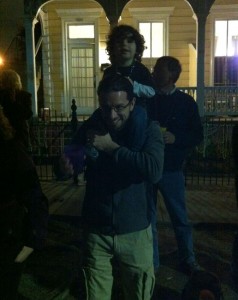 Darius with a drink in his hand and LP on his shoulders.
That's doing Mardi Gras right!
Over the winter we decided that we were going to take Little Prince to New Orleans to visit Grandma R and Tante and have his second birthday party there. This gave our families time to plan for the trip. Pawpaw and Grandma A from my side and Aunt B2 and Cousin T were also able to make it in.
We drove in on Thursday before Memorial Day weekend. I was a little (a lot) nervous about doing a road trip with a toddler. But it went pretty well. In order to keep Little Prince occupied, I went to Target and got a few things from the dollar section (a plastic ring, Batman stickers, etc) and I put them into plastic Easter eggs. Whenever he started to get restless, we gave him a new egg with a prize. I also got him a Thomas book that has buttons that make noise. I knew that book would drive us nuts in about 5 minutes, and it did, but it also kept him happy for over half an hour, so that was totally worth it. He also slept for a good long while after lunch. We made the drive in about 10 hours, which wasn't bad. Got in in time for a late dinner and then put Little Prince to bed.