Archive for the 'Stree' Category
I've been doing a lot of baby wearing lately. First because it generally puts LP to sleep and second because then I get to hold him close while keeping my arms free. I have two baby carriers, the Moby Wrap and the ERGObaby Sport with the infant insert. Mostly I use the Moby wrap, but today I tried out the Ergo.
I love my Moby Wrap. I mostly use the Hug Hold, although I have used a Cradle Hold too. LP really likes being upright on my chest, so the Moby wrap is great because I can hold him there without my arms getting tired. Makes rocking him back and forth really easy. Putting him in the wrap and walking him around is a great way to get him to go to sleep when he's upset/fighting it. It is also great for just holding him close while I do things like write blog posts, play WoW, and do basic house cleaning. I've decided that I'm not skillful enough yet to do the dishes while wearing him, yet.
The Moby wrap did take a little bit to get use to. It takes practice to get the wrap just right and to figure out how to position the baby in it for maximum comfort. Also, sometimes LP does not want to tuck his head under a side piece, so I have to hold his head until he's asleep enough to tuck it for him. Also, if he's upset and needs out now, it can still take a bit to get him out of the wrap, then get me out of the wrap, and then attend to him. Also, the Hug Hold used a lot of the fabric to hold him in place and it can get hot, especially outside in Texas, but sometimes even inside.
For someone who has scoliosis/back problems, the Moby wrap is generally pretty good. I can tie the wrap around my shoulders and waist in a way that works with my curves. I do find myself leaning back a bit when walking around with LP in the wrap.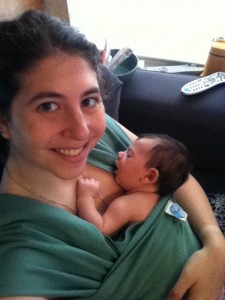 The ERGO baby is a very different experience than the Moby Wrap. It's faster to get the baby into, but has more adjustments to do after the baby is in it. I like that it has a wide supportive base and that the shoulder straps are individually adjustable. However, there were times when I had my arms down that I was worried that one strap was going to fall off of my shoulder (it never did). When walking around outside I felt very supported and my back felt very comfortable. Even with the infant insert, the ERGO seemed cooler than the Moby. More ventilation at this age. Also the infant insert goes above LP's head, so I have less worry about his head. However, the ERGO with insert is definitely bulkier than the Moby Wrap, and therefore not so good for doing housework/hanging out in. I'm guessing it will slim down when LP is big enough not to need the insert (in a few months).
So over all, the ERGO is great for walking around. I could see us using it when we're out and about and I know Darius really likes it. The Moby wrap is great for inside the house and for short periods outside. Of course all of this could change as he gets older and the way we put him in the carriers changes. For now, I'm really glad we have both of them.
On Friday when I went in to the Birthing Center for my nonstress test, I got my membranes swept. This was probably around 2pm or so. Came home. Got some work done. Around 4:30pm I was resting on the bed when I started to feel cramping and my hips started to hurt. I didn't think I could possibly be in labor yet, and the cramping wasn't totally letting up. But then I started using my timing app and found out that the contractions were about 7 minutes apart and lasting just under a minute. Somehow I still couldn't believe that I was in labor, mainly because I'd never heard of hip pain happening. I spent a lot of time on the toilet exiting my bowels and making it through that way. I also spent some time leaning on the railing by the stairs and leaning over the bed. At about 7:30pm I was at my computer and then felt a contraction so I stood against the wall. I felt a pop and a gush, so I was pretty sure my water had broken. I called the Birthing Center hotline and also my doula, Namaste. The midwife on call was Mary. She said that I could keep laboring at home and she'd call me back around 10pm if she hadn't heard from me. An hour, and a lot of hip pain later, my contractions were at 4.5 minutes apart, lasting about a minute. Sometime after that I was feeling tired so I tried to rest, but it wasn't working. Around 9:30 I knew I was not managing the hip pain well. It just wouldn't go away, no matter what I did, so I asked Namaste to come over. At 10pm Mary called and I was contracting every 3-4 minutes, lasting for around a minute. Mary said it would take her 30 minutes to get to the Birthing Center and which room did I want. I had originally wanted the Santa Fe room, but since they changed it to the Barcelona room, the Windsor room was more appealing to me. I set a timer for 20 minutes because I knew it took 10 minutes to get to the Birthing Center.
Just got back from my nonstress test. Of course when they hooked me up to the monitors, Stree decided that it was nap time and didn't move at all. I did have a few contractions during the test and the monitor picked them up, so that's good. Then when the midwife went to check me, the little jerk decided to wake up and move around a bunch; we both felt him! So back on the monitors I go and what do you know, he quiets down. But he did move enough that they decided the results were better.
This morning I started having bloody show, which the midwife confirmed when she did an internal check. She also said that Stree's head is in a VERY good position and that I'm at 1-2cm dilated, 60% effaced with him at -1. She did a membrane sweep, so hopefully that'll kick start things. I have another appointment for another nonstress test combined with an ultrasound to check the fluid and stuff scheduled for this coming Tuesday, but hopefully I won't need it. ~crosses fingers and toes~
Mentally I'm not doing so well. I've been really grumpy and short tempered. I'm just so tired of all of this and I want to have my baby. I know people are anxious and just want the best for me, but right now I'm just not taking any advice or well wishes or questions about have you had the baby yet well. Last night at around 11pm, I had a total break down. I'm just so overwhelmed by this all. ~sigh~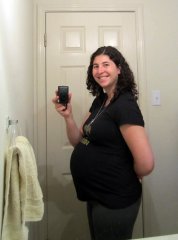 Well, my estimated due date came and went and I'm still pregnant. I'm so tired of being pregnant and I want to meet Stree so badly.
I'm tired a lot and I get up to pee at least twice to three times a night (could explain why I'm so tired). I'm very thankful to have a job that lets me work from home so I can be a little more flexible with my hours. For the past few days I've had burning feelings in my pelvis when I move around, that I can only attribute to the baby being very low. Yesterday I think I lost part of my mucus plug.
Today I had a prenatal appointment. I have now met every midwife that I could possibly have. The one today kind of reminded me of my step-mother, but I think that was just her accent. I don't have a favorite, but I do have a least favorite. I could see how the personality of each midwife could affect things. Today's midwife said my uterus measured at 39 weeks. She also gave me pretty much the exact same stats as last week. However, she did say that she tends to be conservative when it comes to measurement. She reminded me that first time moms actually average more like 41 weeks 1 day. She also said that based on the signs I was telling her things are looking really positive and are moving in the right direction, so I'm trying to take heart from that. Also, Stree seems to have moved his back from my right side to my left side, which the midwife said is really good because babies with their back to the left tend to have a higher chance of facing posterior (which is good).
If I don't go into labor by Friday, I have an appointment for a nonstress test, just to check on everything. The Birthing Center will let you go to 42 weeks without discussing induction or anything like that, so we still have a week and a half to go before I have to worry about that kind of thing.
In other news, I've had an urge to make cake pops for a week or two now and I finally made them. I brought some into the Birthing Center and they were a big hit.
Had my weekly appointment today. The midwife said that Stree is in the -1 position. See, I knew he dropped since last week. Also, I am 1cm dilated, 60% effaced, and my cervix is in the "ideal" spot and is very soft and squishy.
Come on baby, come meet the world!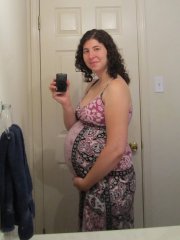 I passed the 38 weeks mark last Friday. I feel like I'm almost at the hurry-up-and-wait stage of things.
Last week I taught my last class and had my last full day in the office. Starting yesterday I'm mostly working from home, unless I need to go in. This is really helpful for me and I'm super thankful that my job is flexible enough to let me do this.
Physically things are going okay. I'm still in a lot of pelvis pain, especially when I move wrong. There's also this spot in my right shoulder blade that likes to hurt after a little while. I thought it was just being at work all day, but it did it yesterday too when I spent the day on the couch. I'll just have to figure out the right position to be in or switch it around a bunch. I'm tired a lot these days too. And last week my right foot decided that it would be fun to swell up randomly. Yet another reason I'm glad to be working at home with my feet up.
Mentally I'm doing well most of the time. I'm still nervous about the whole birth/labor experience because it's so outside of the realm of anything I've ever experienced before. But I think that I'm pretty ready to be a mommy, which is something that I had trouble saying just the other week.
Stree is doing well. He has periods where he squiggles and wiggles around a whole lot and periods where he just likes to stretch his foot or his butt into my ribs (so much fun, let me tell you). He really liked last week's episode of Glee.
At my prenatal appointment on Friday, I was measuring 37 weeks instead of 38 but I'm not really concerned because I think all of those things are estimates anyway. The really exciting thing was that she did a quick ultrasound to double check the baby's position. It was the first time I'd "seen" him since the ultrasound at 18 weeks (right before Christmas). He is 100% head down (hurray!) and has hair. You could see the little spikes coming off the back of his head. So amazing. Unfortunately I didn't get any pictures and we couldn't get a clear profile shot of his face because he was being shy and covering part of his face with his hand.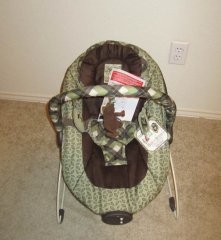 The to-do-before-the-baby-is-born list is coming along nicely. Over the weekend we rearranged the baby's room. I got the last of the stuff that needed to be washed and put away washed and put away. I even put together the awesome Monkey Bouncer all by myself (with only one easily fixable mistake). The nursing pillows and baby carriers are mostly ready. The last of the things the baby needs are in the bag to go to the Birthing Center and the list for the last minute stuff is on top of the bag. And I installed the car seat base into my car all by myself yesterday. The only thing I really don't know where it should go yet is the "Whale of a Tub".
There are tons more pictures of baby things on the Pictures page. For some reason I'm obsessed with taking pictures of everything.
I wasn't sure if I was going to get to celebrate Mother's Day this year since I'm not-quite-but-almost a mother. But we did. Darius surprised me with a PajamaGram. It's a pair of superhero style pajamas that say "Super Mom" and have a CAPE! Then he made me eggs for breakfast. We also went out to dinner to our favorite hibachi place with B and the place gave me a rose because I count as a mom. All of it made me really happy.
Every day I feel like I'm getting more and more prepared to have this baby/have a baby in my life.
Earlier this week I made my list of things to bring to the Birthing Center. I have my bag mostly packed. All of the baby things that need to be in there (except for diapers) are in there. I have some toiletries and some clothing to wear during labor (if needed). I figure that clothing for myself and Darius, food, and personal items can be packed quickly when labor starts because I have the list.
I've also done a few loads of laundry of baby things. All the clothing, blankets, and towels have been fully documented (I had to take pictures of EVERYTHING – will post them soon) and put away. There is a cover on the My Brest Friend. I still need to do a wash of Moby wrap, the Ergo carrier (and accessories) and the Boppy covers.
I've been writing thank you cards at the rate of 5-10 a day and sending them out. I only have about 15-20 left to do.
I finally braved looking at the delivery from The Diaper Squad. I took out all of the diapers and things that were in it and put them in the changing table shelves. Turns out those strange cloth rectangles are called prefolds. There were also some diaper covers and a Snappi. I did some searching online and watched a few videos and now have an idea of how to use a prefold diaper with a Snappi and a cover.
Last meeting with my doula is tonight.

Still need to reorganize the baby's room, clean/organize the stuff that was randomly thrown into corners before the shower, put away the rest of the baby shower stuff, and write the last of the thank you cards.
And today I taught my very last class before my leave. Starting next week I'll be mostly working from home until the baby comes.
Last year for Beltane, Darius and I jumped a fire and I kissed a May Pole. This year we're 3 weeks away from my due date.







Last week I did my first full load of baby laundry. Then I left it in the dryer for a few days by accident, came back and found out that it was still damp two days later. So back in the washer it all went. ~sigh~ Tonight is round two of baby stuff in the laundry, mostly sheets and blankets but also some clothing and things that Darius and I bought today when we went shopping for yet more baby things. Oh that's right, we got more clothing for the baby, because apparently I didn't read the list from the Birthing Center of what to bring closely enough and so we had to get some sleepers and some receiving blankets and some hats. We also picked up the baby tub that was really highly rated. And a cute pillow that Darius couldn't resist.
Yesterday was our last Centering class at the Birthing Center. We talked about all the different ways that labor can start and some of the complications that can happen and what the midwives do about them. We also got to meet the first baby born to our group (last month, she came a little early, but still at full term) and plan for our reunion. We realized that next time we all see each other, we'll all have little ones which is just crazy to realize.
Had a check-up on Thursday. Brought Darius with me because I thought I was going to have an ultrasound, but it turns out that it wasn't written on my chart to have one and the midwife said that everything felt and seemed healthy so there was no reason to have one. Guess we'll see what he looks like when we meet him.
Symptom wise I'm still having a lot of pubic pain. My chiro says it's because my left hip is forward and slightly rotated. The support belt helps, but UGH and ouch. Also, I have to pee pretty much every time I stand up. I also feel HUGE.
One last week of teaching classes at work and then it's all project work while mostly working from home for me until the baby shows up, which could be anytime from now until 4 weeks or so from now. And then I'll be a mommy. I'm still in some disbelief about that.
Darius did something amazing work last night on conquering one of his major fears so that he wouldn't pass it on to his son. I'm so proud of him. I'd say more, but that's not my story to tell.
On Thursday evening my mother and sister came into town. On Saturday we had my baby shower. It was really fantastic and made both Darius and I feel loved and cherished by our friends, family, and community.

The shower was dinosaur themed. So mom and I made dinosaur egg shaped cake pops by using a plastic Easter egg and dying melted white chocolate (and also using milk chocolate). Once they were dry, we set up the nest display made out of floral foam and fake moss. Then Darius did a great job artistically arraigning them. Darius's mother surprised us with a lovely Edible Arrangement that showed up a few hours before the party. It was so thoughtful of her (and very delicious!).
The party itself went very well. We probably had about 15-20 people show up. We had social time for about an hour and then my sister broke out the games. It started with giving everyone a candle and asking them to inscribe a wish for us. The idea is that whenever they think about Darius, me, and the little one they light the candle and send us good wishes. We're also asking that people light them as soon as they find out I'm in labor to send the good wishes our way. Yes, sometimes I'm a total hippie pagan. We went around and everyone introduced themselves and told us their wish for us, which was really sweet.
Then my sister had everyone put a note card on their head and draw what the baby would look like. Darius and I picked our two favorite and our two least favorite. Then we had a "name the baby" contest and a "guess these random facts about Darius and Athene's childhoods" while people cut a length of yarn that they thought would be the size of my belly.






Some of the names that I loved:
Pee
Wing Ding
Once and Future
I Dna (read the middle and first name backwards)
Fisher
Sihng
Burger
Po
Norse Vi
Lizard
Raymond (Ray)
Don't Gender Identify Me Frederick (ok…this is from my sister and is a total family in-joke).
What's really interesting is that Joseph made a few people's lists. While we wouldn't do Joseph as a first name for several reasons, the name actually runs in both families and we've been thinking about using it as a middle name.
As for the string around the belly, we played it with Price Is Right rules. I guess I must look bigger than I am because almost everyone totally overestimated. There were two people who got it dead on.

Then it was time for cake pops (yum!) and presents, especially as it was already getting late and some people had to leave. We got lots and lots of great things, some from our registries and some not, but everything we got was definitely stuff that we need. One of the gifts that touched me the most were toys and books and things from a friend's children because they didn't need them anymore. I know how hard it can be to give up those sorts of things, so it was really sweet. We also got some presents from my mother's group of "lady friends" who had thrown her a surprise shower the other week.

Lots of great New Orleans stuff so the baby will know his roots. However, the absolute BEST.PRESENT.EVER. was the baby sized Jayne hat. You can see from our faces just how excited we were by it. Yes, we are nerds and Browncoats and we will have the world's biggest nerd baby (until he grows up and becomes a jock or something).
Lots more pictures from our shower, some from our camera and some from my mother's:
My sister also took pictures. Here are the ones from her camera:
Now to actually set up the baby's room, organize all the stuff that we got, and figure out what we still need.