Archive for the 'feeding' Category
After I stopped pumping at work, we took a few steps back and now Little Prince wants to breastfeed generally as soon as he sees me after daycare/work. But it's short sessions and then he's happy to play.
However, we are making more slow progress. A little over a month ago we were at Firehouse Subs for sandwiches before going to our weekly Dungeons & Dragons game. The food was almost ready and Little Prince asked to nurse. I really just wanted to get to game, so I told him that since we were out he could "Touch the milk" (aka reach his hand down my shirt) but he had to wait to "drink the milk" (aka breastfeed) until we got to our GMs house. I meant it for only that one time, but apparently it had an effect on him. Now, especially when we are out, he'll sometimes ask to touch the milk instead of drink it. When he touches it, we tease and I ask him if it's still there or he'll tell me that it's still there. I use this at home too when we're going to daycare/work in the morning and it's too late to nurse him (I have a no nursing after 7am on weekdays rule, except for in special circumstances, or we'll never get out the door). I like that I can still give him the comfort of my breasts without it turning into a nursing session every time.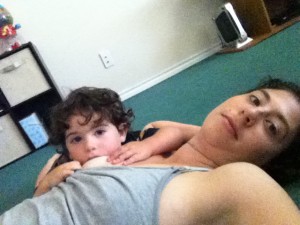 This is what breastfeeding a toddler looks like. He said "Lie down mommy. On the floor." And then "More milk" and latched on.
He still does like to breastfeed a lot, which is fine. But there are times where he just starts bouncing back and forth between "other-side, other-side, other-side" or when he declared he was finished and then wants to start up again a minute or two later. At that point, I usually give him a slow count to finish up, somewhere between 5-10. He almost always pops off at least two numbers before the end of the count and then goes along his merry way.
So we're probably down to about 4-6 times in 24 hours during the week and a bit more on the weekends. Still don't see an end date, but I'm glad that I'm able to enforce a few limits around when, where, and for how long we feed and that he is fine with that (most of the time).
A few days ago when he was "naked baby" he pulled at his own nipples and tried to see about getting milk out of them. One day he'll figure it out, but until then, it amuses me greatly.
Oh, and last weekend I gave away the rest of my "stash" to mothers of adopted twins, since when I went on a three day trip he never once asked Darius for mommy-milk. So that makes five families I donated milk to in the course of two years, giving Little Prince a total of seven milk siblings.

Yesterday I washed two bottles and a sippy cup that had had breastmilk in it and thought, "This is it."
Remember how in March I said I was going to stop pumping at work around Little Prince's second birthday (which is at the end of this month)? Well, it happened last Thursday.
At daycare, Little Prince had started asking for milk less and less. In March I started sending only 5-6 oz. As he wasn't drinking all of that, I started sending only 3-4 oz. I dropped my pumping time at work to only 10 minutes.
In April I nervously asked his daycare teachers to always offer water first but to give him milk if he asked for it. Some days he did, and some days he didn't. Toward the end of April his sippy cup that I sent with milk was always coming home as full as I sent it. About two weeks ago we started hiding the cup of milk in the big fridge at daycare so he wouldn't even see it. Since then, he's never asked for it.
Last Friday I was really busy at work and totally forgot to pump. I didn't even notice, which any breastfeeding mom can tell you is a big deal, because if you need to empty a breast, you notice. So this week I decided to stop pumping and stop sending milk. I was really scared that on Monday Little Prince would randomly ask for milk again, but he hasn't. And it's so liberating not to have to pump, esepcially since I got to stop two weeks "ahead of schedule." After about 9 months of pumping twice a day and almost a whole year of pumping once a day, it's amazing to get the time back. And I'm really proud of myself for being as committed as I was and doing it for as long as I did.
We still have a small freezer stash (just in case) and if I'm away from Little Prince for a significant amount of time, I may need to pump a bit, but in general, I am DONE PUMPING! Hurray!
And now, in honor of the new Star Trek movie coming out this week, here's Little Prince yelling "Khaaan":
Well, it looks like we're actually on the path to a nice natural slow baby-led weaning.
6 months or so ago Little Prince was still breastfeeding/taking milk at daycare a good 8-10 times a day. I'd say 3 months ago it was still 6-8 times a day. Now we seem to be down to about 5 times a day. He's also eating more, which is probably partially just growing up and partially getting in his molars with canines not that far behind (oh our night times are fun these days!).
About six months ago Darius and I encouraged a bit of night weaning using the Jay Gordon Method (modified). Instead of picking a middle of the night 7 hour stretch, we picked from when he fell asleep (usually around 8:30-9) until 2am to be the time that "milk was asleep." It hasn't always been easy. Sometimes, like when he's sick or teething, we add a few more sessions back in. But most of the time this gives Darius and I a bit of evening time to ourselves and at least a few hours for me of uninterrupted sleep (before we started this, Little Prince was waking up every 2-3 hours to nurse… the joys of reverse-cycling). Sometime around the holidays I noticed that sometimes 2am was more like 3am, occasionally even 4am. But there would be a long long feed or three before it was time to get up for the day. Just recently I realized that the number of feeds overnight has seemed to drop to a 2 or 3am feed and then a 5 or 6 am feed. We've generally dropped a night session. I was going to start encouraging this in April (after the March craziness died down), but it looks like LP is starting to do this on his own.
Back in late January or early February, Little Prince's awesome daycare teacher informed me that he was not drinking all the milk I was sending with him each day; he was starting to ask for water instead. So I started sending about 6oz instead of 8oz. Yesterday I found out that he's not even drinking all of that. So now I'm going to start sending about 4-5oz. It was funny because she seemed so remorseful when she told me, but I was super excited that he was making this choice on his own. I think next month I'm going to ask them to always offer him water first instead of milk, because I plan on stopping pumping at work around LP's second birthday. While we still have some freezer stash left, it's not what it once was and I'm definitely pumping less milk than I was three months ago.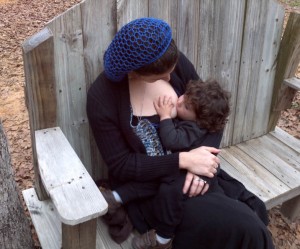 A few weeks ago I noticed that over the weekend (when Little Prince use to nurse about five times from when he woke up until when I put him to sleep), he had dropped the mid-morning and mid-afternoon nurse.
Ever since I started work, when Little Prince was 11 weeks old, we (almost) always had a reconnecting nursing session when we saw each other again. When he was a little, little one, this was a 45-60min nurse-nap session. As he's gotten older, it's been more like 10-15 minutes. In the past few months it's been "Couch, mommy, more milk…more milk, other side." He says it "meelk" which is super cute. But in the past week or so he mostly hasn't asked for milk when I've gotten home. It's kind of bittersweet for me, because I liked that reconnecting moment. That time where I could put aside my work day, relax, and become mommy again. But I've been getting a huge hug from him instead, so it isn't all sad.
Of course I still breastfeed him when he gets hurt or surprise-hurt. Sometimes he even says "hurt, ouch, milk" through his tears. I guess I'm doing (mostly) don't offer, (mostly) don't refuse. I still offer at bedtime and weekend nap time. And sometimes I'll try distraction/other food/water push off to see if he's more interested in that.
As for going to bed at night, I still offer every night and he still nurses in bed, but sometimes he doesn't fall asleep from it. Lately he'll alternate asking for milk and for water. Sometimes I think water is a distraction/I don't want to go to bed technique. And the whole daylight savings time thing really threw us off. Still, I guess it's time to start figuring out how to get him to fall asleep on his bed and without milk, other than walking him, which always works but I really don't want that to be the only way he'll ever fall asleep.
Our Little Prince was throwing up all Sunday evening to night from 6pm to about 3:30am. He was finally able to hold breastmilk down at 5:30am. Took the day off from work and stayed home with him. He threw up again once Tuesday night, but was fine after that. I'm still convinced it was because I took a Zyrtec on Saturday night and on Tuesday morning.
I woke up at 3:30 last night to breastfeed LP and was all shivery and my left breast was tender to the touch. Darius went to work (he leaves early) and after he left I started spiking a fever of 104-107°. For someone who runs 98°, this is a big deal. I couldn't drive myself anywhere, I felt too bad. My awesome almost-neighbor and LLL leader saw my posts on Facebook, came over, got LP dressed, got me to the ER and took LP to daycare. Darius met me at the ER. They gave me an IV of fluids and some strong antibiotics. I also got a prescription for strong antibiotics and I made sure they are breastfeeding friendly. For those who care, they're class B.
Came home. Rested, ate, pumped, watched Mythbusters and the rest of Your Highness, napped for a bit and relaxed for a bit. Fever is down to 99° last I checked and I'm all sweaty. My left breast still hurts a ton and is hard and tender to the touch.
Darius and LP will be home from daycare soon.
Mastitis sucks, but my friends are awesome.
Hope you're having a blessed Solstice.
Our Little Prince turned eighteen months old last week. That's a year and a half of this awesome little person being in our life. We had our 18 month check-up and while the pediatrician said he looks like he is "filling out," he's still a tiny guy: height 30¼", weight 19lbs 12oz. So in six months he's grown about 2 inches and put on almost 1.5lbs. Somehow it seems more reassuring that he is growing when I look at it like that.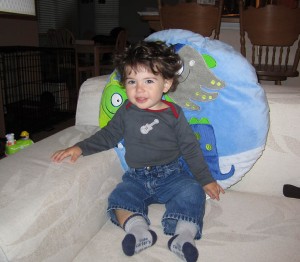 Here's a bullet list of 18 things about LP at 18 month, interspersed with a whole bunch of pictures and videos.
Lately he's been putting words together with alarming regularity. We have "cold outside", "school bus", "Ernie eat", "That's a kitty", and my favorite, "Mommy made apple pie." He's also hitting the "my/mine" stage full on.
At daycare they've started sitting him on the toilet twice a day. So we got a little potty and LP really loves to "sit on the potty." Hasn't "used" it yet, but we're getting the idea.
He loves to help around the house. He'll stir stuff in a pot, wash dishes, and sweep the floor.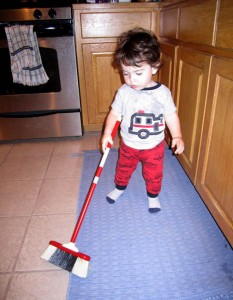 There were a ton of leaves in our front yard so I raked them into a pile and we played in the leaf pile for a while. Yes, he's wearing shorts and a t-shirt. I'll take my 100° summers to have 80° in December.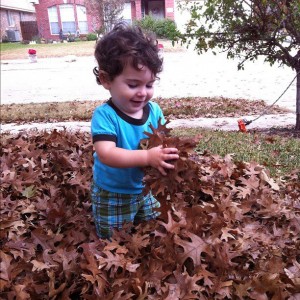 He loves books, Star Wars/R2D2, Elmo, Cookie Monster, and Ernie. He also went nuts when we showed him some of the Aristocats because he could identify the animals and had to tell us about them.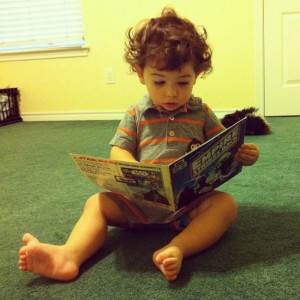 We are working on being the very best nerd-parents/totally messing LP up forever. He can say "die" and "dice" which is cute in general, but when he turns to me and says "mommy, die" it's a little weird out of context. Although when he said "tante, die" while we were Facetiming with my sister it totally made my night!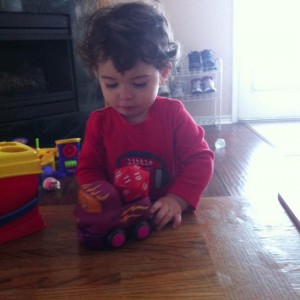 We've also taught him to clench his fists and yell "Khaaaaaaan" which is just super adorably cute. (Still working on getting video of that one).
He's still nursing a ton, although the "milk is asleep" from when he falls asleep until 2am is working out pretty well. Sometimes when he wakes up before 2am and I tell him that "milk is asleep" and he gives me this "No" wail that reminds me of Luke being told that Vader is his father.
He's also eating more. I try not to be worried when he's not interested in food at dinner time, but it can't always be helped. Then I remember that he eats well at daycare and he has a snack on the way home from daycare and also breastfeeds for a bit when we first get home.
He still loves apples more than just about anything. He also likes sweet potato fries, sweet potato puffs, crackers, turkey (but not chicken as much), pasta, blueberries, and strawberries.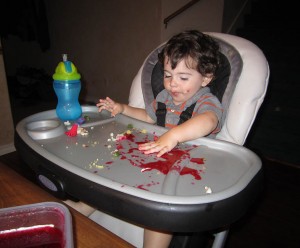 LP can go up and down stairs. When he says "up the stairs" it kind of sounds like "apple juice."
On that note, he had a big tumble down the stairs the other day. I thought he was at the bottom of the stairs, I turned around, turned back and he was half way up them. Then he turned around to see me, and lost his footing. He rolled down about four stairs sideways before I got to him. Picked him up and assured him he was fine. Breastfeed him for a bit, and then we went down and up the stairs again to make sure he wasn't afraid of them.
He currently has four top teeth, two bottom teeth, and a third bottom tooth is part way in.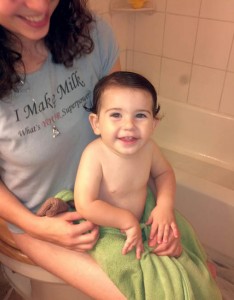 He loves slides. At the playgrounds he's figured out how to go up the stairs, over to the slide, and go down it.
Like his father, he's a "reaction junkie." If I react to something he does and he finds my reaction funny, he'll do it over and over again to try to get the same reaction. He loves to blow raspberries on my tummy. The other day he tickled my knee and when I squealed (I'm super ticklish) he did it again and again all night.
His favorite game to play with us is "boo/hi." He'll hide behind something, such as the couch or a wall, and then jump out and say "hi" or "boo." It's so cute!
We're trying out All-in-Ones/Pocket diapers again because a. I'm tired of using disposables when we go out and b. he doesn't need to be changed as often as when he was 3 months old and will tolerate a wet diaper more. So far so good. We've purchased a couple of the very nerdy diapers over on Seams Geeky, because who can resist Final Fantasy and glow-in-the-dark Tron diapers?
I currently have four baby carriers in the house, but one I don't use any more (the Moby) and one I'm borrowing from Austin Babywearers. There's another one I'm lusting over. I may have a small problem. But he likes to be worn and I still like to wear him.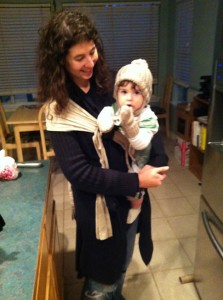 In closing, in case you are thinking about getting him anything for this holiday season, here's his Amazon wishlist. Clothing is also always appreciated. He's at that stage where he's in between the 12 and 18 month sizes.
There has been a lot of talk recently about Attachment Parenting (AP). Most recently this picture graced the cover of Time, causing shock (as it was intended to) on both sides of the issue.
There have been some great responses to it already published. Here are two: No. I'm Not Mom Enough & Time Magazine and "Extreme Parenting
It may come as no shock to those who know me, but in my household, we practice AP. Here are the eight principles of AP. I just sort of fell into AP naturally. My parents practiced many of these things back in the 80s before there was a term for it because it "felt right" to my mother (she says that we should call AP "natural parenting" since everything else is outside of what is normal in most of the world and for most of human history). These principles also feel right to me. I am also thankful for a friend who passed on her copy of The Baby Book (which I've mostly read through) because it gave me the term to use for doing what felt right to me and helped me find others who parent the way I want to.
I had a natural birth at a birthing center. We breastfeed, which I plan on doing until it is something LP and I both decide is no longer for us.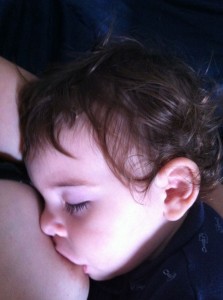 We co-sleep, which makes it so much easier as a working mom of a baby who reverse-cycled at about 4 months to get any sleep.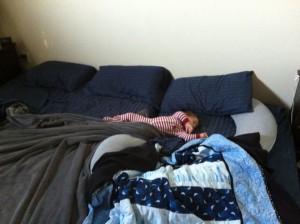 We practice babywearing. LP loves being worn (most of the time) by either parent. And it sure can make doing things like shopping, housework, or even playing WoW (once he's asleep) easier. We also have a stroller, which we do use for things like long walks to the park.
Recently I borrowed from the library and read Beyond the Sling by Mayim Bialik. It was interesting to read her book. I really liked her voice and the way she told her story. When I was reading bits about parts that I agreed with already, I found myself nodding my head or saying "yes! exactly!" out loud (good thing I read it while pumping in the Mother's Room at work so there was no one around to hear me). There were some things that were a little "out there" for me, such as Elimination Communication (which sounds cool…but we're renting a place with lots of carpets and I know it's something daycare would never go for) and lots of holistic medicine. I did love her chapter on gentle discipline (also known as positive parenting), which I made Darius read. I actually got out from the library the book on Gentle Discipline that she recommends in her resources section. My two biggest take-aways from her book was the idea of not saying no, but saying "Not for LP, but this over here is for LP" instead and when the kid starts to cry when hurt asking in a caring tone "hurt, surprised, or both?"
Does AP work for everyone? No. Does it work for us? Yes. One of the biggest tenants that I've noticed amongst AP people and La Leche League people is that they are aware that every family and every mother is different and so they say do what you can and what works best for you and for your child. No need to be "mom enough."
Part Two: Attachment Parenting and the working mom.
Or how Triple Nipple Cream saved my nursing relationship.
Or how I should have listened to my instincts and to others.
About a month and a half ago I noticed that my left nipple was starting to hurt a bit. It felt sort of like thrush, but wasn't quite the same, and the right side was getting sore too. So I made an appointment with the Birthing Center to get it all checked out. They confirmed that it wasn't yeast or bacterial. The lactation consultant (who was also our post-partum midwife) was there. She agreed with me that it could be because I'd switched horns on my pump to the Pumpin Pals about a month before and the smallest ones they have are too big for me. I should have guessed this myself when they wouldn't hold suction so I had to turn my pump up and hold them on (I can usually pump hands-free). But I was stubborn and really liked how they were ergonomic, even when they were damaging me. (Anyone want a set of Pumpin Pals horns? I know a lot of people who say they're great.) So I switched back to the regular horns and started coating them in lanolin to help with the friction.
While the left started to feel somewhat better, the right started getting worse and worse. I started getting vasospasms on both sides. I mentioned it at my La Leche League meeting and my friend recommended I get this Triple Nipple Cream. Someone else mentioned "Soothies" breast pads. But I sort of ignored them thinking things were under control.
At the same time as all of this, I noticed that my Little Prince looked like he did, in fact, have a tongue-tie. So when we were at his nine month check-up, I asked his pediatrician to confirm it. Yup, he had minor tongue-tie alright. This got me a big "I told you so" from Darius and a recommendation for an ENT doctor from our pediatrician, who I made an appointment with for the next week. I also found this article on tongue-ties and realized that LP had over 20 of the listed symptoms at one point or another.
The last week things went from bad to worse. The left was sore and wrinkly. The areola on the right has this shiny blotchy part and when I pumped or nursed, skin was actually pealing off and I could see deep cracks all over my nipple. I starts wearing nursing pads again, but I was sticking to them and when I took them off, there was some skin and a bit of blood on them. On Tuesday of last week I got some Soothies and while they helped a bit with the vasospasms and the rubbing, it was still bad. On Friday morning when LP latched on the right, it hurt so much I actually started crying.
That Friday was also the day of my Little Prince's ENT appointment. The doctor took one look and confirmed the tie. He said it was minor so we really didn't need to do anything about it. But he gave me the option of snipping it right then. I took it.
The procedure was very quick. They numbed under LP's tongue, then got him crying (poor thing) and took a thin pair of scissors and snipped it super fast. He cried until I got him on my breast (all of 5 seconds, because I was already holding him). Then he nursed for about five minutes and was perfectly happy after that. No blood or anything. It was so simple. I wish I'd had it done right after he was born. I bet it would have helped with our early latching problems.
After I dropped LP back of at daycare, I called my doctor and asked them to call in a prescription of the Triple Nipple Cream. I picked it up after work and started using it right away. I also tried using the nipple shields again, but LP refused to nurse with them, so I just grinned and bore it. I also started to once again refuse a latch that felt super painful or uncomfortable.
What a difference a week can make. My nipples are healing. Pumping doesn't hurt anymore. The red shiny spots on my right areola are gone. Today I'm wearing regular breast pads instead of Soothies and I'm not sticking to them at all. And best of all, nursing on the left almost doesn't hurt at all and nursing on the left is hurting less and less every day. And even though the cracks in my nipple are still there, they are on their way to healing.
Finally, LP loves sticking out his tongue now. He's exploring a whole range of motion with it that he never had before. And I'm pretty sure his suction has gotten better and his nursing more efficient.
Sorry about not updating when my Little Prince turned 8 months. I got just a bit involved with the Facebook Nurse-In stuff ;).
So, LP is now 9 months old! At his checkup last week he was 27″ long & weighed 17.5lbs. He's been a person in the world longer than he was a collection of growing cells/a fetus inside of my body. It still blows me away.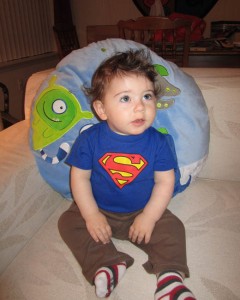 LP continues to grow, change, and amaze me. He is now crawling like a maniac (much to the cats' dismay), cruising around the furniture, walking for a good while while holding our hands, and even standing for several seconds all by himself. He's also a little thrill seeker and loves getting tossed around, thrown up in the air, and being placed on shoulders.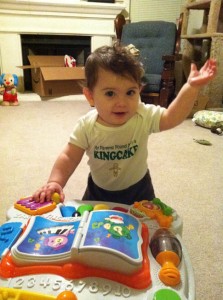 (Drat, I had just added a bunch of stuff and WordPress just ate it! Boo! Hopefully I can remember most of what I wrote.)
When he's excited, LP makes the cutest "gah" noise. He also says lots of "da/dat" "ba" and "agg" sounds. Still not much on the "ma" front :(. He also signed milk once or twice, but not consistently… then again, we're not very consistent with it.
When he wants to show affection (or when he's super tired), he'll lay his head down on you. It's so cute. Here he is giving the boy-cat some love: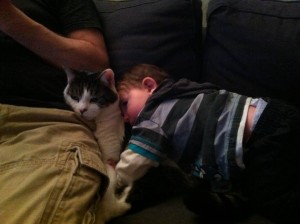 Grandma (my mother) came into town the other week. She spent a few days watching him, which was nice. She found a great little park for smaller kiddos nearby, which we have since taken him to a couple of times. She also taught him to raise his arms up when someone says "touchdown" (even though it's not football season anymore). Here he is doing "touchdown" for Grandma when we were out at dinner:
On the eating/sleeping front, LP is still mostly reverse cycled, although he does take more milk at daycare than he use to (probably because he's more active these days). So we dream-feed several times a night. He still isn't super interested in food. He does about 2-3 oz of baby puree at daycare every day. Apples or sweet potato seem to be his favorites. He's okay with banana, pears, and carrots. So far not a fan of green beans. At home we do more baby lead solids. We went out to Olive Garden over the weekend and got him a side of steamed broccoli and he had fun squishing it and dropping it on the floor, but I'm pretty sure he got some in his mouth. Here he is with two slices of an Empire apple. He really likes apples and other fruit.
He also likes to try and drink water from our glasses. It's pretty cute and usually ends up with water everywhere. He's starting to figure out sippy cups too. I think we need to get a few different types to see what he takes to.
As perfectly developmentally appropriate, LP has occasionally exhibited some mild signs of separation anxiety when we put him down. So we babywear him more. Currently there are three baby carriers in this house: a Moby wrap, an Ergo, and a Mei Tei that I'm borrowing for a friend. I've started to become a big fan of the back carry. I've also started to get addicted to baby carriers. They are so awesome. And different ones are needed for different situations! The other week we were at CostCo and Darius had LP in the Ergo on his back. LP totally fell asleep and Darius kept getting double-takes from people as they realized that he wasn't wearing a backpack, but a sleeping baby.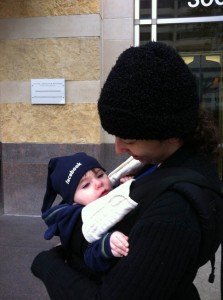 I'm sure I have more to say, but he's waking up and it's way past time to get him to daycare and me to work.
Yesterday Little Prince and I protested the way that Facebook handles breastfeeding pictures by attending a Nurse-In in front of the Facebook office in downtown Austin.
It started almost like any other weekday. I got up before LP, showered, and ate. But this time I also spent time checking the internet for news of the nurse-ins that were happening all over the world and also seeing if there were any last minute planning things to get done. Eventually LP woke up and I giggled and played with him in bed for a bit before changing him into a cloth diaper/cover and putting him in his outfit for the day. We played around for a while and I slowly got things ready. Eventually he had his morning poop (he's a morning pooper) and it was almost time to go, so I changed him from cloth to a disposable. I was getting the last few things ready and LP was on the kitchen floor torturing the boy-cat, when I heard the unmistakeable sound of another poopsplosion. I scoop the boy up and head upstairs with him to change him. Without thinking about it, I put him on my hip. Next thing I know I feel wetness through the three shirts I'm wearing. Oh yeah, I'd squished the poop out of the diaper and through his pants, onto me. It was all over the special shirt I'd ordered just for this. Clean up baby, clean up mommy, change our outfits, bundle us up and we're finally out the door (still on time).
We head downtown and I'm actually pretty nervous. Find parking close to the building the Austin Facebook office is in, put time on the meter and head over to the building right at 10am. I pick up a reporter from the Statesman on my way over. There are two moms out there already. They're surprised that the building wouldn't let us in, but that's how the Austin rules go. Very soon after a few more moms show up. We had about a dozen moms/supporters come through throughout the time we were there. We just hang out in the chilly weather (it was about 45° F out) talking about being a mom and what we're doing. We talk to the reporter too. Another reporter from KVUE shows up. He says that they want to come back with other people and put us on the 6pm news. I promise that we'll be around at 11am. I'm trying to talk to people and take pictures and tweet/Facebook and keep up with other events and take care of my baby all at the same time. It's a little hectic and I'm no longer nervous to be there, but proud to be supporting a cause I believe in so strongly. I did manage to nurse him a bit while we were out there :).
At some point some nice women from Facebook come down with water bottles for us and Facebook hats for the little ones. My co-organizer gives them the letter she wrote explaining why she is doing this. We also make sure the news people get copies of the letter. At 10:45 many of the moms want to leave, but I explain to them that another news crew is coming and to please wait just a bit. At 11am the other news crew shows up. They take some pictures and interview three of us (myself included). We all leave around 11:30am.
My pictures:
Stop by Darius's work to say hi and find out that there was already a segment on about us on the 11am news! Head home and LP totally passes out. Eat lunch and check the networking sites. I see on one of the protest Facebook groups that a news reporter from Austin is looking to talk to a mom who was at the protest. I give him my number. He calls me right after LP finished his lunch-nurse. I try to sound more articulate with some of the answers that I came up with for the first interview after I was in the car heading home. I hope I do.
I head out with LP and run some errands. On the way home from the last one, I actually hear a quick sound bit of my interview on the radio. A bit about how breasts are sexual, but they are also used for feeding babies, which is their primary function. The DJ then goes on to talk about the overly sexy/sexist Super Bowl ads.
I watch the 6pm news. Sure enough, I'm on it. It makes me really happy that we're newsworthy enough to be getting this kind of attention!
Local news reports of the Nurse-In:
My absolute favorite piece of coverage that I've read about the Nurse-In comes from the Houston Chronicle. It explains in much better words than I ever could exactly what were doing and why it is so important.
In ironic news, the picture of my friend L smiling at the camera while nursing her daughter, who is wearing a Facebook hat, has already been removed from one of the groups that I posted it to.
As our Little Prince is turning 6 months in a week, Darius and I have been starting to look into and acquire items for starting solids. We've had a highchair for a little while already (Thanks Grandpa and Grandma A!). Now we have some sippy cups with handles, a whole bunch of baby size spoons, and a set of baby sized no-slip bowls.
I'm not going to lie to you, Marge, I'm really nervous about this whole feeding my baby something other than breastmilk thing. I've been doing a lot of research into it. I don't want to push LP to start solids before he is ready. While he's starting to exhibit some of the signs – good at sitting on his own, losing the tongue thrusting reflex – there are still others – developing the pincer grasp, being really interested in our food, mimicking chewing – that he's not doing yet. I am a little worried that I'm so nervous about this that I'll purposefully misread the signs, but everything I've read said that when a baby is truly ready, it is hard to miss.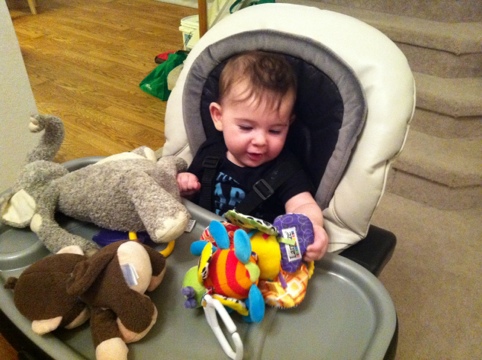 As for how to feed him, I've been really conflicted. I really like the idea of Baby Led Weaning. Letting LP explore food on his own instead of feeding him. But I doubt that daycare will be willing to go along with this (I haven't actually asked though). I realized over the weekend that this is okay. That I can make mashes, purees, etc for daycare to feed him and do BLW at home. In fact, if LP enjoys food, it may make daycare feel better, since with the reverse cycling, he just doesn't take a lot of milk while he is there.
I did offer LP smells of banana, strawberry, blueberry, and raspberry over the weekend. He wasn't overly impressed with any of them. But, he did seem more interested in the raspberry than in the others. He is his father's child. I also let him lick an apple slice, but then he made a funny face and wanted to nurse. I'm guessing he was trying to get the taste out of his mouth. 😀