Archive for the 'Motherhood' Category
Last night was probably one of the worst nights we've ever had.
Darius was out for the night so it was a special Little Prince and mommy night. It started off just fine. No problems with pick-up from daycare, the ride home, making dinner or anything. Since he was being so cooperative, I even let LP watch an episode of Octonauts (his new favorite show) while we had our quesadillas. Then he had a juice pop for dessert and we FaceTimed with Bubbe until part way through his bath.
After that is when things turned ugly. While it was time to wash his hair and wash up, he decided that he had to throw every toy into the tub. I basically had to corner him to wash his hair and wash his body. He kept throwing toys up into the air and into the tub. It was hard to even get him to put them all back. I ended up pulling him out of the tub (after he was rinsed) without him putting them all back and not letting him back in it.
Then it was a fight about clipping his nails. He refused to let me do it, even though he's been so good about it lately.
He was all over the place in his room for pajama time and then he didn't want to brush his teeth with me. We were in the bathroom and he purposefully scratched me. So I put him in his room with the door closed. He started throwing things at the door. I let him know that I was going to brush my teeth without him and he didn't seem to care, so I did.
My memory of what happened after that gets fuzzy. I do remember that he lost media time for today and tomorrow. Then he lost books. At one point I actually turned off the lights and held him on the bed tightly, but he was squirming and crying and said he really wanted to brush his teeth. So I brought him into the bathroom to brush, but he was so upset (and he wasn't going to get his app that he normally uses, re: media time) that he had trouble brushing. Somehow he did brush a bit and then he wanted books. When I said no, he kept turning the lights back on. So when Darius got home, he found me sitting outside LPs room on the floor and the lights still on in LPs room. It was now almost an hour and a half since the bath was over. When I went to check on him (I was sure he was asleep by now as I hadn't heard anything from the room in ages), he was just sitting on his bed staring at the door. He still demanded books and so I left him in there again and went to talk to Darius and take care of the cats. I was so angry and upset that I was almost in tears. I went back up and found him lying partially on the bed. So I turned off the lights, pulled him to me and held him. He cried and flailed and then I cried too because I was so upset and because at 8 months pregnant and with SPD, I can't/shouldn't be picking him up and hauling him around. With both of us crying and snuggling, he finally fell asleep snuggled against me.
Thankfully this morning and this evening/night were mostly better. We did let him know that if we started to have another night like last night, it was going to be a daddy and not a mommy night. We did have some trouble with him staying in his chair at dinner time, but things ran much smoother (or about as smooth as they always do).
I'm not really sure where all of this came from. I think some of it may be the normal 4/4½ year old boundary testing. Darius thinks it's partially because I let LP negotiate/push back some when I think it's a little thing and not worth arguing about, but to LP everything is a BIG thing so he can't tell the difference. And I'm sure some of it is the fact that I'm pregnant and there's going to be a baby in the house in (probably) less than six weeks. Whatever it was, it wasn't pleasant and hopefully times like this will be very few and far between.
My mom is visiting for two weeks. Today she picked up Little Prince after his soccer practice at daycare and drove with him to my BIL's mother's house, which is about 3 hours away. It's his first time sleeping away from home without either mommy or daddy being there. It'll be our first night in the house without him. I'm sure we'll be a mess and he'll be fine.
I got a text about 30 min ago that they got there safely. I just got a dictated text about how the dog there follows everyone around and wants to play. I miss him already. How did people do this before texting?
Oh we had a morning. One of those nothing is going right sort of mornings. Little Prince rolled out of our bed and hit his head on something at 5 in the morning and wanted an ice pack and not milk and then wanted milk and wouldn't fall back asleep. When he did fall back asleep for a bit, when i tried to move out from under him to take a shower, he woke back up. Let him watch the opening 10 min of Frozen on my phone while I showered. Nothing was right for the whole morning after that. I don't need to go into all the details, but there were plenty of meltdowns and contests of wills. Eventually I got him changed, into his uniform, and downstairs. I still love my Scootababy because he was finally willing to nurse in it for a bit while I got our morning stuff ready to leave.
We eventually got out the door. While LP was starting the car (he likes to do this every morning), I contacted Kid's Place Live (the kid's radio station) and ask them to play a song for him. I wanted a Doubleclick's song (it's his favorite band), but they don't have them in their library (yet), so my back-up song was Yoda by Weird Al. Finally got LP into his seat and got going. Turned on KPL and told him that it was the special LP station. He was still kind of pouty in his seat. As we were exiting the highway, the morning DJ said that the next song was for [LP] in Austin, Texas and they put on Yoda. When I pointed out that it was the LP station because they just said his name and he was in Austin, TX and listen it's the Yoda song he loves, he got the biggest grin on his face. He told me that I could sing along to Yoda but not Princess Elsa. He also (as always) got excited with the song mentioned Darth Vader. We got to school just as the song was ending. He then proceeded to tell the director and his teachers at school how the LP radio played Yoda just for him. It really made his morning.

Now if only I could get them to play the Doubleclicks.
This morning when I woke up it had snowed (or something, well it had certainly weathered) overnight.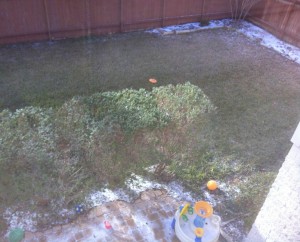 I checked and found out that all schools, and thus Little Prince's daycare, were closed. I'd already informed my boss that this might happen. So we had a snow day. Darius had already gone into work, was only working a half day. I went back to bed and snuggled with Little Prince. We had a nice leisurely wake up. Little Prince told me he had to use the potty as I was brushing my teeth, so I missed getting him onto the potty in time (but he still wears diapers). When I did his diaper change, we agreed that we'd both say in pajamas all day. And we did.
We went downstairs and had cereal, bananas, and juice for breakfast. He put his vitamins at the bottom of his bowl of cereal and we had to find them. After we ate some, I let him take the rest of his cereal upstairs and I put on Lilo and Stitch so I could get some work done. It was his first time seeing it and he liked it a lot. I did my best not to quote the whole thing while watching it. The he asked to do his yoga DVD with me, which he actually did for about 10 minutes until there was a "bear" and he freaked out and just wanted to watch it with me.
After that we decided to make cupcakes. I took out the butter and eggs to soften, but realized there wasn't the right kind of milk in the house and we were low on sugars. I asked Darius to pick up the milk and sugars on his way home. So Little Prince played by himself for a while while I got more work done. He even worked from home too.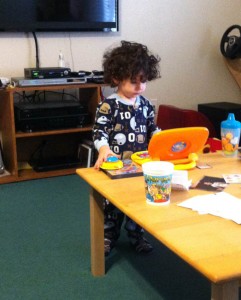 We got to video chat with Tante for a little bit. Next thing I knew it was lunch time and Darius was home. Luckily Little Prince had some of a left over turkey sandwich from last night so I didn't have to worry about making lunch for him. After lunch time, it was nap time. Little Prince actually peed in the potty, standing up no less, during his pre-nap diaper change. He fell asleep fairly quickly and I was able to get a lot more work done. Then he woke up. Darius tried to comfort him, but he only wanted mommy. So I went back into his room and we snuggled and he napped a bit more.
After nap, as promised, we made one giant cupcake. Okay, actually it was a cupcake shaped cake. And it took double batter, which I didn't realize until we'd already made only one and put it in. LP was quite a help getting ingredients out of the pantry, mixing, and eating the batter.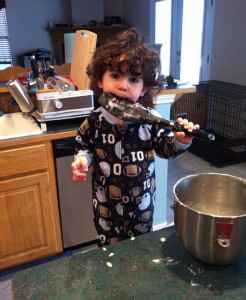 And he helped me clean up too.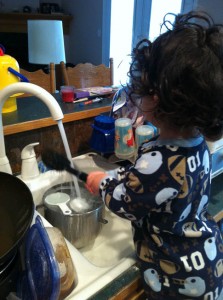 After washing dishes, his pajamas were soaked, so he switched to Superman pajamas.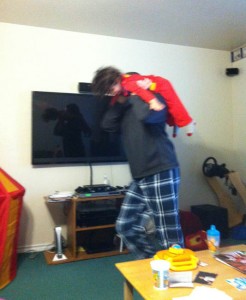 Darius and LP watched My Little Pony together while I got more work done. Then they played for a while until I finally got to a good stopping point in my work.
By that time the cake was cool enough to decorate and even though I hadn't used enough cake batter, it turned out that both sides were about the same size so it worked out okay in the end. Darius made dinner while I decorated and LP watched me. He picked the color for the "wrapper" part. I was done at the same time that dinner was.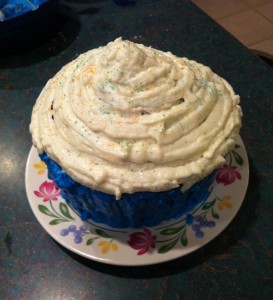 Dinner was homemade chicken parmesan with pasta and broccoli and cauliflower. Little Prince chowed down on the broccoli (eventually the whole pieces, not just the stems) and the pasta and sauce. Toward the end of the meal he ask for some of the chicken. He NEVER asks for chicken. He declared it "yummy yummy in my tummy" and had several more pieces of chicken after that. Then we each had a small piece of the giant cupcake. LP thought it was so good that he licked his plate clean.
It was way past bath time by this point, so we just did a diaper change, washed LP's face and hands, and brushed his teeth. I read him some of the Richard Scary book we're reading and nursed him for a while with the lights off. Then Darius took over to put him to sleep. He recently came out of the bedroom and is now playing Assassins Creed 3. I'm going to go do some yoga.
After I stopped pumping at work, we took a few steps back and now Little Prince wants to breastfeed generally as soon as he sees me after daycare/work. But it's short sessions and then he's happy to play.
However, we are making more slow progress. A little over a month ago we were at Firehouse Subs for sandwiches before going to our weekly Dungeons & Dragons game. The food was almost ready and Little Prince asked to nurse. I really just wanted to get to game, so I told him that since we were out he could "Touch the milk" (aka reach his hand down my shirt) but he had to wait to "drink the milk" (aka breastfeed) until we got to our GMs house. I meant it for only that one time, but apparently it had an effect on him. Now, especially when we are out, he'll sometimes ask to touch the milk instead of drink it. When he touches it, we tease and I ask him if it's still there or he'll tell me that it's still there. I use this at home too when we're going to daycare/work in the morning and it's too late to nurse him (I have a no nursing after 7am on weekdays rule, except for in special circumstances, or we'll never get out the door). I like that I can still give him the comfort of my breasts without it turning into a nursing session every time.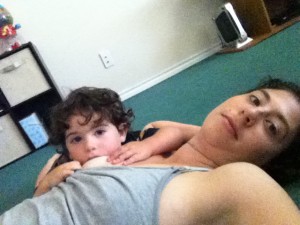 This is what breastfeeding a toddler looks like. He said "Lie down mommy. On the floor." And then "More milk" and latched on.
He still does like to breastfeed a lot, which is fine. But there are times where he just starts bouncing back and forth between "other-side, other-side, other-side" or when he declared he was finished and then wants to start up again a minute or two later. At that point, I usually give him a slow count to finish up, somewhere between 5-10. He almost always pops off at least two numbers before the end of the count and then goes along his merry way.
So we're probably down to about 4-6 times in 24 hours during the week and a bit more on the weekends. Still don't see an end date, but I'm glad that I'm able to enforce a few limits around when, where, and for how long we feed and that he is fine with that (most of the time).
A few days ago when he was "naked baby" he pulled at his own nipples and tried to see about getting milk out of them. One day he'll figure it out, but until then, it amuses me greatly.
Oh, and last weekend I gave away the rest of my "stash" to mothers of adopted twins, since when I went on a three day trip he never once asked Darius for mommy-milk. So that makes five families I donated milk to in the course of two years, giving Little Prince a total of seven milk siblings.

I keep wanting to write a "Little Prince is two and here's everything he's doing" post, but he's doing so much and keeping us so busy, that I don't have the time. For the record, at his two year check in, he weighed in at 21.8 lbs and was 31.75″ tall. Both numbers are in the single percentiles, but he's still growing, following his chart, and blowing the major milestones out of the water.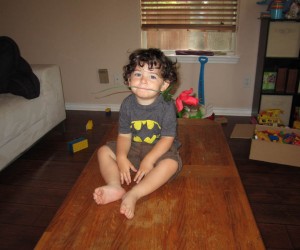 Ok, now that that's out of the way I can write about our last weekend.
On Saturday we got up late. We were going to go out to the splash pad, but we got moving so late that it wouldn't have been worth it. So we go our grocery shopping done early instead. Then we came home, ate lunch and went down for a nap. I fell asleep with Little Prince for the first hour or so. Then he woke me up to switch sides. He fell back asleep nursing and then popped off still asleep after half an hour and stayed asleep for over an hour more. He slept a good 2½ hours, which is unusual because his normal weekend naps are about an hour and a half (maybe two if we are lucky).
When he got up, we headed out to his friend from daycare's birthday party. It was at Inflatable Wonderland at the Mall. We'd never been there before but it was basically a big room with tons of bounce houses. Little Prince took to it like he was born to jump (he's really into jumping on everything these days). He went right into a bounce area that was supposedly for "bigger kids." All the other parents were like, "my kid is afraid to go in" and we had to say "well, this is his third time around these things so he gets them now." He had a total blast at the party, he even got some of the older kids to help him climb up the ladders so he could go down the big bouncy slides. The only things he didn't like was when the music was too loud and the shark head at the beginning of the Finding Nemo bouncescape.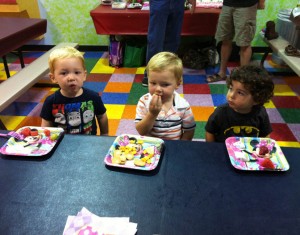 Here he is with his friends B and A. They are not even related, but they look so much alike that after two years of seeing them I still have trouble telling them apart sometimes.
It was really great to chat with the other parents of LPs friends. Most of these kids have been together since they were really little (some since they were all about three months old), so they know each other so well that it's great to see them play. And it's nice to talk to their parents too. So I started an online group for us so we can post about playdates and stuff. Yay for connecting. Also I know that LP is very verbally advanced, but after seeing him with his peers, yeah…wow. Even some of the other parents commented on how smart LP is.

After the party was over, we got mall food (cause it was getting late) and headed home.
This morning we got moving somewhat faster and we did make it out to the awesome Splash Pad where we had a great time.
 We remembered a ball and cups this time and Little Prince got right under the water without any hesitation. After about an hour in the water he wanted to go to the swings at the playground that's right there. So we snacked a bit and headed over.
We grabbed food on our way home, ate, and showered. Then it seemed like LP was about to nap, but he nursed for a bit and then wanted to go downstairs. Then Ms. G and Mr. D showed up for a visit. He was so excited to show off. So guess who, after napping so well yesterday, didn't nap at all today? But we had some downtime after our guests left by watching Wreck-It Ralph as a family. Then we played for a bit, FaceTime'd with Grandma R, and had dinner.
After dinner we played outside with the neighbors and I got to see our newest neighbor who was only 4 days old! So cute! Then inside for quick bath and after that we had meltdown I-didn't-nap toddler time, so we skipped teeth brushing, went straight to nursing and LP fell asleep super quickly, which gave Darius and I a little bit of extra hangout time.
I should also mention that LP peed in the potty quite a few times over the weekend and has started asking for diaper changes more often. So we're moving in the right direction, but nice and slowly, at his own pace.
Yesterday I washed two bottles and a sippy cup that had had breastmilk in it and thought, "This is it."
Remember how in March I said I was going to stop pumping at work around Little Prince's second birthday (which is at the end of this month)? Well, it happened last Thursday.
At daycare, Little Prince had started asking for milk less and less. In March I started sending only 5-6 oz. As he wasn't drinking all of that, I started sending only 3-4 oz. I dropped my pumping time at work to only 10 minutes.
In April I nervously asked his daycare teachers to always offer water first but to give him milk if he asked for it. Some days he did, and some days he didn't. Toward the end of April his sippy cup that I sent with milk was always coming home as full as I sent it. About two weeks ago we started hiding the cup of milk in the big fridge at daycare so he wouldn't even see it. Since then, he's never asked for it.
Last Friday I was really busy at work and totally forgot to pump. I didn't even notice, which any breastfeeding mom can tell you is a big deal, because if you need to empty a breast, you notice. So this week I decided to stop pumping and stop sending milk. I was really scared that on Monday Little Prince would randomly ask for milk again, but he hasn't. And it's so liberating not to have to pump, esepcially since I got to stop two weeks "ahead of schedule." After about 9 months of pumping twice a day and almost a whole year of pumping once a day, it's amazing to get the time back. And I'm really proud of myself for being as committed as I was and doing it for as long as I did.
We still have a small freezer stash (just in case) and if I'm away from Little Prince for a significant amount of time, I may need to pump a bit, but in general, I am DONE PUMPING! Hurray!
And now, in honor of the new Star Trek movie coming out this week, here's Little Prince yelling "Khaaan":
Well, it looks like we're actually on the path to a nice natural slow baby-led weaning.
6 months or so ago Little Prince was still breastfeeding/taking milk at daycare a good 8-10 times a day. I'd say 3 months ago it was still 6-8 times a day. Now we seem to be down to about 5 times a day. He's also eating more, which is probably partially just growing up and partially getting in his molars with canines not that far behind (oh our night times are fun these days!).
About six months ago Darius and I encouraged a bit of night weaning using the Jay Gordon Method (modified). Instead of picking a middle of the night 7 hour stretch, we picked from when he fell asleep (usually around 8:30-9) until 2am to be the time that "milk was asleep." It hasn't always been easy. Sometimes, like when he's sick or teething, we add a few more sessions back in. But most of the time this gives Darius and I a bit of evening time to ourselves and at least a few hours for me of uninterrupted sleep (before we started this, Little Prince was waking up every 2-3 hours to nurse… the joys of reverse-cycling). Sometime around the holidays I noticed that sometimes 2am was more like 3am, occasionally even 4am. But there would be a long long feed or three before it was time to get up for the day. Just recently I realized that the number of feeds overnight has seemed to drop to a 2 or 3am feed and then a 5 or 6 am feed. We've generally dropped a night session. I was going to start encouraging this in April (after the March craziness died down), but it looks like LP is starting to do this on his own.
Back in late January or early February, Little Prince's awesome daycare teacher informed me that he was not drinking all the milk I was sending with him each day; he was starting to ask for water instead. So I started sending about 6oz instead of 8oz. Yesterday I found out that he's not even drinking all of that. So now I'm going to start sending about 4-5oz. It was funny because she seemed so remorseful when she told me, but I was super excited that he was making this choice on his own. I think next month I'm going to ask them to always offer him water first instead of milk, because I plan on stopping pumping at work around LP's second birthday. While we still have some freezer stash left, it's not what it once was and I'm definitely pumping less milk than I was three months ago.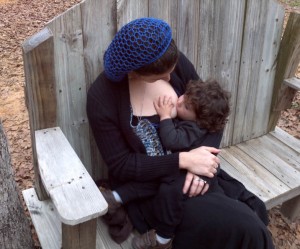 A few weeks ago I noticed that over the weekend (when Little Prince use to nurse about five times from when he woke up until when I put him to sleep), he had dropped the mid-morning and mid-afternoon nurse.
Ever since I started work, when Little Prince was 11 weeks old, we (almost) always had a reconnecting nursing session when we saw each other again. When he was a little, little one, this was a 45-60min nurse-nap session. As he's gotten older, it's been more like 10-15 minutes. In the past few months it's been "Couch, mommy, more milk…more milk, other side." He says it "meelk" which is super cute. But in the past week or so he mostly hasn't asked for milk when I've gotten home. It's kind of bittersweet for me, because I liked that reconnecting moment. That time where I could put aside my work day, relax, and become mommy again. But I've been getting a huge hug from him instead, so it isn't all sad.
Of course I still breastfeed him when he gets hurt or surprise-hurt. Sometimes he even says "hurt, ouch, milk" through his tears. I guess I'm doing (mostly) don't offer, (mostly) don't refuse. I still offer at bedtime and weekend nap time. And sometimes I'll try distraction/other food/water push off to see if he's more interested in that.
As for going to bed at night, I still offer every night and he still nurses in bed, but sometimes he doesn't fall asleep from it. Lately he'll alternate asking for milk and for water. Sometimes I think water is a distraction/I don't want to go to bed technique. And the whole daylight savings time thing really threw us off. Still, I guess it's time to start figuring out how to get him to fall asleep on his bed and without milk, other than walking him, which always works but I really don't want that to be the only way he'll ever fall asleep.
Our Little Prince was throwing up all Sunday evening to night from 6pm to about 3:30am. He was finally able to hold breastmilk down at 5:30am. Took the day off from work and stayed home with him. He threw up again once Tuesday night, but was fine after that. I'm still convinced it was because I took a Zyrtec on Saturday night and on Tuesday morning.
I woke up at 3:30 last night to breastfeed LP and was all shivery and my left breast was tender to the touch. Darius went to work (he leaves early) and after he left I started spiking a fever of 104-107°. For someone who runs 98°, this is a big deal. I couldn't drive myself anywhere, I felt too bad. My awesome almost-neighbor and LLL leader saw my posts on Facebook, came over, got LP dressed, got me to the ER and took LP to daycare. Darius met me at the ER. They gave me an IV of fluids and some strong antibiotics. I also got a prescription for strong antibiotics and I made sure they are breastfeeding friendly. For those who care, they're class B.
Came home. Rested, ate, pumped, watched Mythbusters and the rest of Your Highness, napped for a bit and relaxed for a bit. Fever is down to 99° last I checked and I'm all sweaty. My left breast still hurts a ton and is hard and tender to the touch.
Darius and LP will be home from daycare soon.
Mastitis sucks, but my friends are awesome.
Hope you're having a blessed Solstice.
Our Little Prince turned eighteen months old last week. That's a year and a half of this awesome little person being in our life. We had our 18 month check-up and while the pediatrician said he looks like he is "filling out," he's still a tiny guy: height 30¼", weight 19lbs 12oz. So in six months he's grown about 2 inches and put on almost 1.5lbs. Somehow it seems more reassuring that he is growing when I look at it like that.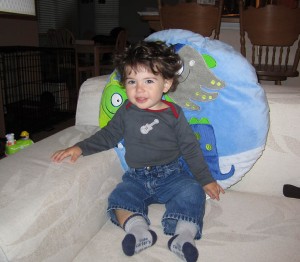 Here's a bullet list of 18 things about LP at 18 month, interspersed with a whole bunch of pictures and videos.
Lately he's been putting words together with alarming regularity. We have "cold outside", "school bus", "Ernie eat", "That's a kitty", and my favorite, "Mommy made apple pie." He's also hitting the "my/mine" stage full on.
At daycare they've started sitting him on the toilet twice a day. So we got a little potty and LP really loves to "sit on the potty." Hasn't "used" it yet, but we're getting the idea.
He loves to help around the house. He'll stir stuff in a pot, wash dishes, and sweep the floor.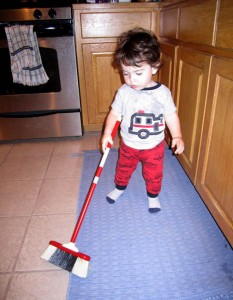 There were a ton of leaves in our front yard so I raked them into a pile and we played in the leaf pile for a while. Yes, he's wearing shorts and a t-shirt. I'll take my 100° summers to have 80° in December.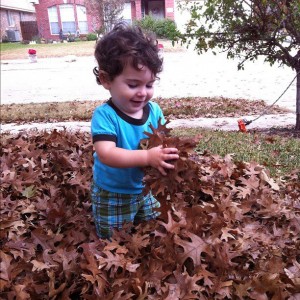 He loves books, Star Wars/R2D2, Elmo, Cookie Monster, and Ernie. He also went nuts when we showed him some of the Aristocats because he could identify the animals and had to tell us about them.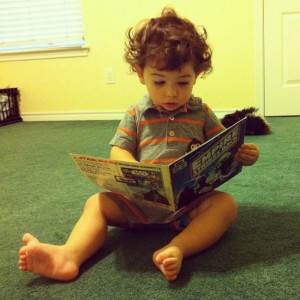 We are working on being the very best nerd-parents/totally messing LP up forever. He can say "die" and "dice" which is cute in general, but when he turns to me and says "mommy, die" it's a little weird out of context. Although when he said "tante, die" while we were Facetiming with my sister it totally made my night!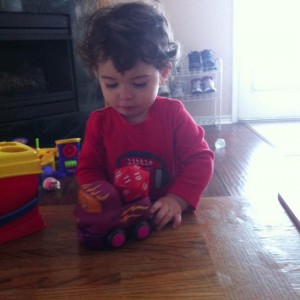 We've also taught him to clench his fists and yell "Khaaaaaaan" which is just super adorably cute. (Still working on getting video of that one).
He's still nursing a ton, although the "milk is asleep" from when he falls asleep until 2am is working out pretty well. Sometimes when he wakes up before 2am and I tell him that "milk is asleep" and he gives me this "No" wail that reminds me of Luke being told that Vader is his father.
He's also eating more. I try not to be worried when he's not interested in food at dinner time, but it can't always be helped. Then I remember that he eats well at daycare and he has a snack on the way home from daycare and also breastfeeds for a bit when we first get home.
He still loves apples more than just about anything. He also likes sweet potato fries, sweet potato puffs, crackers, turkey (but not chicken as much), pasta, blueberries, and strawberries.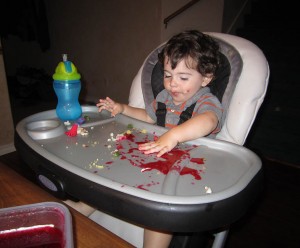 LP can go up and down stairs. When he says "up the stairs" it kind of sounds like "apple juice."
On that note, he had a big tumble down the stairs the other day. I thought he was at the bottom of the stairs, I turned around, turned back and he was half way up them. Then he turned around to see me, and lost his footing. He rolled down about four stairs sideways before I got to him. Picked him up and assured him he was fine. Breastfeed him for a bit, and then we went down and up the stairs again to make sure he wasn't afraid of them.
He currently has four top teeth, two bottom teeth, and a third bottom tooth is part way in.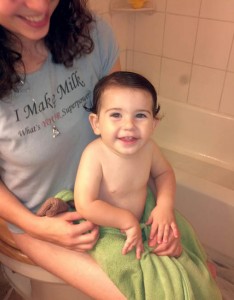 He loves slides. At the playgrounds he's figured out how to go up the stairs, over to the slide, and go down it.
Like his father, he's a "reaction junkie." If I react to something he does and he finds my reaction funny, he'll do it over and over again to try to get the same reaction. He loves to blow raspberries on my tummy. The other day he tickled my knee and when I squealed (I'm super ticklish) he did it again and again all night.
His favorite game to play with us is "boo/hi." He'll hide behind something, such as the couch or a wall, and then jump out and say "hi" or "boo." It's so cute!
We're trying out All-in-Ones/Pocket diapers again because a. I'm tired of using disposables when we go out and b. he doesn't need to be changed as often as when he was 3 months old and will tolerate a wet diaper more. So far so good. We've purchased a couple of the very nerdy diapers over on Seams Geeky, because who can resist Final Fantasy and glow-in-the-dark Tron diapers?
I currently have four baby carriers in the house, but one I don't use any more (the Moby) and one I'm borrowing from Austin Babywearers. There's another one I'm lusting over. I may have a small problem. But he likes to be worn and I still like to wear him.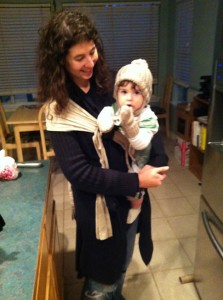 In closing, in case you are thinking about getting him anything for this holiday season, here's his Amazon wishlist. Clothing is also always appreciated. He's at that stage where he's in between the 12 and 18 month sizes.