Archive for the 'milestones' Category
Two weekends ago we had a busy weekend. On Saturday I took Little Prince to his school carnival:
The next day we had a friend's third birthday party. After the pinata was taken down, the kids had fun getting pulled off of the ground.
Here is the one of the very last pictures I took of LP as an only child. Taken on 10/4. He said he wanted his hair in horns.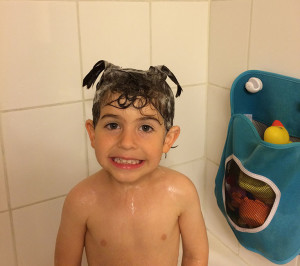 My water broke on 10/9. I had LP's little brother, Young Sir, on 10/10.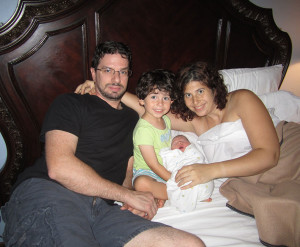 We are now a family of four. The full birth story can be found on my blog for YS.
My mom is visiting for two weeks. Today she picked up Little Prince after his soccer practice at daycare and drove with him to my BIL's mother's house, which is about 3 hours away. It's his first time sleeping away from home without either mommy or daddy being there. It'll be our first night in the house without him. I'm sure we'll be a mess and he'll be fine.
I got a text about 30 min ago that they got there safely. I just got a dictated text about how the dog there follows everyone around and wants to play. I miss him already. How did people do this before texting?
Wow, long time, no posting in here. I guess I was just too busy this winter to make regular updates. I'm much more likely to post to Facebook, Instagram, and/or Tumblr these days.
If you had told me that two weeks ago would be the last time Little Prince would nurse, I'm not sure I would have believed you. For the past few months, LP kept telling me that when he moved up to the next level at daycare he would be big and not need mommy milk anymore. I kept reminding him of that and expecting that he would move up soon, but it didn't look like he was going to. I didn't expect to wean him before that, but it just sort of happened. We were down to just the evenings that I put him to bed (Monday, Wednesday, Thursday, and Saturday). I'd fully night weaned him ages ago. At about 3.5 I stopped nursing him while reading bedtime stories and only let him nurse after that. I bribed him with YouTube videos as a way of stopping the morning session. Not totally proud of that, but it worked.
By two weeks ago we were down to three minutes of "duck milk" per side right after books and before falling asleep (I'd set a timer and it would quack like a duck when it was time to stop). And I could tell there wasn't much milk left. In fact, it kind of hurt when he nursed now. On the night of Wednesday March 4, I wore a full shirt, instead of a nursing tank, to put him to sleep. He didn't ask for milk and I didn't offer. The next day happened to be a ice day and his daycare was closed. I bit the bullet and talked to him about how he was growing up and how there wasn't much mommy milk anymore and how it was hurting mommy a bit. I let him say good-bye to the milk and kiss each side. When he asked that evening, I reminded him that he wasn't having mommy milk anymore and let him say good-bye/kiss each side good-bye one more time. And that was that.
On Sunday we made cupcakes to celebrate him being fully weaned. We shared them with some of friends later in the week.
Since that Thursday, Little Prince has asked for mommy milk/duck milk a few times, but it's always been when he's been overtired and every time I remind him that he's done with the milk, he's okay with a snuggle instead.
Lots and lots has been going on in our lives, so I don't have a lot of time to post. Little Prince has definitely had a lot going on as it comes to milestones as well.
Weaning
No, Little Prince isn't done with his mommy milk yet, but it is getting less. In the weeks leading up to his third birthday we talked a lot about how when he turns three he'll only get mommy milk in bed. The day before he turned three we had our very last post-daycare/post-mommy getting home from work breastfeeding session. It was really bittersweet for me because we've always done this since LP started daycare. It's been our way to relax and reconnect, even as the sessions went from nurse-napping for 45 min – an hour down to three-five min a side.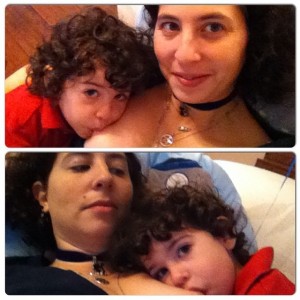 Of course the next day when I reminded him that now that he was three we only nurse in bed, he immediately said that he was tired and that it was bed time. I didn't fall for it. Since then, he's tried that a few times, but it hasn't worked and he usually doesn't ask for mommy milk during the day at all. That doesn't mean that he doesn't try to put his hand down my shirt all the time. ~sigh~
Night weaning is also (mostly) complete. Sometimes when he comes into our bedroom in the middle of the night he'll ask for mommy milk, but when I say no, he usually just snuggles in and falls asleep. Most nights he just falls asleep. Of course, since I'm no longer dream-nursing him before I get out of bed in the morning, now when he wakes up he wants "wake-up milk," but that's usually no longer than 10 minutes or so total (weekends are lazy and a different story).
At bedtime, he always asks for mommy milk, but sometimes he forgets to at first while we're reading a book. Lately he'll sort of pop on and off as we're reading. When the lights go off, he'll rarely fall asleep nursing, usually only if he hasn't napped that day. Some nights he'll stay on one side until Darius comes in to take over after 30 min. Some nights he'll flip back and forth, and some nights he'll nurse for a while and then pop off and try to settle down himself. It's hard to predict what he'll do on any given night, but he almost never seems upset when I take the milk away. So that's good.
I think given his druthers, he'd probably breastfeed more often that I let him. If he sees me topless, he's likely to say "nom nom" or make motions toward my breasts or something like that. When I asked him recently how long he's going to have mommy milk for, he said until he was five. Now, I'm all for full-term breastfeeding, but I'm pretty sure at this point that I'd be a lot happier with fully weaning closer to 3½ than 5.
Potty Training
Well, Little Prince has been mostly in underpants for three months now. He's had very very few pee "oopies." He's at the point where, except for overnight and for naps at school, he doesn't wear diapers at all. And he's stated that he'd rather wear underwear than diapers.
To help with potty training, we got him a Kiddyloo potty for upstairs and one for downstairs.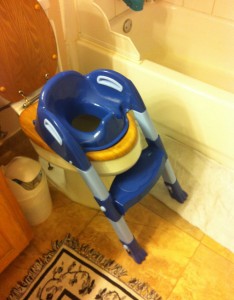 I really like them for a few reasons. They let him climb up onto the toilet easily, they give him somewhere to put his feet so they don't dangle and he feels more secure, he can stand up on the step to pee in the toilet that way (he only has a few times), and they fold up really easily when an adult needs to use the toilet.
The problem we're running into with all of this is that with the exception of a very few times, he refuses to poop in the potty. That's not quite accurate. It's more like if we catch him before he has to go then he'll go in the potty. If we don't, then he'll come tell us as soon as he's finished (which is better than not telling us at all, I guess). So we've started a potty chart. Every time he poops in the potty he'll get a sticker. When the sticker covers the present, he'll get the present.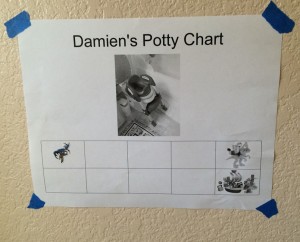 He gets the concept of this and was super excited to receive his first sticker…but it still hasn't made much of a behavioral change. Hopefully with time he'll figure it out. In the mean time, we'll just keep doing lots of laundry. I swear, that boy has 16 pairs of underpants, but between having extras at school, having extras in his backpack, and going through two or three (sometimes) a day, I feel like we're always running out of underpants for him.
Moving Up
We got the notice last week that Little Prince is transitioning up to the next classroom at daycare this week. Was a little confused about this as he's only been in his current room for about four months and I thought that they had to be potty trained to move up. But apparently his teachers say that he can do the work. And when he was visiting the room yesterday he actually pooped in the potty there, which they also say sometimes happens; the kids just get it in the next room. He already has friends in that room and some of his other friends will be moving up around the same time, so I think he'll be happy. It still just struck me as a little strange.
Also in moving up news, LP's feet grew a lot recently. At the start of this summer he was in 6.5 sized shoes. About a month ago one of his 6.5 pairs didn't fit well anymore and I started to notice that his toes were getting close to the edge of his size 7 sandals. So we went by the shoe store and his feet were measuring 7.5 range. We ordered 8s just to make sure he has room to grow. With feet growing this much, maybe we're in store for a growth spurt soon.
He also had another language explosion recently and is really expressing himself and telling stories. So, while sometimes he is a very frustrating three year old, sometimes he is truly awesome and a total delight and joy. Here he is in one of his favorite games: Little Prince drives around and mommy or daddy pretend to be zombies and try to catch him. At least if the zombies ever do rise up, he'll be prepared.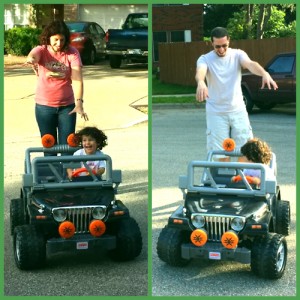 On May 28, my Little Prince turned 3 years old!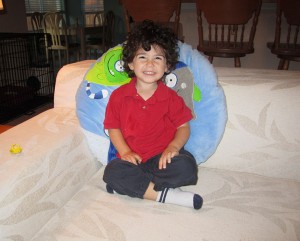 At his three year doctor's appointment he measured 24.6lbs and 34.2″ tall. Still a small guy, but growing right along his curve. His pediatrician said that he looks good and that he should be in print (seriously, if we only had time to take him on auditions, we would!).
For months now LP has been asking us for a Batman cake and a Justice League birthday party. So, on Sunday June 1, that is exactly what we threw him. I worked really hard to find JL decorations, bags, etc that included both the men and women of the Justice League together. Do you know how hard it is today to find that? Lots of eBay searching. But I think I did a good job.
We invited his whole class and some of our friends and neighbors to the party and had a great time. We rented a Justice League bounce house, which the kids (and adults) loved and was totally worth it.
My mom had gotten me the old Superman/Batman cake pan and I think that his cake turned out really well.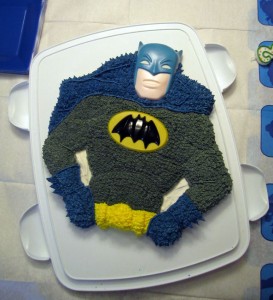 We also had push-pops to help everyone cool off and Darius made an awesome fruit salad that we served inside of the hollowed out watermelon.
LP got lots of great stuff. I think it helped that I included in the eVite a list of things that he's currently into.
For a long time now, when LP has said he wants something, I've replied that I want a million dollars and a pony. So he started responded that he wants a million dollars, a pony, and Batman boots. For his birthday I got him a Darth Vader lunch box with fake money in it (a million dollars), a Rainbow Dash doll (My Little PONY), and, of course, Batman rain boots. I thought that I'd done really well with the gifts.
But Darius got LP the best gift of all. He'd saved his overtime pay for months and surprised LP (and me) a Power Wheels Jeep. See, LP has been obsessed with Jeeps lately. And he kept saying that he had a black and chrome Jeep, but it was broken and he and daddy were going to fix it. So Darius got him a black Jeep that came disassembled. And the day after his party, they "fixed" it together and then LP got to take it for it's first ride around the cul.
Video from the party. Blame all cheesy effects on Tante:
Lots more pictures from the party can be found in the LP's Third Birthday Party Photo Gallery.
It was almost bedtime. I turned away from Little Prince for maybe half a minute. When I turned back around his nose was bleeding. It had to have happened quickly because there was only blood on him and three drops on the costume bin that's under the window. I have no idea how it happened, but I didn't hear LP call out in pain or fall or bang into anything. I called Darius into the room as I was dealing with LP and he was just amazing. He sat him on his lap, helped him get his head tilted down and stay that way, and held the tissues to his nose. I quickly looked up what to do with a nose bleed and when to head to a hospital. LP was very calm throughout the whole thing. He wasn't crying out in pain or upset at being held still. I think he was a bit freaked out. To help him stay still while the bleeding stopped, we showed him some videos on my laptop, mostly the minions songs from the Despicable Me series.
After about 10 minutes the bleeding had mostly stopped and LP had two good sneezes during which no blood came out at all. I took over the holding the child and pinching the nose closed with a tissue duty and after another few minutes there was no blood at all. We praised LP for being so brave, sat him on the potty (he peed! he's getting so much better at that!), brushed his teeth, and got him into bed. I must have fallen asleep with him because Darius had to come in and wake me up.
So that was our first nosebleed experience. We're sure it won't be our last. And now we know when to take a kid to the hospital for a nosebleed and when not to.
Yesterday, after over a month of sleeping in his own room, we moved Little Prince's own bed, the one that had been next to our bed since he was three months old into his room.
Darius and my room went from looking like this: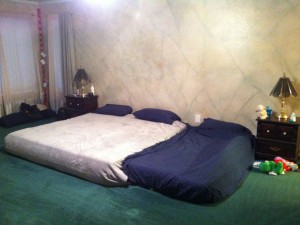 To looking like this: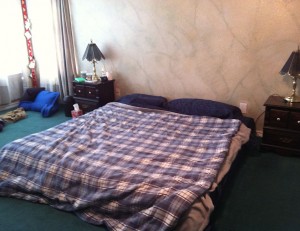 Not only did Little Prince get his own bed in his own room, he also has his special Superman set, a present from KR, on his bed: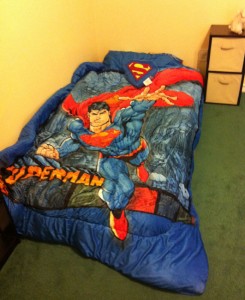 He was super excited about it.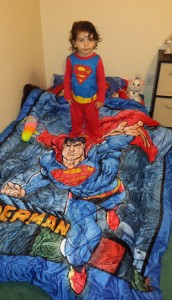 He slept for some of the night, but did come into our room earlier than he normally does these days. But that could be a symptom of just coming back from vacation.
Last Saturday night (so not last night, but the Saturday night a week before), while we were getting Little Prince ready for bed he asked to sleep in his room. He's asked a few times before but it was always on weeknight and Darius and I didn't want to try it then. But since it was on a weekend, we figured why not?
Back in the Fall we got a king sized bed for our room, so we moved our queen to the guest room and the (very old, OMG why do we still have this college futon???) full mattress to Little Prince's room. Since then we started doing the occasional nap in there, with more frequency since the new year started.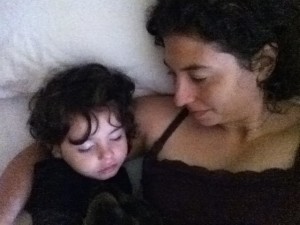 Nap time, aka Help, my arm's stuck
Even with that, it was still a total shock to me that he was insistent in wanting to sleep in his own room at night. I was so not ready for it. I'd slept next to him for over 2.5 years and I wasn't sure if I could handle it. But as Darius reminded me, the point of Attachment Parenting is that the child feels secure in their independence and will take the steps when they are ready. So we put him to sleep in his own room. And I fretted a bit that night. Around 1 or 2 AM I heard him crying out and found him at the top of the stairs, so I brought him back to our room because I'm just more comfortable on my bed.
Since that night he's slept in his room the first part of the night and at around 1 or 2 in the morning I'll wake up and notice him next to me and then fall back asleep. The only exceptions to this were Thursday night and last night when he asked to sleep in mommy and daddy's room. He also asked to nap in our room on Saturday. I think the novelty of his own room is wearing off a bit. But since he's still falling asleep in there, I think we'll keep putting him to bed in there (except when he's insistent about being in our room).
I must say that as much as I miss him a bit sometimes, it's nice to have our room back in the evenings and for falling asleep (especially since I know he'll be in at some point before the morning). We can put our clothing away after we fold it. We can read in bed with a low light on. Hey, I'm even writing this post in bed right now on my laptop (Darius is "breathing heavily" next to me).
It's funny, I always thought we'd have to do the move his mattress away from our bed, then move it against the wall, then slowly move it toward his room thing. And here he goes and is just ready to have his own space.
After I stopped pumping at work, we took a few steps back and now Little Prince wants to breastfeed generally as soon as he sees me after daycare/work. But it's short sessions and then he's happy to play.
However, we are making more slow progress. A little over a month ago we were at Firehouse Subs for sandwiches before going to our weekly Dungeons & Dragons game. The food was almost ready and Little Prince asked to nurse. I really just wanted to get to game, so I told him that since we were out he could "Touch the milk" (aka reach his hand down my shirt) but he had to wait to "drink the milk" (aka breastfeed) until we got to our GMs house. I meant it for only that one time, but apparently it had an effect on him. Now, especially when we are out, he'll sometimes ask to touch the milk instead of drink it. When he touches it, we tease and I ask him if it's still there or he'll tell me that it's still there. I use this at home too when we're going to daycare/work in the morning and it's too late to nurse him (I have a no nursing after 7am on weekdays rule, except for in special circumstances, or we'll never get out the door). I like that I can still give him the comfort of my breasts without it turning into a nursing session every time.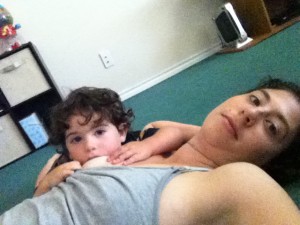 This is what breastfeeding a toddler looks like. He said "Lie down mommy. On the floor." And then "More milk" and latched on.
He still does like to breastfeed a lot, which is fine. But there are times where he just starts bouncing back and forth between "other-side, other-side, other-side" or when he declared he was finished and then wants to start up again a minute or two later. At that point, I usually give him a slow count to finish up, somewhere between 5-10. He almost always pops off at least two numbers before the end of the count and then goes along his merry way.
So we're probably down to about 4-6 times in 24 hours during the week and a bit more on the weekends. Still don't see an end date, but I'm glad that I'm able to enforce a few limits around when, where, and for how long we feed and that he is fine with that (most of the time).
A few days ago when he was "naked baby" he pulled at his own nipples and tried to see about getting milk out of them. One day he'll figure it out, but until then, it amuses me greatly.
Oh, and last weekend I gave away the rest of my "stash" to mothers of adopted twins, since when I went on a three day trip he never once asked Darius for mommy-milk. So that makes five families I donated milk to in the course of two years, giving Little Prince a total of seven milk siblings.

I keep wanting to write a "Little Prince is two and here's everything he's doing" post, but he's doing so much and keeping us so busy, that I don't have the time. For the record, at his two year check in, he weighed in at 21.8 lbs and was 31.75″ tall. Both numbers are in the single percentiles, but he's still growing, following his chart, and blowing the major milestones out of the water.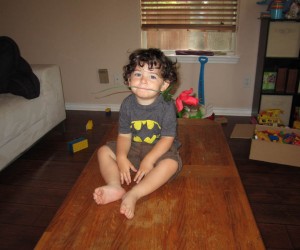 Ok, now that that's out of the way I can write about our last weekend.
On Saturday we got up late. We were going to go out to the splash pad, but we got moving so late that it wouldn't have been worth it. So we go our grocery shopping done early instead. Then we came home, ate lunch and went down for a nap. I fell asleep with Little Prince for the first hour or so. Then he woke me up to switch sides. He fell back asleep nursing and then popped off still asleep after half an hour and stayed asleep for over an hour more. He slept a good 2½ hours, which is unusual because his normal weekend naps are about an hour and a half (maybe two if we are lucky).
When he got up, we headed out to his friend from daycare's birthday party. It was at Inflatable Wonderland at the Mall. We'd never been there before but it was basically a big room with tons of bounce houses. Little Prince took to it like he was born to jump (he's really into jumping on everything these days). He went right into a bounce area that was supposedly for "bigger kids." All the other parents were like, "my kid is afraid to go in" and we had to say "well, this is his third time around these things so he gets them now." He had a total blast at the party, he even got some of the older kids to help him climb up the ladders so he could go down the big bouncy slides. The only things he didn't like was when the music was too loud and the shark head at the beginning of the Finding Nemo bouncescape.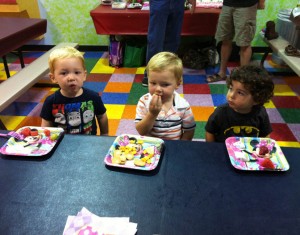 Here he is with his friends B and A. They are not even related, but they look so much alike that after two years of seeing them I still have trouble telling them apart sometimes.
It was really great to chat with the other parents of LPs friends. Most of these kids have been together since they were really little (some since they were all about three months old), so they know each other so well that it's great to see them play. And it's nice to talk to their parents too. So I started an online group for us so we can post about playdates and stuff. Yay for connecting. Also I know that LP is very verbally advanced, but after seeing him with his peers, yeah…wow. Even some of the other parents commented on how smart LP is.

After the party was over, we got mall food (cause it was getting late) and headed home.
This morning we got moving somewhat faster and we did make it out to the awesome Splash Pad where we had a great time.
 We remembered a ball and cups this time and Little Prince got right under the water without any hesitation. After about an hour in the water he wanted to go to the swings at the playground that's right there. So we snacked a bit and headed over.
We grabbed food on our way home, ate, and showered. Then it seemed like LP was about to nap, but he nursed for a bit and then wanted to go downstairs. Then Ms. G and Mr. D showed up for a visit. He was so excited to show off. So guess who, after napping so well yesterday, didn't nap at all today? But we had some downtime after our guests left by watching Wreck-It Ralph as a family. Then we played for a bit, FaceTime'd with Grandma R, and had dinner.
After dinner we played outside with the neighbors and I got to see our newest neighbor who was only 4 days old! So cute! Then inside for quick bath and after that we had meltdown I-didn't-nap toddler time, so we skipped teeth brushing, went straight to nursing and LP fell asleep super quickly, which gave Darius and I a little bit of extra hangout time.
I should also mention that LP peed in the potty quite a few times over the weekend and has started asking for diaper changes more often. So we're moving in the right direction, but nice and slowly, at his own pace.