Archive for the 'Friends/Community' Category
I got an email this morning that almost made me cry with joy (possibly the pregnancy hormones helping here). It was from a mom of another little boy at Little Prince's school who just moved up into LP's class. She was checking if we'd be available for a playdate this afternoon. Apparently her little boy isn't very social, but was asking if LP could join him for their outing. Unfortunately with my mom coming into town today, it just isn't possible.
It made think about how sweet and outgoing my kid is. If anyone can get someone to come out of their shell, it's LP. Either that or it's the leadership aspect of his personality, where he just tells the other kids what to do all the time and they just seem to follow him. Either way, it's really nice to know that he has so many friends who want to play with him outside of school.
I seem to keep writing these posts later and later after his birthday…
The week before Little Prince's birthday we had a custom playscape by Playwood Playscapes installed in our backyard.
We decided to have the rocks delivered after it was constructed. We didn't realize just how many rocks it would be. We had to call in reinforcements to help us move them all.
LP turned four on May 28. At his wellness check the next week, he weighed in at just under 28lbs and about 36″. His doctor says that he looks perfect and his following his curve.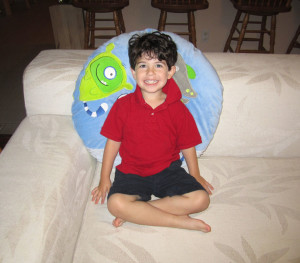 That day I brought pirate cupcakes to LP's daycare after naptime. They did this little ritual where they had him walk around the months of the year holding a globe and at the end of each year of his life, I got to tell a little about him. I also made a poster that was a treasure map that had one of the pictures of him in front of the monster pillow for just born through each year. It was a fun little celebration and by the end everyone had red teeth and lips from the icing.
That night Darius and I let him have another cupcake and gave him one of his presents.
On Saturday May 30, we had a Jake and the Never Land Pirates birthday party at our house. We invited his whole class and some of his friends who are still in Transition instead of Primary. But only kids that he's really grown up with and considered good friends showed. Which was probably better anyway.
We mostly just let them run around outside on the playscape for a while (it was threatening to rain in the morning, but thankfully it didn't). They convinced a lot of parents to push them on the swings.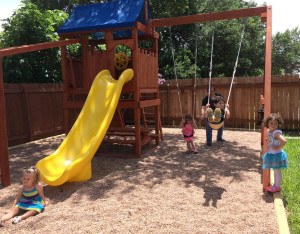 Eventually we called them all together and played a party game that my parents always set up at our parties. I hid the letters that spelled out "Happy Birthday DJ" around the downstairs and the kids had to go find them. I think they might still be a little young for the game, as they ripped some of the letters (tape is my friend) and they lost some interested before all the letters were found, but I think they still had fun with that.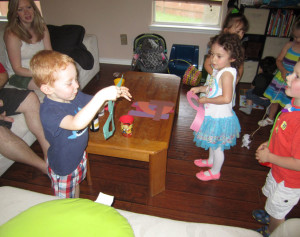 Then it was time for cake, candles and singing (I took video but my voice is horse and sounds like a dirge so I'm not posting it), and homemade ice cream that Darius made.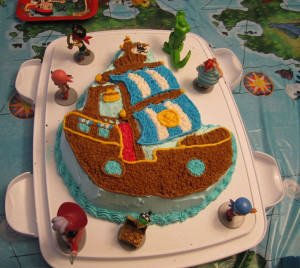 There were a few small meltdowns around that time/just after that point. Most of the children left by that point, but a few stayed while LP opened gifts. Then they left and we had a little bit of downtime before we went out to dinner with V, E, C, and A.
All-in-all, I'd say that LP had a great birthday and birthday party.
Yesterday Little Prince had a very busy day.
It started around 7:30 with Little Prince not wanting to wake up.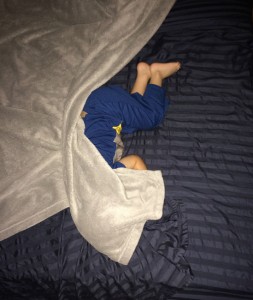 After he finally woke up, we got ready to go out and got kolatchies and donuts for breakfast. Then we headed out to the park.
At the park, we met up with friends, B and R, and their daughter, EB. We got EB and LP changed into special Marvel print outfits that B had made and did a little photo-shoot with the two of them.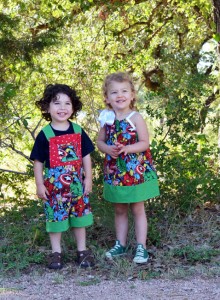 B runs the company Geek-A-Bye Baby and she wanted to get pictures of the overalls and the dress for her website. The kiddos did really well and had a great time. They were awesome about posing and smiling and taking pictures. They really liked it when we moved from the trees and let them play on the playground for a while.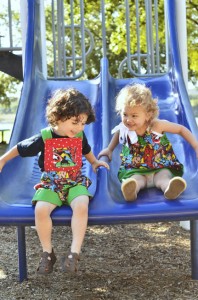 Then we changed into bathing suits and let them run around the splash pad that was there. Ok, I ran around with them a lot too.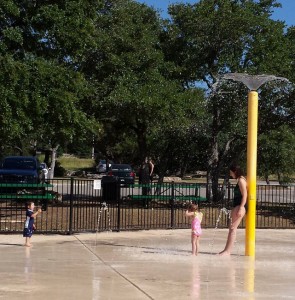 After a good long time playing in the water, it was a pause for snacks, then changing back into regular clothing and back over to the park again. They played there for a little while and then it looked like EB was running on about 5% battery power, so we said our good-byes and headed home. I thought LP would fall asleep in the car on the way home, but he didn't. He was super cranky during lunch and didn't eat too much. We were all pretty exhausted after lunch so we all got into bed together took a 1.5 hour family nap.
Then it was time to get up and get moving again. I'd made sure to get LP's swim suit and towel into the washer before our nap and quickly got it drying. Then we let LP watch one episode of one of his new favorite shows, Jake and the Never Land Pirates, (the other being Daniel Tiger) while Darius and I switched off showering and getting ready. Then we walked over to CR, AR, VR, and ER's house for VR's birthday party. There LP had fun showing off his overalls again. The party was good and low-key. All kids from VR and LP's daycare class and two older siblings. They played in the pool and the sand-pit and ran through the sprinkler and had cake. Darius and I could tell near the end of the party that CR and AR could use some help, so we invited them back over to our house after the party was over with an offer to make dinner.
Back home I gave LP a quick bath/shower and tried to get some of the sandbox sand out of his hair, which mostly worked… We made pasta with sauce and broccoli for dinner for the seven of us. LP was annoying/funny in that toddler way, claiming that he didn't like broccoli, but finally when I got him to eat a piece, declaring that he said that he likes broccoli and eating a few more pieces (but he only eats the stems).
After dinner, LP got to do what he really wanted to do, which was take VR out for a ride in his Jeep.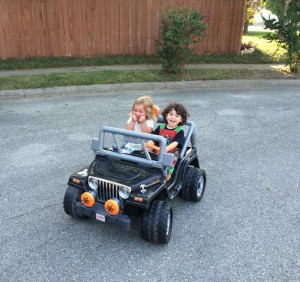 VR was both terrified and thrilled and couldn't quite figure out how it worked. ER had fun driving it, but at a tall 6, she almost didn't fit. Finally it was time for our friends to go home. We let LP drive around a bit more on his own and then it was time to go inside. He played a bit more and then we got him ready for bed. I thought he would fall asleep quickly, but he didn't. He finally did fall asleep, though.
This morning he was very hard to wake up, poor guy. I'm glad I'd washed his overalls last night, because he wanted to wear them to school this morning.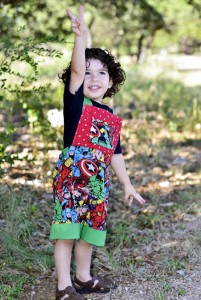 On May 28, my Little Prince turned 3 years old!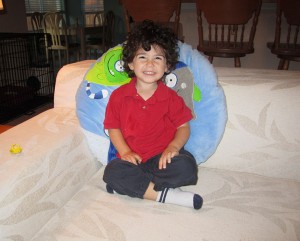 At his three year doctor's appointment he measured 24.6lbs and 34.2″ tall. Still a small guy, but growing right along his curve. His pediatrician said that he looks good and that he should be in print (seriously, if we only had time to take him on auditions, we would!).
For months now LP has been asking us for a Batman cake and a Justice League birthday party. So, on Sunday June 1, that is exactly what we threw him. I worked really hard to find JL decorations, bags, etc that included both the men and women of the Justice League together. Do you know how hard it is today to find that? Lots of eBay searching. But I think I did a good job.
We invited his whole class and some of our friends and neighbors to the party and had a great time. We rented a Justice League bounce house, which the kids (and adults) loved and was totally worth it.
My mom had gotten me the old Superman/Batman cake pan and I think that his cake turned out really well.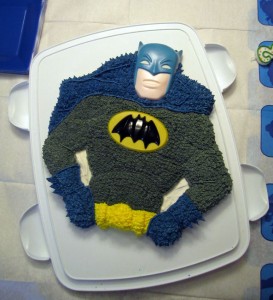 We also had push-pops to help everyone cool off and Darius made an awesome fruit salad that we served inside of the hollowed out watermelon.
LP got lots of great stuff. I think it helped that I included in the eVite a list of things that he's currently into.
For a long time now, when LP has said he wants something, I've replied that I want a million dollars and a pony. So he started responded that he wants a million dollars, a pony, and Batman boots. For his birthday I got him a Darth Vader lunch box with fake money in it (a million dollars), a Rainbow Dash doll (My Little PONY), and, of course, Batman rain boots. I thought that I'd done really well with the gifts.
But Darius got LP the best gift of all. He'd saved his overtime pay for months and surprised LP (and me) a Power Wheels Jeep. See, LP has been obsessed with Jeeps lately. And he kept saying that he had a black and chrome Jeep, but it was broken and he and daddy were going to fix it. So Darius got him a black Jeep that came disassembled. And the day after his party, they "fixed" it together and then LP got to take it for it's first ride around the cul.
Video from the party. Blame all cheesy effects on Tante:
Lots more pictures from the party can be found in the LP's Third Birthday Party Photo Gallery.
The other day Little Prince was playing outside with our neighbor's son, E, who is almost four and probably a head and shoulders taller than LP. E had a beach ball and the two boys were throwing it back and forth and up in the air. At some point the game became grab the ball on the ground, but really it turned into wrestling a bit. E's mom starts up with the "Be careful of LP. He's smaller than you." It's the first time I really started worrying about how others will see him because of his small size (he's in the single digits for height and weight and always has been). I'm thinking that LP can totally hold his own, especially since most of the noises coming from the boys is giggling. Then something happens and LP cries out unhappily. E's mom repeats the "be careful with LP" line. After checking LP was fine, he was, I go over to the boys and look at them both. I tell them, "You can keep playing like that, but keep it on the grass. But if you hear 'ouch,' 'stop,' or a cry from the other one, you have to stop right then. Got it." I'm not sure they totally did, but they went back to playing. And there were a few cries and we had to remind them to stop at that moment, but mostly they were silly and happy and giggling.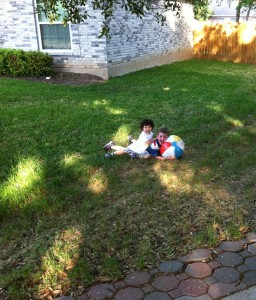 Yesterday when I was dropping LP off at daycare, one of his good friends was not having the best morning. He went over to her and tried to give her a paint brush she had dropped, but she kept moving away from him and sort of whining. He kept trying to be nice and hand her the paint brush, but she backed away and hid behind their teacher. I went over to LP and explained to him that she seemed upset and while I know he was trying to comfort her and that she's his friend, if she is saying no, ouch, or backing away, he needs to respect that and stop, even if he's trying to be helpful.
And that is one of the ways I'm starting to teach my son consent at a young age.
We went to our local Faire yesterday for our friend's vow renewal ceremony. Little Prince fits much better into the outfit that Zee made for him last year (and we still have to pin it a bit, since she cut the necks HUGE). The day turned out to be cold and rainy, but we still had a great time. Maybe it was because the crowds were smaller or maybe because we were out so much last year that we've started to recognize and be recognized by the regulars, but we had way more interactions with cast and others this year than in previous years. Or maybe it was just how cute LP is. Two different gypsies asked me his price (he's much too young to sell to them yet) and I had to keep a close eye on him when the fae were around so they wouldn't steal him away.
The vow renewal ceremony went well. Afterwards we went to the Fest Hall for a feast. The food was good and the company was delightful. There was a little girl there, T, who had just turned 3. She and LP were running around chasing each other, and then her shoe fell off. I caught what happened on video.
Why yes, we've been watching a lot of Cinderella at our house lately, how did you know?
I keep wanting to write a "Little Prince is two and here's everything he's doing" post, but he's doing so much and keeping us so busy, that I don't have the time. For the record, at his two year check in, he weighed in at 21.8 lbs and was 31.75″ tall. Both numbers are in the single percentiles, but he's still growing, following his chart, and blowing the major milestones out of the water.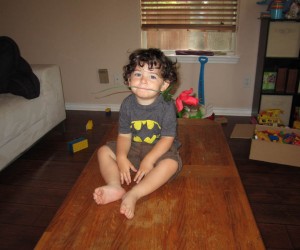 Ok, now that that's out of the way I can write about our last weekend.
On Saturday we got up late. We were going to go out to the splash pad, but we got moving so late that it wouldn't have been worth it. So we go our grocery shopping done early instead. Then we came home, ate lunch and went down for a nap. I fell asleep with Little Prince for the first hour or so. Then he woke me up to switch sides. He fell back asleep nursing and then popped off still asleep after half an hour and stayed asleep for over an hour more. He slept a good 2½ hours, which is unusual because his normal weekend naps are about an hour and a half (maybe two if we are lucky).
When he got up, we headed out to his friend from daycare's birthday party. It was at Inflatable Wonderland at the Mall. We'd never been there before but it was basically a big room with tons of bounce houses. Little Prince took to it like he was born to jump (he's really into jumping on everything these days). He went right into a bounce area that was supposedly for "bigger kids." All the other parents were like, "my kid is afraid to go in" and we had to say "well, this is his third time around these things so he gets them now." He had a total blast at the party, he even got some of the older kids to help him climb up the ladders so he could go down the big bouncy slides. The only things he didn't like was when the music was too loud and the shark head at the beginning of the Finding Nemo bouncescape.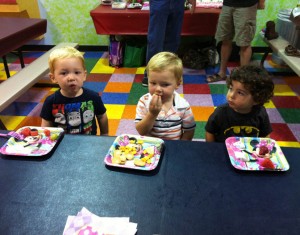 Here he is with his friends B and A. They are not even related, but they look so much alike that after two years of seeing them I still have trouble telling them apart sometimes.
It was really great to chat with the other parents of LPs friends. Most of these kids have been together since they were really little (some since they were all about three months old), so they know each other so well that it's great to see them play. And it's nice to talk to their parents too. So I started an online group for us so we can post about playdates and stuff. Yay for connecting. Also I know that LP is very verbally advanced, but after seeing him with his peers, yeah…wow. Even some of the other parents commented on how smart LP is.

After the party was over, we got mall food (cause it was getting late) and headed home.
This morning we got moving somewhat faster and we did make it out to the awesome Splash Pad where we had a great time.
 We remembered a ball and cups this time and Little Prince got right under the water without any hesitation. After about an hour in the water he wanted to go to the swings at the playground that's right there. So we snacked a bit and headed over.
We grabbed food on our way home, ate, and showered. Then it seemed like LP was about to nap, but he nursed for a bit and then wanted to go downstairs. Then Ms. G and Mr. D showed up for a visit. He was so excited to show off. So guess who, after napping so well yesterday, didn't nap at all today? But we had some downtime after our guests left by watching Wreck-It Ralph as a family. Then we played for a bit, FaceTime'd with Grandma R, and had dinner.
After dinner we played outside with the neighbors and I got to see our newest neighbor who was only 4 days old! So cute! Then inside for quick bath and after that we had meltdown I-didn't-nap toddler time, so we skipped teeth brushing, went straight to nursing and LP fell asleep super quickly, which gave Darius and I a little bit of extra hangout time.
I should also mention that LP peed in the potty quite a few times over the weekend and has started asking for diaper changes more often. So we're moving in the right direction, but nice and slowly, at his own pace.
Over the winter we decided that we were going to take Little Prince to New Orleans to visit Grandma R and Tante and have his second birthday party there. This gave our families time to plan for the trip. Pawpaw and Grandma A from my side and Aunt B2 and Cousin T were also able to make it in.
We drove in on Thursday before Memorial Day weekend. I was a little (a lot) nervous about doing a road trip with a toddler. But it went pretty well. In order to keep Little Prince occupied, I went to Target and got a few things from the dollar section (a plastic ring, Batman stickers, etc) and I put them into plastic Easter eggs. Whenever he started to get restless, we gave him a new egg with a prize. I also got him a Thomas book that has buttons that make noise. I knew that book would drive us nuts in about 5 minutes, and it did, but it also kept him happy for over half an hour, so that was totally worth it. He also slept for a good long while after lunch. We made the drive in about 10 hours, which wasn't bad. Got in in time for a late dinner and then put Little Prince to bed.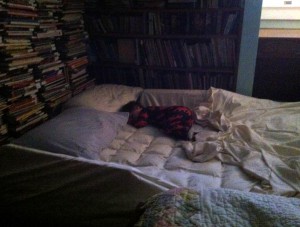 This week Darius's family came to visit from MA and meet the Little Prince. With the exception of my MIL, none of them had ever been to Austin before.
SIL2 was really great at helping with stuff around the house. Niece fell in love with LP and was really good at helping SIL2. She and SIL2 put together the swing that MIL and SIL1 bought for LP. I tried to show them on Monday how great LP is in the bath…but half way through he started crying :(. MIL and SIL1 were also great with LP and were very generous, because in addition to the swing, they also bought him a very cool playmat.
The advantage of having family in town was that we finally got to get out of the house during the day. On Sunday SIL2, Darius, LP, and I ate a Freebirds (well, LP was asleep) and started looking into mattresses for LP. The idea is that we'll drop our queen to the floor and get a twin to put next to it so that we have more co-sleeping space and LP already has his mattress for when he gets older and moves into his own bed.
On Tuesday night we all went to Chuy's for dinner, where Darius and I learned what a "sling" is — two crossed pieces of wood connected by straps that lets you put your baby carrier in it. Our LP decided to be awake for most of dinner, but SIL2 spent time walking him around letting him look at things after she ate, so Darius and I could eat. On Wednesday I took LP, SIL1, SIL2, and Niece to Central Market to go shopping and show them how cool it was. LP slept most of the time, but woke up near the end for a diaper change and a nurse. I'm so glad that Austin is awesome when it comes to breastfeeding in public.
Family left on Thursday, but that didn't stop us from going out again. The group of May moms we met through the classes at the Birthing Center often get together on either Thursdays or Fridays and one of them was kind enough to pick LP and I up and bring us down to Central Market (again). It was great to see everyone and their babies and just hang out with other moms of infants.
After having several good nights, where all we had to do was side nurse and he'd fall asleep for 3-4 hours then half wake up, nurse and go back to sleep for another 2, Thursday night was a screaming, overtired baby from about 10:30 until about 1:30am. But last night was good again. Sometimes when LP half wakes up at night he makes gurgling noises and he's become great at spitting up some milk post-feeding, but everyone says this is normal, so I'm trying not to be worried about it.
Lastly I have to say that I'm loving my Moby wrap. It let me play WoW for a while on Monday, read Jacqueline Carey's new book for hours on Tuesday, put LP to sleep while walking around CM on Thursday and keep him asleep for most of the time while I ate and talked, and put an overtired LP to sleep and then let me photo & video edit and write most of this post today, all while holding him close and being hands-free.
Week two was really hard for me. My postpartum anemia was worse than we were all prepared to deal with or aware of. I think that if we'd known just how bad it was, my mother probably would have stayed an extra week. But we made it through the week. There were really rough times, like Tuesday afternoon and Thursday night, when I almost called my mother and begged her to come back. But there were also great moments, like holding him and watching him sleep. And getting to start to know his myriad expressions. And we've been really lucky, most nights we can get at least one 4-5 hour stretch of uninterrupted sleep.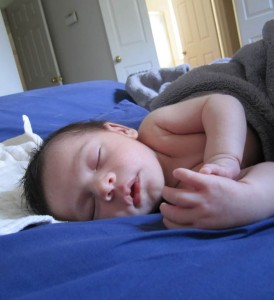 My days mostly look like this: Wake up for a nurse when Darius leaves for work. Go back to sleep. Either wake up before or with/after the LP. If before, get a chance to eat breakfast first (hopefully…before he wakes up), then morning diaper change and nurse. If with/after, morning diaper change and nurse and then hopefully be able to put baby down long enough to get food myself. Hold the little prince while he sleeps for a few hours. Watch a movie or something on the DVR or On Demand. Midday diaper change and feed. Try to get lunch into my body (hopefully baby is asleep…otherwise use bouncing chair). Hold baby more. Watch more random stuff on tv or try to play with computer and/or phone. Afternoon diaper change. Side nurse turn into afternoon nap. Then Darius is hopefully home and the little prince can get some daddy time while mommy showers or gets some time to herself.
Nursing has been going well. For week two, we were mostly on the nipple shields the whole time. But after reading some articles written by other mothers who had to use them on the La Leche League site, I felt better about doing so myself. Also, he started taking to the left breast often without the shield. And in the cradle hold almost didn't need it ever. This Tuesday evening, he started not wanting to use it with the right breast either and hasn't wanted it since. But we're still figuring out how to get a good latch on the right (the football hold seems to work somewhat), so it's a work in progress, but a positive one.
Over the weekend we had our first trip to the grocery store and he slept through the entire thing!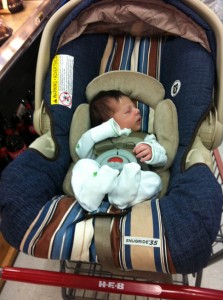 We're definitely into the "I'm in my 3rd week of life and I've learned how to cry loudly when I want things" stage. We had two nights earlier this week where it took me 2 hours of nursing and diaper changes and rocking before he finally fell asleep. Also, yesterday we had friends over for a bit and after they left I tried to nurse him a bit, but he started screaming. I put him down for a moment and he fell right asleep. It was amazing. Of course today we had some random screaming, but it didn't last long. He has been staying awake in between some feedings. I'm not totally sure what to do with him in those cases, but we're both learning.
Week three has also been about learning to ask friends for help. I think we've had someone over either at lunch or around/after dinner time almost every day. Just having someone else to talk to/help out around the house/hold the baby for a little bit has been great.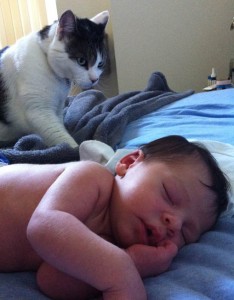 Lastly, I want to report that we had our two week check-up on Monday. DJ weighed in at 7lbs, 12.5oz. He's up almost a whole pound from his birth weight, which is amazingly good progress. The midwife said that he was "perfect." Also, she said that I look to be healing well. We took my blood and my iron count came back at 10.1 (up from 7.5!). I knew I was feeling somewhat better, and it was nice to have confirmation of it. So I'm still anemic and I still get tired a lot and have to take it slow, but I'm recovering.