Archive for the 'Family' Category
Sorry about not updating when my Little Prince turned 8 months. I got just a bit involved with the Facebook Nurse-In stuff ;).
So, LP is now 9 months old! At his checkup last week he was 27″ long & weighed 17.5lbs. He's been a person in the world longer than he was a collection of growing cells/a fetus inside of my body. It still blows me away.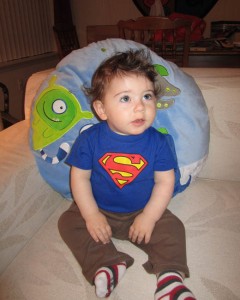 LP continues to grow, change, and amaze me. He is now crawling like a maniac (much to the cats' dismay), cruising around the furniture, walking for a good while while holding our hands, and even standing for several seconds all by himself. He's also a little thrill seeker and loves getting tossed around, thrown up in the air, and being placed on shoulders.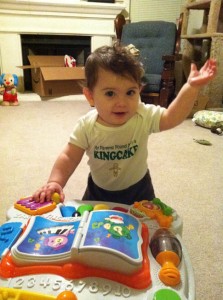 (Drat, I had just added a bunch of stuff and WordPress just ate it! Boo! Hopefully I can remember most of what I wrote.)
When he's excited, LP makes the cutest "gah" noise. He also says lots of "da/dat" "ba" and "agg" sounds. Still not much on the "ma" front :(. He also signed milk once or twice, but not consistently… then again, we're not very consistent with it.
When he wants to show affection (or when he's super tired), he'll lay his head down on you. It's so cute. Here he is giving the boy-cat some love: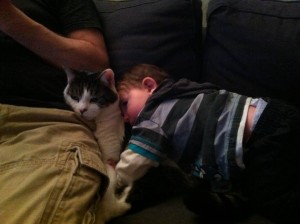 Grandma (my mother) came into town the other week. She spent a few days watching him, which was nice. She found a great little park for smaller kiddos nearby, which we have since taken him to a couple of times. She also taught him to raise his arms up when someone says "touchdown" (even though it's not football season anymore). Here he is doing "touchdown" for Grandma when we were out at dinner:
On the eating/sleeping front, LP is still mostly reverse cycled, although he does take more milk at daycare than he use to (probably because he's more active these days). So we dream-feed several times a night. He still isn't super interested in food. He does about 2-3 oz of baby puree at daycare every day. Apples or sweet potato seem to be his favorites. He's okay with banana, pears, and carrots. So far not a fan of green beans. At home we do more baby lead solids. We went out to Olive Garden over the weekend and got him a side of steamed broccoli and he had fun squishing it and dropping it on the floor, but I'm pretty sure he got some in his mouth. Here he is with two slices of an Empire apple. He really likes apples and other fruit.
He also likes to try and drink water from our glasses. It's pretty cute and usually ends up with water everywhere. He's starting to figure out sippy cups too. I think we need to get a few different types to see what he takes to.
As perfectly developmentally appropriate, LP has occasionally exhibited some mild signs of separation anxiety when we put him down. So we babywear him more. Currently there are three baby carriers in this house: a Moby wrap, an Ergo, and a Mei Tei that I'm borrowing for a friend. I've started to become a big fan of the back carry. I've also started to get addicted to baby carriers. They are so awesome. And different ones are needed for different situations! The other week we were at CostCo and Darius had LP in the Ergo on his back. LP totally fell asleep and Darius kept getting double-takes from people as they realized that he wasn't wearing a backpack, but a sleeping baby.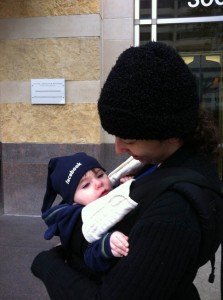 I'm sure I have more to say, but he's waking up and it's way past time to get him to daycare and me to work.
Since it's half way through February, I guess it's time I finally get to this post, since I promised I would…and then got busy with things like chasing around a crawling baby and all of the Facebook Nurse-In stuff.
In our house we celebrated three winter holidays: Chanukah, Yule/Winter Solstice, and Christmas.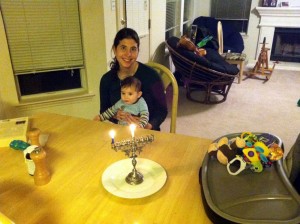 For Chanukah I continued the tradition that my parents started: a book (well, he got a set of Dr. Seuss books) on the first night and that's the only present. He seems to like the books.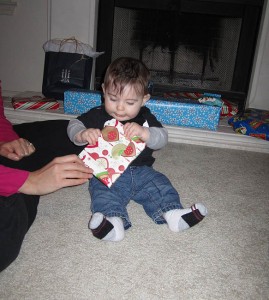 Yule/Winter Solstice is our family holiday. All of the presents were from us to each other. Ok, most of the presents were from Darius and I to LP, but that's how it should be, right?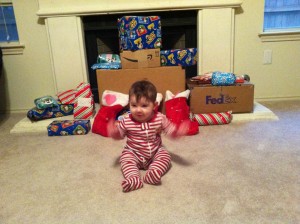 Christmas we do as an extended family day. This year for Christmas, my father and step-mother came into town. On Christmas, there are presents from extended family (the In-Laws got us "revenge for getting their kids loud toys" presents :)) and gifts from Santa.
I'm pretty sure that LP had no idea what was going on most of the time. He sometimes seemed to like the paper and the boxes more than the gifts.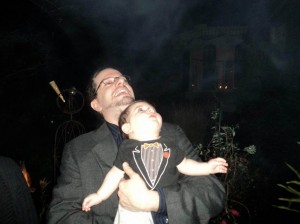 Lastly, for NYE we were in New Orleans, since tante's birthday is NYE. We got LP in his tux onesie and he slept through the whole party until it was almost midnight. We brought him outside and I forgot they always set off fireworks until they were going off. I was worried he would freak out, but he loved them! He would track them up in the air and then watch the colors in the sky. He was actually kicking his feet impatiently when none were going off.
And now, since I know y'all are really here for the pictures, here is a slideshow of all of the holiday pictures:
Lots has happened in the past three weeks.
The first week of August was National Breastfeeding Week. I was going to go to a Latch On, but LP was asleep when it was time to go and I didn't want to awaken him.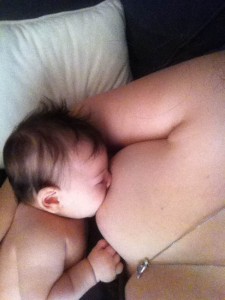 Also that week, my father came into town and spent just under 2 weeks with us. It was really nice to have him around as he helped around the house and with LP. He also worked on making sure that LP and I got out of the house on occasion, even though it's been so damn hot out.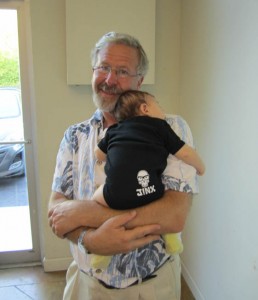 I was really glad he was here the second week because I came down with a minor cold for a few days and totally lost my voice. LP also go the cold, but it was even less for him (yay breastfeeding). Still, it was his first cold and he was not thrilled, especially when he was having a bit of trouble with a stuffy nose and trying to nurse. But we both made it through it.
On August 4, all four of us went to a Marian Call concert. LP was amazing throughout almost the whole thing. He tended to either be asleep or staring at the pretty redhead on stage singing. The concert was being webcast. When Marian went to put on her Jayne hat, we put LP in his. She saw and had the camera focus on him. Here is the moment of my baby becoming Internet famous:
We also ventured into the realm of cloth diapering without the Diaper Service. But that's a post all to itself.
Last week was my first week back at work and LP's first week of daycare. We were both only doing half days. Things are going pretty well; LP is even starting to take to the bottle better. They keep telling me what an awesome and chill baby LP is. They also told Darius when he picked up LP on Friday what a calm mother I am.
LP has been spending his time discovering his hands. He's a fan of sucking on his right fingers. He's getting better at reaching and grabbing for things. Lately he's started to clasp his hands together in what Darius calls his Evil Mastermind pose. Also we've had some, but inconsistent, flipping from belly to back.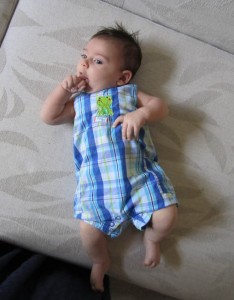 However, this last week, LP started to have green runny poop, instead of the nice mustardy yellow poop he usually has. As far as I can tell, this is a foremilk/hindmilk imbalance. I'm guessing that this was brought on by the pumped milk, as I was pumping for only 5-10 minutes and then putting the resulting milk together into one bottle, so the bottle would have a lot of foremilk and not much hindmilk in it. I'm going to work on making sure to pump for at least 15 minutes while at work and not combine them. Hopefully, if I do that and continue to nurse normally and on demand at home, it will clear up all on it's own.
Our Little Prince had his 6 weeks check-up on Monday. He weighed in at 10lbs 0.5 oz and almost 20″ long. He's getting so big. The midwife who delivered him was the one who did our check-up. She commended on just how strong he is and how cute he is. She said that the noise he makes overnight are perfectly normal and healthy noises.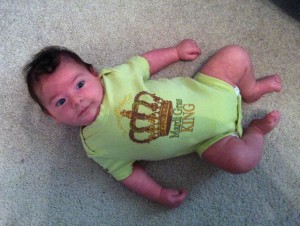 She also gave me a check-up. She said that my breast tissue is very healthy, that my abs only have a touch of separation, and that everything that should be together has come back together well. I had to give her a high-five for the last one since she was the one who stitched me up. I also got my blood drawn and tested. I am officially no longer anemic. Hurray! Which means that all of the exhaustion I'm feeling is normal new baby exhaustion. Hurray?
Last Saturday we had our official Centering reunion. While I'd seen some of the other babies already (either at a meet-up or over the internet), it was nice to see everyone again. I even made a cake while baby-wearing (my mom helped and Darius was on baby duty while we decorated it).
Darius and I got asked to come and talk to the August Centering group this week about our experiences at the Birthing Center with the L&D and about being new parents. I think it went pretty well. Our LP was asleep on Darius's shoulder for most of it, which was really cute.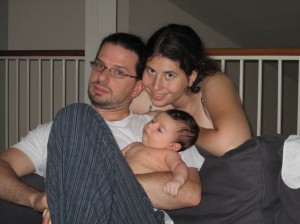 Pumping has been going well and Darius has even given the LP a few bottles. He'll eat about 2oz and then about 30min or so later decide he's hungry again, will refuse the bottle, and will do a long nursing session with me. But it's a start, so that's good.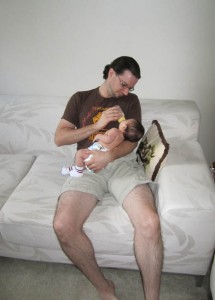 Our Little Prince really likes to "talk" to us and things. His favorite "word" is "agoo." When he talks, he talks to everything! He's also starting to smile a lot. It's so adorable. The other day he invented a game called "roll off of Daddy's chest onto the edge of the couch." He's also getting amazingly good at holding his head up and kicking his legs like he wants to crawl. I have a feeling we're going to be in big trouble sooner rather than later.
We're also getting better at recognizing "I'm about to freak out" sounds from "I'm happy in my playpen" sounds and the "I need to nurse" vs. "I have a wet diaper" sounds. I've found out that when he's overtired he'll think he wants to nurse, start to scream, try to nurse again, and start to scream. When this happens, the best thing is to just stop trying to nurse him and walk him around until he falls asleep.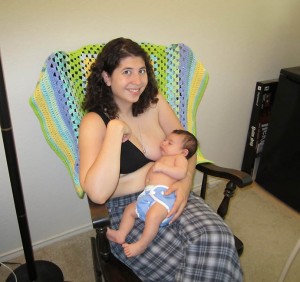 We've been developing a bedtime routine. Every other or third day it starts with a bath from both of us (which he LOVES). We then put him in a disposable diaper (because he hates being wet, so he sleeps longer in one) and put him in a pair of footie pajamas. I then nurse him and hopefully he falls asleep in my arms so I can transfer him to the bed. Sometimes he needs a bit of a walk and a side nurse to fall asleep. The other night he fell asleep in my arms in the "Magic Baby Hold." Then we all fall asleep because Darius gets up super early for work and because I'm exhausted. Sometimes LP wakes up in the middle of the night and so one of us will do a diaper change and often take him out of his PJs. A lot of the time, he doesn't quite wake up but sort of thrashes and if I nurse him he just falls back to sleep for a few hours, which I hear is the first step toward longer sleeping periods at night.
Had started putting LP in onesies every day, but he developed a heat rash (man is it hot in Texas!) so most of the time he's just in his diaper covers. Sometimes I give him naked time on waterproof pads covered with cloth diapers. He seems to really like that time. We also got him some lightweight and/or sleeveless onesies and rompers (in size 0-3 as he is completely out of the newborn size now) for when we need to go out/because they are so cute.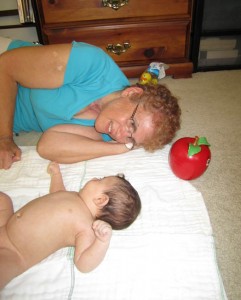 In other news, my mother has been in town for a week and a half. It's been fantastic having her here. She's been a tremendous help, both in terms of housework and helping with the LP. It also means we've been getting out of the house more, which is tiring but good. I got to get a haircut and she even babysat LP for a few hours so Darius and I could go on a date to see the last Harry Potter movie (I cried a lot). I'm going to miss her so much when she is gone.
This week Darius's family came to visit from MA and meet the Little Prince. With the exception of my MIL, none of them had ever been to Austin before.
SIL2 was really great at helping with stuff around the house. Niece fell in love with LP and was really good at helping SIL2. She and SIL2 put together the swing that MIL and SIL1 bought for LP. I tried to show them on Monday how great LP is in the bath…but half way through he started crying :(. MIL and SIL1 were also great with LP and were very generous, because in addition to the swing, they also bought him a very cool playmat.
The advantage of having family in town was that we finally got to get out of the house during the day. On Sunday SIL2, Darius, LP, and I ate a Freebirds (well, LP was asleep) and started looking into mattresses for LP. The idea is that we'll drop our queen to the floor and get a twin to put next to it so that we have more co-sleeping space and LP already has his mattress for when he gets older and moves into his own bed.
On Tuesday night we all went to Chuy's for dinner, where Darius and I learned what a "sling" is — two crossed pieces of wood connected by straps that lets you put your baby carrier in it. Our LP decided to be awake for most of dinner, but SIL2 spent time walking him around letting him look at things after she ate, so Darius and I could eat. On Wednesday I took LP, SIL1, SIL2, and Niece to Central Market to go shopping and show them how cool it was. LP slept most of the time, but woke up near the end for a diaper change and a nurse. I'm so glad that Austin is awesome when it comes to breastfeeding in public.
Family left on Thursday, but that didn't stop us from going out again. The group of May moms we met through the classes at the Birthing Center often get together on either Thursdays or Fridays and one of them was kind enough to pick LP and I up and bring us down to Central Market (again). It was great to see everyone and their babies and just hang out with other moms of infants.
After having several good nights, where all we had to do was side nurse and he'd fall asleep for 3-4 hours then half wake up, nurse and go back to sleep for another 2, Thursday night was a screaming, overtired baby from about 10:30 until about 1:30am. But last night was good again. Sometimes when LP half wakes up at night he makes gurgling noises and he's become great at spitting up some milk post-feeding, but everyone says this is normal, so I'm trying not to be worried about it.
Lastly I have to say that I'm loving my Moby wrap. It let me play WoW for a while on Monday, read Jacqueline Carey's new book for hours on Tuesday, put LP to sleep while walking around CM on Thursday and keep him asleep for most of the time while I ate and talked, and put an overtired LP to sleep and then let me photo & video edit and write most of this post today, all while holding him close and being hands-free.
DJ slept a lot the first two days. He was still having trouble latching. He would try and then cry and then fall asleep. We just figured that he was still tired from the whole being born thing.
On Monday the postpartum midwife came by. As Darius had suspected earlier that day, DJ was jaundiced. It was all the way down to his navel. Also, when the midwife weighted him, he weighted only 6lbs 5oz. He'd lost 8% of his birth weight. This was not good. It upset me a lot. She said that I was doing everything right, but because he was small, latching can be a problem and he doesn't have the reserves of energy to keep him going so he'll just fuss himself to sleep. Also, she was worried about my milk not coming in, but as we got him to nurse, I noticed that it was starting to turn more milky.
So I decided that we were going to make this work. I used an iPhone app to keep track of his feeding and sleeping. We made sure that he was eating every 2-3 hours, with one longer period if he would take it over night. I used the nipple shield because he could latch onto that. I kept him nursing for as long as he would, which lead to some 45 minute nursing sessions. My milk came in on Tuesday, without pumping. My nipples were bruised, but I kept at it. We also opened the shades and spent some time in the sunlight. On Wednesday my breasts were so full that they hurt and I was worried about engorgement. On Wednesday we (and by we, I mean my mother and sister because I ran out of energy) gave DJ a bath, which he loved. Also, my father and stepmother came into town that day as well to meet their grandson.
Somewhere in all of this, I started singing to DJ, "This little prince of mine, I'm gonna let him shine. This little prince of mine, I'm gonna let him shine. This little prince of mine, I'm gonna let him shine, let him shine, let him shine, let him shine." I also started making up other verses with words that rhyme with shine and randomly calling him "my little prince." In fact, I call him "little prince" or "my little prince" way more often than I call him anything else. I've been thinking about decorating the baby's room in a "The Little Prince" theme, but I'm not 100% sure yet. So I'm going start calling him Little Prince (or possibly LP for short) on this blog as well.
On Thursday morning my breasts started leaking on their own and the feeling of engorgement died down. We kept at the nursing schedule. The postpartum midwife came by in the afternoon. I was really nervous. However, I didn't have to be. My little prince weight 6lbs, 15oz! He was up a whole ounce from his birth weight! Also his jaundice was up to his shoulders, which was really good progress. We'd totally done it!
On Friday when I went in to the Birthing Center for my nonstress test, I got my membranes swept. This was probably around 2pm or so. Came home. Got some work done. Around 4:30pm I was resting on the bed when I started to feel cramping and my hips started to hurt. I didn't think I could possibly be in labor yet, and the cramping wasn't totally letting up. But then I started using my timing app and found out that the contractions were about 7 minutes apart and lasting just under a minute. Somehow I still couldn't believe that I was in labor, mainly because I'd never heard of hip pain happening. I spent a lot of time on the toilet exiting my bowels and making it through that way. I also spent some time leaning on the railing by the stairs and leaning over the bed. At about 7:30pm I was at my computer and then felt a contraction so I stood against the wall. I felt a pop and a gush, so I was pretty sure my water had broken. I called the Birthing Center hotline and also my doula, Namaste. The midwife on call was Mary. She said that I could keep laboring at home and she'd call me back around 10pm if she hadn't heard from me. An hour, and a lot of hip pain later, my contractions were at 4.5 minutes apart, lasting about a minute. Sometime after that I was feeling tired so I tried to rest, but it wasn't working. Around 9:30 I knew I was not managing the hip pain well. It just wouldn't go away, no matter what I did, so I asked Namaste to come over. At 10pm Mary called and I was contracting every 3-4 minutes, lasting for around a minute. Mary said it would take her 30 minutes to get to the Birthing Center and which room did I want. I had originally wanted the Santa Fe room, but since they changed it to the Barcelona room, the Windsor room was more appealing to me. I set a timer for 20 minutes because I knew it took 10 minutes to get to the Birthing Center.
On Thursday evening my mother and sister came into town. On Saturday we had my baby shower. It was really fantastic and made both Darius and I feel loved and cherished by our friends, family, and community.

The shower was dinosaur themed. So mom and I made dinosaur egg shaped cake pops by using a plastic Easter egg and dying melted white chocolate (and also using milk chocolate). Once they were dry, we set up the nest display made out of floral foam and fake moss. Then Darius did a great job artistically arraigning them. Darius's mother surprised us with a lovely Edible Arrangement that showed up a few hours before the party. It was so thoughtful of her (and very delicious!).
The party itself went very well. We probably had about 15-20 people show up. We had social time for about an hour and then my sister broke out the games. It started with giving everyone a candle and asking them to inscribe a wish for us. The idea is that whenever they think about Darius, me, and the little one they light the candle and send us good wishes. We're also asking that people light them as soon as they find out I'm in labor to send the good wishes our way. Yes, sometimes I'm a total hippie pagan. We went around and everyone introduced themselves and told us their wish for us, which was really sweet.
Then my sister had everyone put a note card on their head and draw what the baby would look like. Darius and I picked our two favorite and our two least favorite. Then we had a "name the baby" contest and a "guess these random facts about Darius and Athene's childhoods" while people cut a length of yarn that they thought would be the size of my belly.






Some of the names that I loved:
Pee
Wing Ding
Once and Future
I Dna (read the middle and first name backwards)
Fisher
Sihng
Burger
Po
Norse Vi
Lizard
Raymond (Ray)
Don't Gender Identify Me Frederick (ok…this is from my sister and is a total family in-joke).
What's really interesting is that Joseph made a few people's lists. While we wouldn't do Joseph as a first name for several reasons, the name actually runs in both families and we've been thinking about using it as a middle name.
As for the string around the belly, we played it with Price Is Right rules. I guess I must look bigger than I am because almost everyone totally overestimated. There were two people who got it dead on.

Then it was time for cake pops (yum!) and presents, especially as it was already getting late and some people had to leave. We got lots and lots of great things, some from our registries and some not, but everything we got was definitely stuff that we need. One of the gifts that touched me the most were toys and books and things from a friend's children because they didn't need them anymore. I know how hard it can be to give up those sorts of things, so it was really sweet. We also got some presents from my mother's group of "lady friends" who had thrown her a surprise shower the other week.

Lots of great New Orleans stuff so the baby will know his roots. However, the absolute BEST.PRESENT.EVER. was the baby sized Jayne hat. You can see from our faces just how excited we were by it. Yes, we are nerds and Browncoats and we will have the world's biggest nerd baby (until he grows up and becomes a jock or something).
Lots more pictures from our shower, some from our camera and some from my mother's:
My sister also took pictures. Here are the ones from her camera:
Now to actually set up the baby's room, organize all the stuff that we got, and figure out what we still need.
In the past two weeks I've started feeling Stree kick. At first I wasn't sure that that was what I was feeling. It felt like a little gas bubble popping, so I wasn't sure if it was just gas, the ability to feel my pulse in stomach (which I can do sometimes), or kicks. But they have been happening more and more frequently, especially in the last week, so now I know they are kicks/punches/movement.
Sometimes he is really active and I feel a bunch all at once, or within a few minutes of each other. Sometimes I just feel an odd one or two. Sometimes I just feel heavy in my pelvis, as if he's just settling down in there for a while. They still come to infrequently and are too light for me to determine any perceptible pattern. And nothing can be felt or seen on the outside yet, but I can't wait for the day when Darius can feel his son move.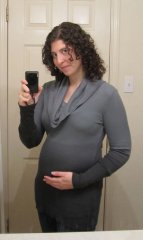 In belly news, none of my pre-pregnancy pants (other than yoga pants and leggings) fit anymore at all. I've been pretty much living in maternity pants/jeans, yoga pants, and Darius's pajama bottoms. While I don't look "to strangers" pregnant, I feel as though I'm finally moving out of the "ate too many cheeseburgers/pizzas" stage to the really looking pregnant stage (except for when wearing a large sweater…but it's been so cold out lately).
In symptom news, still burping all the time but the hemorrhoids have seem to have cleared up mostly (for now). Also I've been getting tired a lot lately again and my back has started hurting on and off. Scoliosis + pregnancy = back pains earlier in pregnancy than for most people. Doing yoga can help somewhat. I have an appointment with a chiropractor on Monday! I am so looking forward to it.
My sister is in town this weekend, loving the pregnant me. We went out yesterday to look at baby things. She bought Stree a couple of cute onesies from Once Upon A Child, which is really really close by. Then we went to Babies R Us to pick up my Dad's present to Stree. We have a Travel System (stroller/car seat/travel bassinet) now! This is really the only thing that we actually need need need when Stree is born, so yay! After that, my sister and I went a little crazy with the registry gun at Babies R Us, but it was kind of fun. There are a lot of cute things with monkeys on them out there if you want to go all ape over that kind of thing. We also checked out BabyEarth, since it just opened, but it was totally over my price range for just about everything.
Today we went out with my BF in Austin and hit up some thrift stores and Target to look for cute maternity clothing for me. Amongst some of the horrible and very questionable things, we actually found some stuff that was rather cute. It was really fun hanging out with the two of them in general.
I've been reading Ina May's Guide to Childbirth, which is even more hippy than Birthing from Within, but it is really nice to read positive stories about natural birth. She has some great points that I've been copying down since I'm just borrowing the book from the library, but that deserves its own post.
Called my sister in tears about an hour ago.
I was watching a thing on TV about the making of the Harry Potter movies and I started thinking about movies 7.1 and 7.2. Read the rest of this entry »