Archive for the 'Family' Category
My mom is visiting for two weeks. Today she picked up Little Prince after his soccer practice at daycare and drove with him to my BIL's mother's house, which is about 3 hours away. It's his first time sleeping away from home without either mommy or daddy being there. It'll be our first night in the house without him. I'm sure we'll be a mess and he'll be fine.
I got a text about 30 min ago that they got there safely. I just got a dictated text about how the dog there follows everyone around and wants to play. I miss him already. How did people do this before texting?
I seem to keep writing these posts later and later after his birthday…
The week before Little Prince's birthday we had a custom playscape by Playwood Playscapes installed in our backyard.
We decided to have the rocks delivered after it was constructed. We didn't realize just how many rocks it would be. We had to call in reinforcements to help us move them all.
LP turned four on May 28. At his wellness check the next week, he weighed in at just under 28lbs and about 36″. His doctor says that he looks perfect and his following his curve.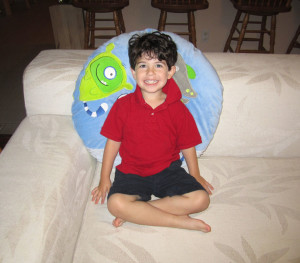 That day I brought pirate cupcakes to LP's daycare after naptime. They did this little ritual where they had him walk around the months of the year holding a globe and at the end of each year of his life, I got to tell a little about him. I also made a poster that was a treasure map that had one of the pictures of him in front of the monster pillow for just born through each year. It was a fun little celebration and by the end everyone had red teeth and lips from the icing.
That night Darius and I let him have another cupcake and gave him one of his presents.
On Saturday May 30, we had a Jake and the Never Land Pirates birthday party at our house. We invited his whole class and some of his friends who are still in Transition instead of Primary. But only kids that he's really grown up with and considered good friends showed. Which was probably better anyway.
We mostly just let them run around outside on the playscape for a while (it was threatening to rain in the morning, but thankfully it didn't). They convinced a lot of parents to push them on the swings.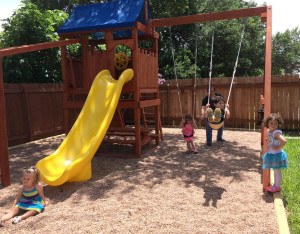 Eventually we called them all together and played a party game that my parents always set up at our parties. I hid the letters that spelled out "Happy Birthday DJ" around the downstairs and the kids had to go find them. I think they might still be a little young for the game, as they ripped some of the letters (tape is my friend) and they lost some interested before all the letters were found, but I think they still had fun with that.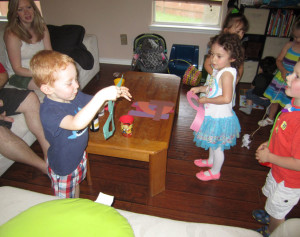 Then it was time for cake, candles and singing (I took video but my voice is horse and sounds like a dirge so I'm not posting it), and homemade ice cream that Darius made.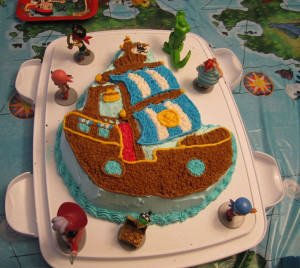 There were a few small meltdowns around that time/just after that point. Most of the children left by that point, but a few stayed while LP opened gifts. Then they left and we had a little bit of downtime before we went out to dinner with V, E, C, and A.
All-in-all, I'd say that LP had a great birthday and birthday party.
On May 28, my Little Prince turned 3 years old!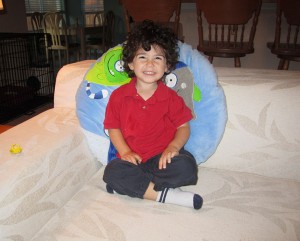 At his three year doctor's appointment he measured 24.6lbs and 34.2″ tall. Still a small guy, but growing right along his curve. His pediatrician said that he looks good and that he should be in print (seriously, if we only had time to take him on auditions, we would!).
For months now LP has been asking us for a Batman cake and a Justice League birthday party. So, on Sunday June 1, that is exactly what we threw him. I worked really hard to find JL decorations, bags, etc that included both the men and women of the Justice League together. Do you know how hard it is today to find that? Lots of eBay searching. But I think I did a good job.
We invited his whole class and some of our friends and neighbors to the party and had a great time. We rented a Justice League bounce house, which the kids (and adults) loved and was totally worth it.
My mom had gotten me the old Superman/Batman cake pan and I think that his cake turned out really well.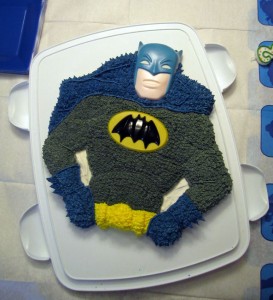 We also had push-pops to help everyone cool off and Darius made an awesome fruit salad that we served inside of the hollowed out watermelon.
LP got lots of great stuff. I think it helped that I included in the eVite a list of things that he's currently into.
For a long time now, when LP has said he wants something, I've replied that I want a million dollars and a pony. So he started responded that he wants a million dollars, a pony, and Batman boots. For his birthday I got him a Darth Vader lunch box with fake money in it (a million dollars), a Rainbow Dash doll (My Little PONY), and, of course, Batman rain boots. I thought that I'd done really well with the gifts.
But Darius got LP the best gift of all. He'd saved his overtime pay for months and surprised LP (and me) a Power Wheels Jeep. See, LP has been obsessed with Jeeps lately. And he kept saying that he had a black and chrome Jeep, but it was broken and he and daddy were going to fix it. So Darius got him a black Jeep that came disassembled. And the day after his party, they "fixed" it together and then LP got to take it for it's first ride around the cul.
Video from the party. Blame all cheesy effects on Tante:
Lots more pictures from the party can be found in the LP's Third Birthday Party Photo Gallery.
We decided that 2.75 would be the perfect age for Little Prince to experience his first Mardi Gras in New Orleans.
On Thursday, Feb 27, we got into the car nice and early and drove to New Orleans. The drive went pretty well overall. Little Prince used the potty twice on the way there, which was totally unexpected and cool. He did fight sleep for over half an hour after lunch time, which sucked. We were really hoping to get in to NOLA in time to head over to Tante's and catch Muses, but we hit some nasty traffic in Baton Rouge and by the time we got to Grandma R's, we were all just exhausted.
On Friday Grandma R showed us that she'd saved a huge amount of our childhood toys. Little Prince was in heaven playing with it all.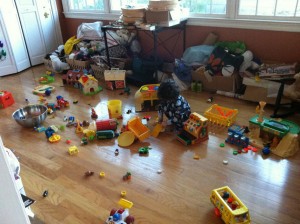 That evening we headed over to Tante and Bullit's for our very first Mardi Gras parades. Darius got to learn just how stressful parking during Mardi Gras can be. We got to Tante's, ate dinner, and then the parades started right outside her door.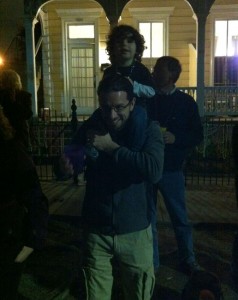 Darius with a drink in his hand and LP on his shoulders.
That's doing Mardi Gras right!
Over the winter we decided that we were going to take Little Prince to New Orleans to visit Grandma R and Tante and have his second birthday party there. This gave our families time to plan for the trip. Pawpaw and Grandma A from my side and Aunt B2 and Cousin T were also able to make it in.
We drove in on Thursday before Memorial Day weekend. I was a little (a lot) nervous about doing a road trip with a toddler. But it went pretty well. In order to keep Little Prince occupied, I went to Target and got a few things from the dollar section (a plastic ring, Batman stickers, etc) and I put them into plastic Easter eggs. Whenever he started to get restless, we gave him a new egg with a prize. I also got him a Thomas book that has buttons that make noise. I knew that book would drive us nuts in about 5 minutes, and it did, but it also kept him happy for over half an hour, so that was totally worth it. He also slept for a good long while after lunch. We made the drive in about 10 hours, which wasn't bad. Got in in time for a late dinner and then put Little Prince to bed.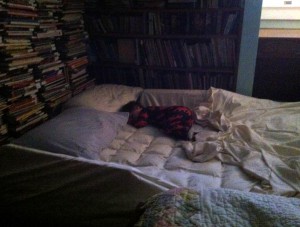 Although I was sick on Yule, we had our Yule celebration (somewhat muted) anyway. We got our Little Prince his very own R2D2, which made him very happy, and a few other toys and books. He also got some Duplo from us and from his West Cost Grandparents.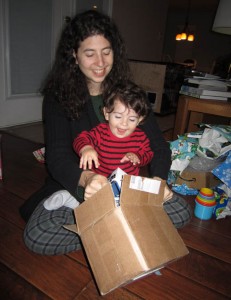 We had some friends come and help us wrangle LP so we could prepare for our very first plane trip with our little prince. On Christmas Eve we flew to Massachusetts to visit with Darius's family and some of our college friends. LP handled the first leg of the trip just fine. His ears didn't even bother him. Half way through the second (and much longer) leg, he started saying "all done airplane." It's very hard to explain to a toddler that we can't really stop and get off of the airplane right then. At least he fell asleep for the rest of the ride soon after that.
Overall we had a really wonderful visit with Darius's family and seeing some of our friends. Little Prince fell in love with my SIL2 and his cousins, my niece T and nephew N. I'm pretty sure LP spent more time in SIL2's arms than in mine while we were there. We stayed in N's room, where there was a fish tank. This made LP very excited.
It snowed on Christmas morning. There's something magical about snow on Christmas morning, even if it's not your religion. So after the first round of present opening, we got LP all snow-suited up and played in the snow. Well, more like waddle around and throw snowballs, but he seemed to have fun.
During the trip we took LP and T to an indoor play area, where LP had a ton of fun in the bounce house (once I convinced him to go in it) and on the bounce house slide.
One day we even got to go into Boston with SIL2 and T. We visited the Children's Book Shop and Henry Bear's Park in Brookline and then went to the Aquarium. LP loved the big fish, the big turtles, the "Nemo" fish, and getting to pet the sharks. I decided that octopodes are creepy. We also hit up Legal Seafood for some chowdah, which usually LP loves, but he was tired and cranky after the long day, so he didn't want to eat much of it.
We had a playdate with some of our old friends from college and their baby. She's not even a year and almost as big as our little little guy. I wish I'd gotten a picture of the two of them next to each other. We also drove around another day with the best man from our wedding and I got to purchase another baby carrier. (No I don't have a problem. It's totally reasonable to have four carriers, especially when LP's already outgrown one of them.)
Before we left, it snowed a good couple of inches, so LP was able to experience sledding for the first time. As expected of a child who loves slides and being tossed around, he loved it. You can't really see it in the video, but he's grinning like crazy.
The trip home on NYE was pretty much exhausting. We did get to Skype with Tante for her birthday while SIL2 was driving us to the airport (I love living in the future). The flight from Boston to Houston took an extra 20 minutes cause of a strong headwind. LP slept for the first hour and a half/two hours, but after that it was kind of hard to keep him entertained. And he got really upset when I had to put away my phone, because he was watching The AristoCats (again) on it. However, the woman next to us commented that he was really well behaved so I guess it wasn't as bad as I thought it was. I was worried that LP wouldn't be willing to get on an airplane again after the long flight, but it wasn't a problem. Thankfully the second leg was so short.While we were in MA, Little Prince turned 19 months old. I can't believe just how much he's growing, saying, and doing these days. He's talking in full sentences, has started to get colors figured out, and can even step up and down stairs.
With the moving, the changing rooms at daycare, and Austin ComicCon, Halloween sort of snuck up on us this year. Also, I just couldn't come up with a good family costume that would "read well" (James, Lily, and Harry just doesn't read without the scar and if James and Lily are alive then Harry wouldn't have the scar…).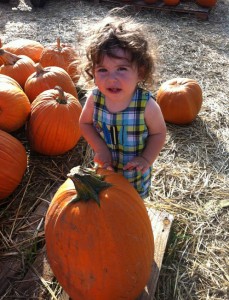 We did make it to a pumpkin patch to pick out a pumpkin. On Tuesday before Halloween, we set up in the kitchen to let Little Prince help pull all of the seeds and guts out of it. We thought that he'd have a lot of fun with it. Instead he decided that he didn't like the texture of the pumpkin guts and kept trying to put the seeds back into the pumpkin. At least we got some cute video of that:
On Halloween I just put Little Prince in his Star Trek TOS Engineering onesie. Darius said it doesn't count as a costume if you'd put him in it on other days, but I didn't care. I also had him in his awesome skeleton hoodie that his Tante got him.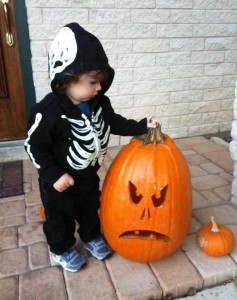 That evening I took him trick-or-treating around the neighbourhood in the stroller. At first he didn't have much of an idea of what was going on, but by the end of our time out, he kind of did. He'd hold once piece of candy in his hand, and then we'd come up to the next house. He'd sort of say "trick-treat" and then when the person went to give him a new piece of candy, he'd give me the old one and hold onto the new one. I also made sure he signed "Thank you" after being given the candy. He didn't really eat any of his candy, except for a few small bites over the past week. He's not really a huge fan, yet.
Last night around 7:30pm I was bringing my Little Prince upstairs for a diaper change. About half way up the stairs I decided to put him down and let him climb up the rest of the stairs himself (since he can go up stairs and it working on down stairs). He slowly made his way to the top of the stairs. When he got to the top, he sat down for a moment. Then he got up and walked into the bedroom and proceeded to flop onto the twin bed. Darius flopped onto the queen bed with a "daddy likes to flop onto beds too." Then LP went over to the sleep sheep that's on my bedside table. When I moved him away from it, he crawled back onto the bed and rested his head on the pillow with a big grin on his face. His dad said, "He's telling us it's time for bed." So Darius ran a bath and we bathed him, got him in his PJs and I nursed him to sleep. He was sound out before 8pm!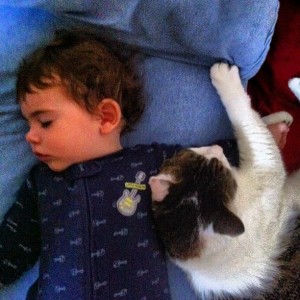 Of course going to sleep before 8pm meant that he woke up (and more than just the half-wakes to nurse that he did at 10, 12, 2, and 4) at 5am and wanted to play and nurse at the same time. Then he fell back asleep for about 45 more minutes at 6am, so at least I got to shower and get some of the morning prep done.
Still, I'm super proud of my baby toddler for being able to clearly communicate his needs to us and for Darius for being smart enough to pick up on it.
There has been a lot of talk recently about Attachment Parenting (AP). Most recently this picture graced the cover of Time, causing shock (as it was intended to) on both sides of the issue.
There have been some great responses to it already published. Here are two: No. I'm Not Mom Enough & Time Magazine and "Extreme Parenting
It may come as no shock to those who know me, but in my household, we practice AP. Here are the eight principles of AP. I just sort of fell into AP naturally. My parents practiced many of these things back in the 80s before there was a term for it because it "felt right" to my mother (she says that we should call AP "natural parenting" since everything else is outside of what is normal in most of the world and for most of human history). These principles also feel right to me. I am also thankful for a friend who passed on her copy of The Baby Book (which I've mostly read through) because it gave me the term to use for doing what felt right to me and helped me find others who parent the way I want to.
I had a natural birth at a birthing center. We breastfeed, which I plan on doing until it is something LP and I both decide is no longer for us.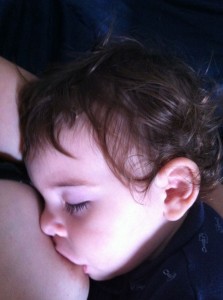 We co-sleep, which makes it so much easier as a working mom of a baby who reverse-cycled at about 4 months to get any sleep.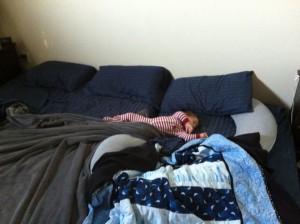 We practice babywearing. LP loves being worn (most of the time) by either parent. And it sure can make doing things like shopping, housework, or even playing WoW (once he's asleep) easier. We also have a stroller, which we do use for things like long walks to the park.
Recently I borrowed from the library and read Beyond the Sling by Mayim Bialik. It was interesting to read her book. I really liked her voice and the way she told her story. When I was reading bits about parts that I agreed with already, I found myself nodding my head or saying "yes! exactly!" out loud (good thing I read it while pumping in the Mother's Room at work so there was no one around to hear me). There were some things that were a little "out there" for me, such as Elimination Communication (which sounds cool…but we're renting a place with lots of carpets and I know it's something daycare would never go for) and lots of holistic medicine. I did love her chapter on gentle discipline (also known as positive parenting), which I made Darius read. I actually got out from the library the book on Gentle Discipline that she recommends in her resources section. My two biggest take-aways from her book was the idea of not saying no, but saying "Not for LP, but this over here is for LP" instead and when the kid starts to cry when hurt asking in a caring tone "hurt, surprised, or both?"
Does AP work for everyone? No. Does it work for us? Yes. One of the biggest tenants that I've noticed amongst AP people and La Leche League people is that they are aware that every family and every mother is different and so they say do what you can and what works best for you and for your child. No need to be "mom enough."
Part Two: Attachment Parenting and the working mom.
I can't believe that my Little Prince is already 11 months old! The last time I weighed him (about a week ago), he weighed 18.5 lbs. He's still on the tiny side of things and still in the 6-9 month clothing.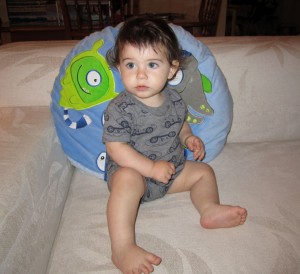 We celebrated by going out to Eeyore's Birthday party, where LP experienced his first drum circle.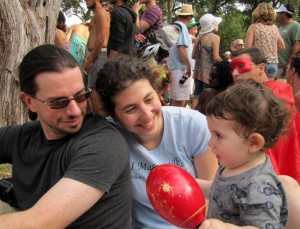 So, what's been going on in our life? Well, I missed the 10 month update because I was too busy playing with LP:
And running after him, as he started walking on his own at 10 months and about a week. And as soon as he started walking he wanted to try to run (which doesn't work so well).
In March we went to Ren Faire and my Dad and Step-Mom visited. Then in April we went to our yearly retreat in the woods. LP made some new friends, two boys who just adored him.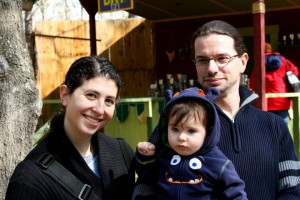 These days he is walking all over the house and torturing the cats. He still doesn't have any teeth, so I like to call him "Toothless." I also call him "Fearless" as he just doesn't seem to be afraid of anything. This weekend's antics involved dropping a toy over the side of the couch and then trying to follow it. At least he was doing one leg and then the other, instead of going head first. He can climb up stairs and down from the bed (which is on the floor)
He's started to get more into food lately. He loves apples, raspberries, avocado, fruit purees, hummus, carrots, and chicken. He's not so huge on broccoli, but I keep trying it. He's also starting to get the idea of sippy cups.
We've been doing more signs with him and watching some Baby Signing Time. He knows and can do the sign for "fan" and will look up at the ceiling fan when he does it (but he may think any lighting fixture is a "fan"). He's signed "more" a few times while saying "na," which is his word for milk (no idea where it came from…unless he's trying to say "more"). He sometimes will sign milk when he nurses. Over the weekend, I signed diaper and while we were doing a diaper change and he sort of made the sign for "milk" (but with his fists pointed down so it could kind of be "diaper") and clearly said "diaper." Since then, at least 5 other people have heard him say "diaper." I am officially calling it his first word, because all of the other sounds he makes he says in relation to many things, such as "da" or "aaada" or "dat" when excited and "ooohhh" when he sees something he's interested in. He also has this absolutely fantastic giggle, especially when being tickled.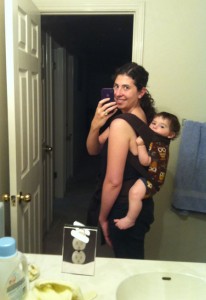 Recently I got a new-to-me-and-barely-used-by-previous-owner mei tai which I'm loving. The back carry is great for doing things and being out and about, and I can nurse in it pretty easily with a front carry.
As for sleeping, my Little Prince still wakes up often at night to nurse (although I think the first stretches are often longer). We're trying a bedtime of 8:30-9pm. Sometimes it works…and sometimes it doesn't, no idea why, when we keep the routine generally the same.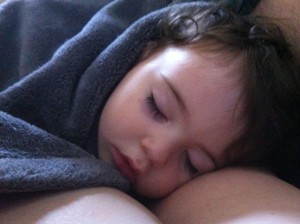 Still working on combating thrush. Boo. I thought it was all gone, but then I ran out of probiotics and it came back. Double boo.
Lastly, we've signed our Little Prince up for swim lessons, since he loves the water so much. They start this Saturday (during what is often his morning nap time) … so we'll see how that goes).