Archive for the 'daycare' Category
I got an email this morning that almost made me cry with joy (possibly the pregnancy hormones helping here). It was from a mom of another little boy at Little Prince's school who just moved up into LP's class. She was checking if we'd be available for a playdate this afternoon. Apparently her little boy isn't very social, but was asking if LP could join him for their outing. Unfortunately with my mom coming into town today, it just isn't possible.
It made think about how sweet and outgoing my kid is. If anyone can get someone to come out of their shell, it's LP. Either that or it's the leadership aspect of his personality, where he just tells the other kids what to do all the time and they just seem to follow him. Either way, it's really nice to know that he has so many friends who want to play with him outside of school.
I seem to keep writing these posts later and later after his birthday…
The week before Little Prince's birthday we had a custom playscape by Playwood Playscapes installed in our backyard.
We decided to have the rocks delivered after it was constructed. We didn't realize just how many rocks it would be. We had to call in reinforcements to help us move them all.
LP turned four on May 28. At his wellness check the next week, he weighed in at just under 28lbs and about 36″. His doctor says that he looks perfect and his following his curve.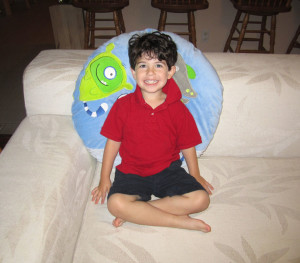 That day I brought pirate cupcakes to LP's daycare after naptime. They did this little ritual where they had him walk around the months of the year holding a globe and at the end of each year of his life, I got to tell a little about him. I also made a poster that was a treasure map that had one of the pictures of him in front of the monster pillow for just born through each year. It was a fun little celebration and by the end everyone had red teeth and lips from the icing.
That night Darius and I let him have another cupcake and gave him one of his presents.
On Saturday May 30, we had a Jake and the Never Land Pirates birthday party at our house. We invited his whole class and some of his friends who are still in Transition instead of Primary. But only kids that he's really grown up with and considered good friends showed. Which was probably better anyway.
We mostly just let them run around outside on the playscape for a while (it was threatening to rain in the morning, but thankfully it didn't). They convinced a lot of parents to push them on the swings.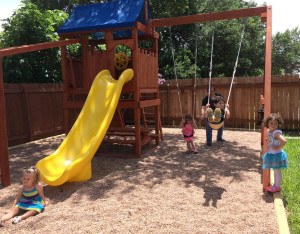 Eventually we called them all together and played a party game that my parents always set up at our parties. I hid the letters that spelled out "Happy Birthday DJ" around the downstairs and the kids had to go find them. I think they might still be a little young for the game, as they ripped some of the letters (tape is my friend) and they lost some interested before all the letters were found, but I think they still had fun with that.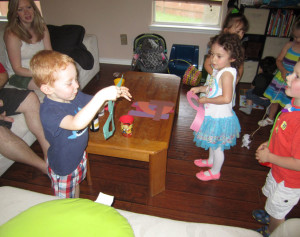 Then it was time for cake, candles and singing (I took video but my voice is horse and sounds like a dirge so I'm not posting it), and homemade ice cream that Darius made.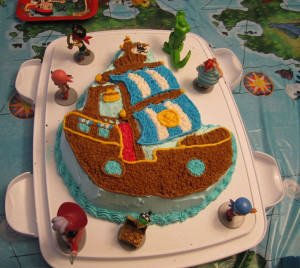 There were a few small meltdowns around that time/just after that point. Most of the children left by that point, but a few stayed while LP opened gifts. Then they left and we had a little bit of downtime before we went out to dinner with V, E, C, and A.
All-in-all, I'd say that LP had a great birthday and birthday party.
Since they mentioned at Little Prince's Parent-Teacher's Night that we could come in and read to the kiddos right before their lunch time, I wanted to do it. So as soon as they put up the sign-up sheet, I signed up for the very first slot.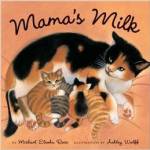 So today I showed up at LP's daycare around 11am. The kids were just coming in from outside and were all going to the potty and washing their hands. LP was super excited to see me. He took my hand and led me over to the rug where the teachers/adults sit and then went to sit at his place on the rug. I was really impressed with this because I thought he'd want to sit by me. Soon I was surrounded by almost 20 three-year-olds with their full attention focused on me. We read three books. LP had asked for Mama's Milk and Cinderella. I figured if I had to read Cinderella, then I was going to read The Paper Bag Princess too.
The kids seemed to like Mama's Milk. I made sure to name all of the animals and their babies and we all counted how many babies each one had. I did skip the facts page at the end since the pictures on that page are very small. But I did ask LP what color kangaroo milk is (it's pink!).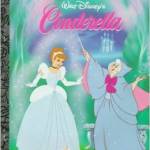 I think the kids were pretty familiar with the story of Cinderella. They seemed to like it. At least they were quiet while I read it, mostly.
I really enjoyed reading The Paper Bag Princess. Then again, I always enjoy reading that book. There's a girl in LP's class named Elizabeth. The very first line is "Elizabeth was a beautiful princess." When I said that, I then asked if anyone was named Elizabeth. She got so cute and shy when I called her out. I hope I didn't embarrass her. I got the kids involved in the story by having them help knock on the door and by breathing fire. It was super cute. And when I yelled "Hey Dragon," they all yelled it right after me. I think that LP's teacher really like the book. She said that she wouldn't get married to Ronald either.
After that I had about 5 minutes to kill until lunch time. The teachers asked me if I wanted to tell a story. So, with LP on my lap, I told the story of when he was only about 6 months old and picked out his Cthlooloo doll from the Dragon's Lair.
Unfortunately, when it was time for me to go, LP didn't want me to leave and had a total break down. Everyone else was waiting for him so they could start lunch. I'm sure as soon as I left, he was fine and probably at everything no problem.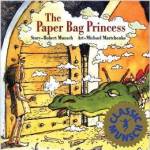 Things I learned for next time:
When they say they want you to read from 11-11:30, they mean it so bring a few extra books.
Having almost twenty pairs of three-year-old eyes on you is very nerve-wracking.
Making sure that you're holding their attention, that everyone can see the book, and that you are reading the book well is even more nerve-wracking.
Using the "I like the way so-in-so is sitting" works amazingly well for getting them all to sit down.
Prep kiddo more beforehand for the leaving after reading part.
Have one of the teachers take a picture.
I can't wait to do it again, but I'm going to be good and let other parents have a chance before I volunteer again.
Last night KR came over to watch Little Prince and Darius and I went to LP's daycare's Open House/Parent-Teacher night. They didn't communicate about it well, so there weren't a lot of parents there. The only other parent set who came (as opposed to just a mother or a father) brought their kiddo, even though they weren't supposed to. Anyway, we went over his school/classroom rules (which most of us already knew or partially knew) and then the lead teacher of his room took us around the room and showed us some of the material and work the kids do. I could tell the teacher was very nervous talking to us as she kept jumping around during the first part of the presentation. The second part definitely went on too long. While it was really nice to see the different kinds of work the kids do and how they use the materials, she had an urge to show us everything. I've noticed this trend with my own mother, who is also a Montessori teacher. Once they start showing you the work, they have an urge to do the entire lesson. Which is great, because it means that they really know how the material/lesson works, but can become tedious for adults who get the concepts and want to move on. I could tell that Darius was getting annoyed, but when I mentioned to him how hard it is for a Montessori teacher to only give part of a lesson, he totally got it. Anyway, I could tell that his teachers really know what they are doing when it comes to the Montessori work and that they really love working with the kids.
At the end of the presentation, they mentioned that parents can come in on Fridays and read to the kids. OMG, I'm so excited about this. Of course, I had to stop myself from thinking about how many subversive books I can read before I get asked not to read anymore :). But I really do love reading out loud and when I can fit it in around my work schedule, I'm totally going to try to come in and read.
I've been thinking about Little Prince's daycare a lot, especially since he's been there over three years by now. There are some things I really love about it. There are some things I don't like (the uniforms, the no home-cooked goodies). Overall I would say that I like his school enough not to be looking for other places to put him but I don't love it. He's happy there, he seems to be thriving, and has some very good friends in his class. And that's what's really important.
Lots and lots has been going on in our lives, so I don't have a lot of time to post. Little Prince has definitely had a lot going on as it comes to milestones as well.
Weaning
No, Little Prince isn't done with his mommy milk yet, but it is getting less. In the weeks leading up to his third birthday we talked a lot about how when he turns three he'll only get mommy milk in bed. The day before he turned three we had our very last post-daycare/post-mommy getting home from work breastfeeding session. It was really bittersweet for me because we've always done this since LP started daycare. It's been our way to relax and reconnect, even as the sessions went from nurse-napping for 45 min – an hour down to three-five min a side.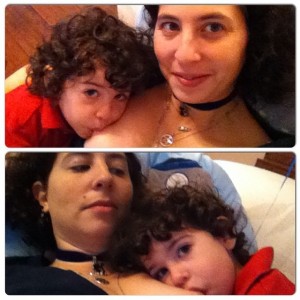 Of course the next day when I reminded him that now that he was three we only nurse in bed, he immediately said that he was tired and that it was bed time. I didn't fall for it. Since then, he's tried that a few times, but it hasn't worked and he usually doesn't ask for mommy milk during the day at all. That doesn't mean that he doesn't try to put his hand down my shirt all the time. ~sigh~
Night weaning is also (mostly) complete. Sometimes when he comes into our bedroom in the middle of the night he'll ask for mommy milk, but when I say no, he usually just snuggles in and falls asleep. Most nights he just falls asleep. Of course, since I'm no longer dream-nursing him before I get out of bed in the morning, now when he wakes up he wants "wake-up milk," but that's usually no longer than 10 minutes or so total (weekends are lazy and a different story).
At bedtime, he always asks for mommy milk, but sometimes he forgets to at first while we're reading a book. Lately he'll sort of pop on and off as we're reading. When the lights go off, he'll rarely fall asleep nursing, usually only if he hasn't napped that day. Some nights he'll stay on one side until Darius comes in to take over after 30 min. Some nights he'll flip back and forth, and some nights he'll nurse for a while and then pop off and try to settle down himself. It's hard to predict what he'll do on any given night, but he almost never seems upset when I take the milk away. So that's good.
I think given his druthers, he'd probably breastfeed more often that I let him. If he sees me topless, he's likely to say "nom nom" or make motions toward my breasts or something like that. When I asked him recently how long he's going to have mommy milk for, he said until he was five. Now, I'm all for full-term breastfeeding, but I'm pretty sure at this point that I'd be a lot happier with fully weaning closer to 3½ than 5.
Potty Training
Well, Little Prince has been mostly in underpants for three months now. He's had very very few pee "oopies." He's at the point where, except for overnight and for naps at school, he doesn't wear diapers at all. And he's stated that he'd rather wear underwear than diapers.
To help with potty training, we got him a Kiddyloo potty for upstairs and one for downstairs.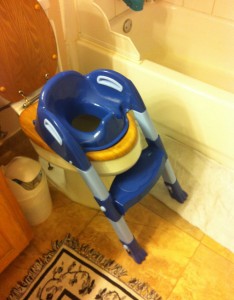 I really like them for a few reasons. They let him climb up onto the toilet easily, they give him somewhere to put his feet so they don't dangle and he feels more secure, he can stand up on the step to pee in the toilet that way (he only has a few times), and they fold up really easily when an adult needs to use the toilet.
The problem we're running into with all of this is that with the exception of a very few times, he refuses to poop in the potty. That's not quite accurate. It's more like if we catch him before he has to go then he'll go in the potty. If we don't, then he'll come tell us as soon as he's finished (which is better than not telling us at all, I guess). So we've started a potty chart. Every time he poops in the potty he'll get a sticker. When the sticker covers the present, he'll get the present.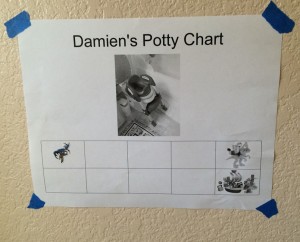 He gets the concept of this and was super excited to receive his first sticker…but it still hasn't made much of a behavioral change. Hopefully with time he'll figure it out. In the mean time, we'll just keep doing lots of laundry. I swear, that boy has 16 pairs of underpants, but between having extras at school, having extras in his backpack, and going through two or three (sometimes) a day, I feel like we're always running out of underpants for him.
Moving Up
We got the notice last week that Little Prince is transitioning up to the next classroom at daycare this week. Was a little confused about this as he's only been in his current room for about four months and I thought that they had to be potty trained to move up. But apparently his teachers say that he can do the work. And when he was visiting the room yesterday he actually pooped in the potty there, which they also say sometimes happens; the kids just get it in the next room. He already has friends in that room and some of his other friends will be moving up around the same time, so I think he'll be happy. It still just struck me as a little strange.
Also in moving up news, LP's feet grew a lot recently. At the start of this summer he was in 6.5 sized shoes. About a month ago one of his 6.5 pairs didn't fit well anymore and I started to notice that his toes were getting close to the edge of his size 7 sandals. So we went by the shoe store and his feet were measuring 7.5 range. We ordered 8s just to make sure he has room to grow. With feet growing this much, maybe we're in store for a growth spurt soon.
He also had another language explosion recently and is really expressing himself and telling stories. So, while sometimes he is a very frustrating three year old, sometimes he is truly awesome and a total delight and joy. Here he is in one of his favorite games: Little Prince drives around and mommy or daddy pretend to be zombies and try to catch him. At least if the zombies ever do rise up, he'll be prepared.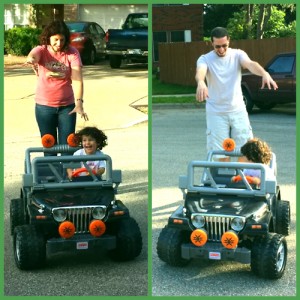 Yesterday Little Prince had a very busy day.
It started around 7:30 with Little Prince not wanting to wake up.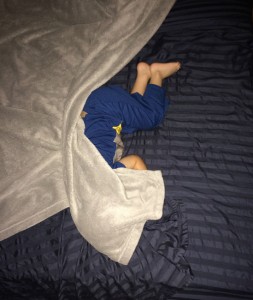 After he finally woke up, we got ready to go out and got kolatchies and donuts for breakfast. Then we headed out to the park.
At the park, we met up with friends, B and R, and their daughter, EB. We got EB and LP changed into special Marvel print outfits that B had made and did a little photo-shoot with the two of them.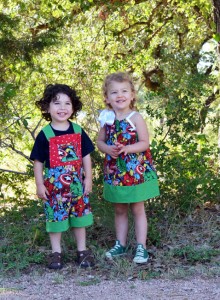 B runs the company Geek-A-Bye Baby and she wanted to get pictures of the overalls and the dress for her website. The kiddos did really well and had a great time. They were awesome about posing and smiling and taking pictures. They really liked it when we moved from the trees and let them play on the playground for a while.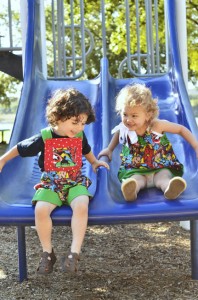 Then we changed into bathing suits and let them run around the splash pad that was there. Ok, I ran around with them a lot too.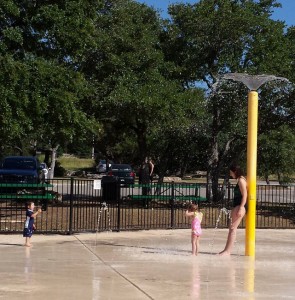 After a good long time playing in the water, it was a pause for snacks, then changing back into regular clothing and back over to the park again. They played there for a little while and then it looked like EB was running on about 5% battery power, so we said our good-byes and headed home. I thought LP would fall asleep in the car on the way home, but he didn't. He was super cranky during lunch and didn't eat too much. We were all pretty exhausted after lunch so we all got into bed together took a 1.5 hour family nap.
Then it was time to get up and get moving again. I'd made sure to get LP's swim suit and towel into the washer before our nap and quickly got it drying. Then we let LP watch one episode of one of his new favorite shows, Jake and the Never Land Pirates, (the other being Daniel Tiger) while Darius and I switched off showering and getting ready. Then we walked over to CR, AR, VR, and ER's house for VR's birthday party. There LP had fun showing off his overalls again. The party was good and low-key. All kids from VR and LP's daycare class and two older siblings. They played in the pool and the sand-pit and ran through the sprinkler and had cake. Darius and I could tell near the end of the party that CR and AR could use some help, so we invited them back over to our house after the party was over with an offer to make dinner.
Back home I gave LP a quick bath/shower and tried to get some of the sandbox sand out of his hair, which mostly worked… We made pasta with sauce and broccoli for dinner for the seven of us. LP was annoying/funny in that toddler way, claiming that he didn't like broccoli, but finally when I got him to eat a piece, declaring that he said that he likes broccoli and eating a few more pieces (but he only eats the stems).
After dinner, LP got to do what he really wanted to do, which was take VR out for a ride in his Jeep.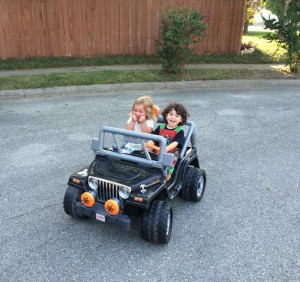 VR was both terrified and thrilled and couldn't quite figure out how it worked. ER had fun driving it, but at a tall 6, she almost didn't fit. Finally it was time for our friends to go home. We let LP drive around a bit more on his own and then it was time to go inside. He played a bit more and then we got him ready for bed. I thought he would fall asleep quickly, but he didn't. He finally did fall asleep, though.
This morning he was very hard to wake up, poor guy. I'm glad I'd washed his overalls last night, because he wanted to wear them to school this morning.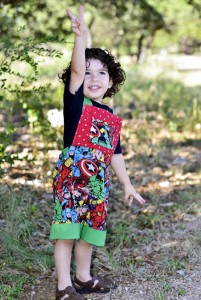 The other day Little Prince was playing outside with our neighbor's son, E, who is almost four and probably a head and shoulders taller than LP. E had a beach ball and the two boys were throwing it back and forth and up in the air. At some point the game became grab the ball on the ground, but really it turned into wrestling a bit. E's mom starts up with the "Be careful of LP. He's smaller than you." It's the first time I really started worrying about how others will see him because of his small size (he's in the single digits for height and weight and always has been). I'm thinking that LP can totally hold his own, especially since most of the noises coming from the boys is giggling. Then something happens and LP cries out unhappily. E's mom repeats the "be careful with LP" line. After checking LP was fine, he was, I go over to the boys and look at them both. I tell them, "You can keep playing like that, but keep it on the grass. But if you hear 'ouch,' 'stop,' or a cry from the other one, you have to stop right then. Got it." I'm not sure they totally did, but they went back to playing. And there were a few cries and we had to remind them to stop at that moment, but mostly they were silly and happy and giggling.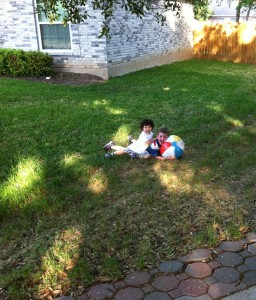 Yesterday when I was dropping LP off at daycare, one of his good friends was not having the best morning. He went over to her and tried to give her a paint brush she had dropped, but she kept moving away from him and sort of whining. He kept trying to be nice and hand her the paint brush, but she backed away and hid behind their teacher. I went over to LP and explained to him that she seemed upset and while I know he was trying to comfort her and that she's his friend, if she is saying no, ouch, or backing away, he needs to respect that and stop, even if he's trying to be helpful.
And that is one of the ways I'm starting to teach my son consent at a young age.
This is what it's like to have a sick toddler with two parents who work outside the home:
It started last night. Little Prince wasn't interested in eating his dinner. He seemed a bit extra tired. He finally ate an apple. Being that that was all we could get in him and he's a toddler, we figured any food was a win. Since he was so tired, we decided to skip bath and go straight to bed. He seemed active and lively, but something was slightly off. We took his temperature, but he seemed fine. We know that is 2nd year molars are coming in, so we thought, maybe it's just teething. We gave him a bit of children's Tylenol before bedtime.
This morning Darius left for work early as he always does (he starts work at 6am!). LP had come into our room around 4am for milk and then fell back asleep, which is normal. I got up to take a shower around 6am. After my shower I was brushing my teeth when I heard him at the door to the bathroom. He usually comes in if he wakes up, but he didn't. When I was done brushing my teeth, I opened the door and found him asleep on the floor right in the corner of the bedroom in front of the bathroom door. Not normal, but super adorable. I wanted to take a picture, but I didn't want to wake him up. So I left him there and continued my morning.
Little Prince woke up and came to the top of the stairs and cried a bit while I was finishing breakfast. I scooped him up and brought him back to bed as I usually do. He started doing that sort of belly heave thing that comes before throwing up. I got him to the trash can at the edge of the bed but it was only a bit glob of spit-up that came up. I nursed him to see if that would help his stomach. I started thinking to myself, "He's not sick. He's fine. Just a bit of extra teething spit in his stomach. He'll be fine in a moment and can go to school. I have three meetings and a lot of project work to get done this morning. I have to go to work." He gets up after the alarm goes off and he seems fine, mostly. At least I'm pretending that he's mostly fine, just woke up early so is tired and a bit clingy.
I get him changed and dressed and downstairs. Get him his vitamins. He holds on to me and doesn't let me put him down. I have him on my lap and he starts to throw up again, some gets on the floor, but I get him to the sink and most of it gets in there. It's all clear, with a bit of snot looking bits (didn't you want to know that?). Reassure him, clean him up, clean up floor and sink. Tell myself that that's it. Now that he's gotten that's out he must be better. Because I have three meetings and a chiropractor appointment and reports that must be done before 10am.
I skip his morning banana. While getting shoes and jacket on, Little Prince alternates telling me that he's fine and telling me his belly hurts. I focus on believing he's fine and that the belly hurting is still left over from just throwing up a bit.
Get him in the car. He dances to En Vogue and Offspring. Figure that means he's feeling better. Start heading to daycare. Get 5 minutes from home when he throws up a bit on his jacket and car seat. Hand him a napkin to help with it. Change course from his normal daycare to  the Get Well Place daycare. Pull into a parking lot on way to text Darius and let him know what's going on.
Drive to the Get Well Place. I am so flustered that I take the long way instead of the short way. So what started off being a promising leaving time from home just gets later and later. Little Prince falls asleep in car on way to daycare. I think that if he falls asleep so quickly again he must be sick and maybe I could have just stayed home with him and he would have slept in the morning. Feel like an awful parent for not being able to stay home with him when he's sick. Especially when he's throwing up since I know how good breastmilk can be for vomiting babies and toddlers.
Get to the Get Well Place. Little Prince wakes up as soon as I try to get him out of car seat. He doesn't want to go to "special school." I feel guilty that he recognizes it. I carry him in carefully as to not to mess up my clothing too much. The nurse at Get Well Place greets him by name. I'm impressed that she remembers him and feel guilty that she knows his name. She tells me they are closing at 2pm today. I feel guilty that I don't have a change of clothing for him and that I have to leave him there. I clean up his car seat, while trying to think what I have to do after 2pm today and how I can work it out with Darius. Go back in and get a good-bye kiss from my sick boy.
Drive toward work. I'm thankful that my car has blue-tooth so I can call Little Prince's normal daycare to tell them he won't be in and cancel the chiropractor appointment. I have to stop by an ATM since the Get Well Place only takes cash or check (so we get to pay two different daycares for today, even though Little Prince will only be at one of them). In my distraction and planning I drive past two different bank/credit union ATMs but remember to stop at the gas station at the way to work that also has an ATM.
Get to work over 15 min later than my current normal time, hoping that I don't smell too much of kid vomit. Whip out the reports that are due with minutes to spare before first meeting. Email person with whom I have a meeting at 3pm to ask for a time change. Turns out her kids are sick too so we move the meeting to tomorrow. Good. Message manager to let her know what is going on. Try to focus on meetings and work without worrying about kiddo too much/checking phone to make sure haven't missed any calls from Get Well Place that Little Prince is getting worse. Worry about a 2pm pick-up time and what that means for his nap. Text with Darius about him getting home as quickly as possible from his job so that I might be able to get some work done this afternoon/this evening. Be thankful that I have sick time, an understanding manager, and a job that is flexible enough where I can work from home and during non-standard hours to make up time.
Am currently eating lunch at my desk to minimize lunch break-time and maximize work time so I don't have to make up as much later. I feel like I ran a marathon this morning.
We have a Star Wars group costume this year. When asked two months ago, what he wanted to be for Halloween, Little Prince said, "I be Darth Vader. Daddy be Stormtrooper. Mommy be Batman." Some gentle persuasion convinced him to let mommy be Princess Leia.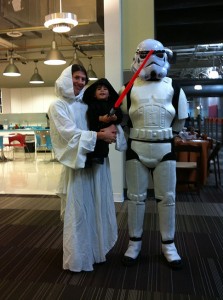 Here we are at my company's Fall Festival last week.
Of course we also dressed up today. LP was the only villain in his class. I was so proud.
After I stopped pumping at work, we took a few steps back and now Little Prince wants to breastfeed generally as soon as he sees me after daycare/work. But it's short sessions and then he's happy to play.
However, we are making more slow progress. A little over a month ago we were at Firehouse Subs for sandwiches before going to our weekly Dungeons & Dragons game. The food was almost ready and Little Prince asked to nurse. I really just wanted to get to game, so I told him that since we were out he could "Touch the milk" (aka reach his hand down my shirt) but he had to wait to "drink the milk" (aka breastfeed) until we got to our GMs house. I meant it for only that one time, but apparently it had an effect on him. Now, especially when we are out, he'll sometimes ask to touch the milk instead of drink it. When he touches it, we tease and I ask him if it's still there or he'll tell me that it's still there. I use this at home too when we're going to daycare/work in the morning and it's too late to nurse him (I have a no nursing after 7am on weekdays rule, except for in special circumstances, or we'll never get out the door). I like that I can still give him the comfort of my breasts without it turning into a nursing session every time.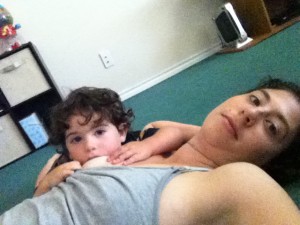 This is what breastfeeding a toddler looks like. He said "Lie down mommy. On the floor." And then "More milk" and latched on.
He still does like to breastfeed a lot, which is fine. But there are times where he just starts bouncing back and forth between "other-side, other-side, other-side" or when he declared he was finished and then wants to start up again a minute or two later. At that point, I usually give him a slow count to finish up, somewhere between 5-10. He almost always pops off at least two numbers before the end of the count and then goes along his merry way.
So we're probably down to about 4-6 times in 24 hours during the week and a bit more on the weekends. Still don't see an end date, but I'm glad that I'm able to enforce a few limits around when, where, and for how long we feed and that he is fine with that (most of the time).
A few days ago when he was "naked baby" he pulled at his own nipples and tried to see about getting milk out of them. One day he'll figure it out, but until then, it amuses me greatly.
Oh, and last weekend I gave away the rest of my "stash" to mothers of adopted twins, since when I went on a three day trip he never once asked Darius for mommy-milk. So that makes five families I donated milk to in the course of two years, giving Little Prince a total of seven milk siblings.