I seem to keep writing these posts later and later after his birthday…
The week before Little Prince's birthday we had a custom playscape by Playwood Playscapes installed in our backyard.
We decided to have the rocks delivered after it was constructed. We didn't realize just how many rocks it would be. We had to call in reinforcements to help us move them all.
LP turned four on May 28. At his wellness check the next week, he weighed in at just under 28lbs and about 36″. His doctor says that he looks perfect and his following his curve.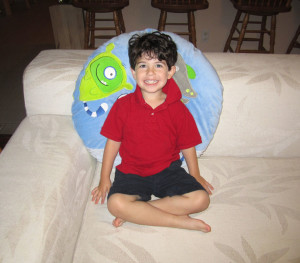 That day I brought pirate cupcakes to LP's daycare after naptime. They did this little ritual where they had him walk around the months of the year holding a globe and at the end of each year of his life, I got to tell a little about him. I also made a poster that was a treasure map that had one of the pictures of him in front of the monster pillow for just born through each year. It was a fun little celebration and by the end everyone had red teeth and lips from the icing.
That night Darius and I let him have another cupcake and gave him one of his presents.
On Saturday May 30, we had a Jake and the Never Land Pirates birthday party at our house. We invited his whole class and some of his friends who are still in Transition instead of Primary. But only kids that he's really grown up with and considered good friends showed. Which was probably better anyway.
We mostly just let them run around outside on the playscape for a while (it was threatening to rain in the morning, but thankfully it didn't). They convinced a lot of parents to push them on the swings.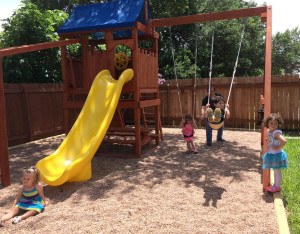 Eventually we called them all together and played a party game that my parents always set up at our parties. I hid the letters that spelled out "Happy Birthday DJ" around the downstairs and the kids had to go find them. I think they might still be a little young for the game, as they ripped some of the letters (tape is my friend) and they lost some interested before all the letters were found, but I think they still had fun with that.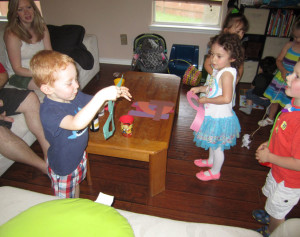 Then it was time for cake, candles and singing (I took video but my voice is horse and sounds like a dirge so I'm not posting it), and homemade ice cream that Darius made.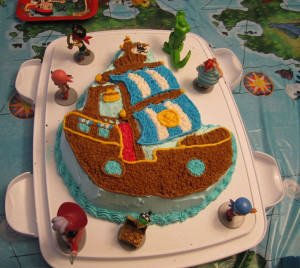 There were a few small meltdowns around that time/just after that point. Most of the children left by that point, but a few stayed while LP opened gifts. Then they left and we had a little bit of downtime before we went out to dinner with V, E, C, and A.
All-in-all, I'd say that LP had a great birthday and birthday party.