Lots and lots has been going on in our lives, so I don't have a lot of time to post. Little Prince has definitely had a lot going on as it comes to milestones as well.
Weaning
No, Little Prince isn't done with his mommy milk yet, but it is getting less. In the weeks leading up to his third birthday we talked a lot about how when he turns three he'll only get mommy milk in bed. The day before he turned three we had our very last post-daycare/post-mommy getting home from work breastfeeding session. It was really bittersweet for me because we've always done this since LP started daycare. It's been our way to relax and reconnect, even as the sessions went from nurse-napping for 45 min – an hour down to three-five min a side.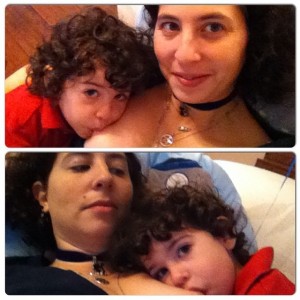 Of course the next day when I reminded him that now that he was three we only nurse in bed, he immediately said that he was tired and that it was bed time. I didn't fall for it. Since then, he's tried that a few times, but it hasn't worked and he usually doesn't ask for mommy milk during the day at all. That doesn't mean that he doesn't try to put his hand down my shirt all the time. ~sigh~
Night weaning is also (mostly) complete. Sometimes when he comes into our bedroom in the middle of the night he'll ask for mommy milk, but when I say no, he usually just snuggles in and falls asleep. Most nights he just falls asleep. Of course, since I'm no longer dream-nursing him before I get out of bed in the morning, now when he wakes up he wants "wake-up milk," but that's usually no longer than 10 minutes or so total (weekends are lazy and a different story).
At bedtime, he always asks for mommy milk, but sometimes he forgets to at first while we're reading a book. Lately he'll sort of pop on and off as we're reading. When the lights go off, he'll rarely fall asleep nursing, usually only if he hasn't napped that day. Some nights he'll stay on one side until Darius comes in to take over after 30 min. Some nights he'll flip back and forth, and some nights he'll nurse for a while and then pop off and try to settle down himself. It's hard to predict what he'll do on any given night, but he almost never seems upset when I take the milk away. So that's good.
I think given his druthers, he'd probably breastfeed more often that I let him. If he sees me topless, he's likely to say "nom nom" or make motions toward my breasts or something like that. When I asked him recently how long he's going to have mommy milk for, he said until he was five. Now, I'm all for full-term breastfeeding, but I'm pretty sure at this point that I'd be a lot happier with fully weaning closer to 3½ than 5.
Potty Training
Well, Little Prince has been mostly in underpants for three months now. He's had very very few pee "oopies." He's at the point where, except for overnight and for naps at school, he doesn't wear diapers at all. And he's stated that he'd rather wear underwear than diapers.
To help with potty training, we got him a Kiddyloo potty for upstairs and one for downstairs.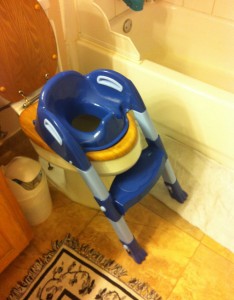 I really like them for a few reasons. They let him climb up onto the toilet easily, they give him somewhere to put his feet so they don't dangle and he feels more secure, he can stand up on the step to pee in the toilet that way (he only has a few times), and they fold up really easily when an adult needs to use the toilet.
The problem we're running into with all of this is that with the exception of a very few times, he refuses to poop in the potty. That's not quite accurate. It's more like if we catch him before he has to go then he'll go in the potty. If we don't, then he'll come tell us as soon as he's finished (which is better than not telling us at all, I guess). So we've started a potty chart. Every time he poops in the potty he'll get a sticker. When the sticker covers the present, he'll get the present.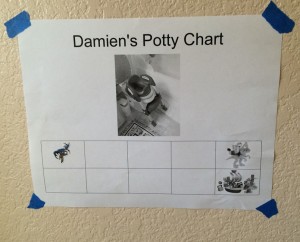 He gets the concept of this and was super excited to receive his first sticker…but it still hasn't made much of a behavioral change. Hopefully with time he'll figure it out. In the mean time, we'll just keep doing lots of laundry. I swear, that boy has 16 pairs of underpants, but between having extras at school, having extras in his backpack, and going through two or three (sometimes) a day, I feel like we're always running out of underpants for him.
Moving Up
We got the notice last week that Little Prince is transitioning up to the next classroom at daycare this week. Was a little confused about this as he's only been in his current room for about four months and I thought that they had to be potty trained to move up. But apparently his teachers say that he can do the work. And when he was visiting the room yesterday he actually pooped in the potty there, which they also say sometimes happens; the kids just get it in the next room. He already has friends in that room and some of his other friends will be moving up around the same time, so I think he'll be happy. It still just struck me as a little strange.
Also in moving up news, LP's feet grew a lot recently. At the start of this summer he was in 6.5 sized shoes. About a month ago one of his 6.5 pairs didn't fit well anymore and I started to notice that his toes were getting close to the edge of his size 7 sandals. So we went by the shoe store and his feet were measuring 7.5 range. We ordered 8s just to make sure he has room to grow. With feet growing this much, maybe we're in store for a growth spurt soon.
He also had another language explosion recently and is really expressing himself and telling stories. So, while sometimes he is a very frustrating three year old, sometimes he is truly awesome and a total delight and joy. Here he is in one of his favorite games: Little Prince drives around and mommy or daddy pretend to be zombies and try to catch him. At least if the zombies ever do rise up, he'll be prepared.