The other day Little Prince was playing outside with our neighbor's son, E, who is almost four and probably a head and shoulders taller than LP. E had a beach ball and the two boys were throwing it back and forth and up in the air. At some point the game became grab the ball on the ground, but really it turned into wrestling a bit. E's mom starts up with the "Be careful of LP. He's smaller than you." It's the first time I really started worrying about how others will see him because of his small size (he's in the single digits for height and weight and always has been). I'm thinking that LP can totally hold his own, especially since most of the noises coming from the boys is giggling. Then something happens and LP cries out unhappily. E's mom repeats the "be careful with LP" line. After checking LP was fine, he was, I go over to the boys and look at them both. I tell them, "You can keep playing like that, but keep it on the grass. But if you hear 'ouch,' 'stop,' or a cry from the other one, you have to stop right then. Got it." I'm not sure they totally did, but they went back to playing. And there were a few cries and we had to remind them to stop at that moment, but mostly they were silly and happy and giggling.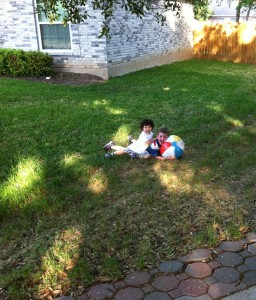 Yesterday when I was dropping LP off at daycare, one of his good friends was not having the best morning. He went over to her and tried to give her a paint brush she had dropped, but she kept moving away from him and sort of whining. He kept trying to be nice and hand her the paint brush, but she backed away and hid behind their teacher. I went over to LP and explained to him that she seemed upset and while I know he was trying to comfort her and that she's his friend, if she is saying no, ouch, or backing away, he needs to respect that and stop, even if he's trying to be helpful.
And that is one of the ways I'm starting to teach my son consent at a young age.
A few weeks ago Little Prince moved up to the next room at his daycare. The big change for this room is that they actively work to potty train the children in the classroom. Little Prince has been using the potty on-and-off since he was about 18 months old, but nothing has been super consistent. Sometimes he's great at it and sometimes he was afraid of it and sometime he absolutely refused to sit on it. Honestly, we haven't really been that consistent with him either. Partly because we hadn't made the mental effort and partly (for me at least) because I wanted to wait until after our Mardi Gras trip before we did a big push. Since we got back we've been working on it more, but LP still doesn't usually ask to go. It's more of us putting him on the toilet. And the only time he's pooped in the toilet was when I caught him mid-poop and got him on there. Still, he was really excited about that.
The other week we got the official "your child is ready to potty train" letter. In talking to his teacher, she said that he was really smart, and probably could get it quickly, so she recommended the cold turkey to underpants method. I'd been promising LP that he could have Batman underpants when he learned to use the potty. So we went ahead and ordered one package of Justice League underpants and one pack of just Batman underpants. They came in last week. We waited until this weekend to start. All last week we let him know that he'd be in underpants over the weekend.
I present to you Little Prince in his very first pair of underpants ever: Batman!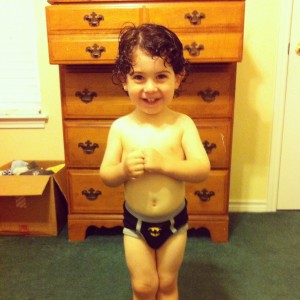 He was super excited to be in "big boy" underpants all day. On Saturday we only had one "oopsie." It was in the afternoon and he'd refused to go sit on the potty a little while before and we didn't push it. He was running to the door to greet V and E who came over for a playdate when it happened. I'm pretty sure we would have had a poop oopsie in the early morning, but he'd asked to keep his 'jamas on through breakfast and so we didn't actually put him in his underwear until after breakfast and he'd already pooped by then. On Sunday we didn't have any pee oopsies. We did have a poop oopsie in the late afternoon. He was playing by himself and I was downstairs with my mom when Darius caught him doing his "I want to be alone" poop behavior. By the time we got to him, he'd already gone. Oops.
He went to daycare today in underpants. He's definitely my child because as soon as he walked into the classroom he wanted to pull off his pants to show his Batman underpants to all of his friends and his teachers. We'll see how he does today.
It seems like the biggest obstacle we have to overcome is to get him to recognize when he has to go and tell us before it happens, not afterwards. We're working on it. Lately as soon as he pees he says, "See I told you I had to go" which is totally the opposite of what actually happened. We'll get there.
My only sadness is that we'll never get to put him in his Kickstarter diaper from Seams Geeky, as we haven't gotten it yet. Oh well, we knew that might be a possibility when we funded them. Now to figure out the best way to prep prefolds, covers, and pocket diapers for storage and to figure out what we want to do with the changing table in his room.