We decided that 2.75 would be the perfect age for Little Prince to experience his first Mardi Gras in New Orleans.
On Thursday, Feb 27, we got into the car nice and early and drove to New Orleans. The drive went pretty well overall. Little Prince used the potty twice on the way there, which was totally unexpected and cool. He did fight sleep for over half an hour after lunch time, which sucked. We were really hoping to get in to NOLA in time to head over to Tante's and catch Muses, but we hit some nasty traffic in Baton Rouge and by the time we got to Grandma R's, we were all just exhausted.
On Friday Grandma R showed us that she'd saved a huge amount of our childhood toys. Little Prince was in heaven playing with it all.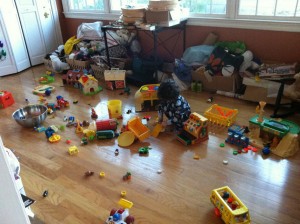 That evening we headed over to Tante and Bullit's for our very first Mardi Gras parades. Darius got to learn just how stressful parking during Mardi Gras can be. We got to Tante's, ate dinner, and then the parades started right outside her door.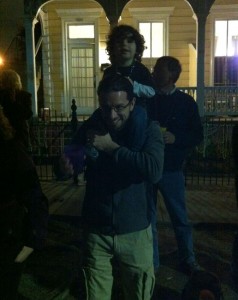 Darius with a drink in his hand and LP on his shoulders.
That's doing Mardi Gras right!
I suddenly realized that while it was Darius and LP's first Mardi Gras, it was my first one since high school/being of legal drinking age. So that was extra cool for me. Tante and LP and I were walking around before the first parade started, since it was stalled, and there was on of the Officers from the Krewe talking to kids and stuff. So we brought LP over to say hi and ending up getting a picture with him, which is super cool and special (and possibly a bit racist? Oh yes… and that's Mardi Gras in New Orleans for you).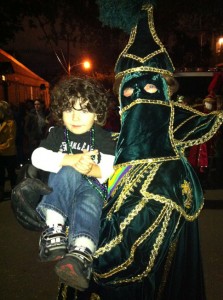 The Friday night parades went really well. Little Prince quickly got the idea of how it all works. Being an adorable child, he got mad loot! He also made a friend when one of Tante's friend's stopped by with her classmates. And she lives in our city and is willing to babysit, which is great.

Having a place to retreat back to or hang out on the porch of also make Darius happier, since he's not a huge fan of crowds.
Saturday we went to Iris. Pawpaw and Grandma A had shown up by then. Pawpaw was having so much fun that we almost had to remind him that we wanted a chance to hold Little Prince too. At some point during the parade LP got handed a toy trumpet whistle. He then had to play said trumpet while any marching band was walking past. He still loves that trumpet!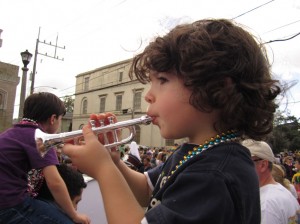 LP in the classic New Orleans musician pose
Saturday night, instead of hitting parades, one of Tante's friend's babysat LP and my father and step-mother took us all out to Dick and Jenny's for diner. Mmm…good food. Darius and I had printed out photos of Pawpaw, LP, and myself at all about the same age, all wearing the same sweater and we had found triptych frames frames for them. We surprised my family with one for dad and A, one for mom, and one for my sister and (almost) BiL.
Sunday daytime were parades back at Tante and Bullit's. My good friend stopped by with her kids and lots of Tante's friends came by too. We really had great times with these parades.
My favorite moment was when LP declared that I was a mommy kitty and he was a baby kitty. So I said, "Mommy kitties lick their baby kitties to clean their faces" and then I licked his face. Well, he then told me that "baby kitties lick their mommies" and licked me right back.
 After the day parades were over Darius, Grandma R, LP, and I went to a house of one of Grandma R's friend's to catch Bacchus at the beginning of its route. I knew that Bacchus was often crazy and crowded, but were we were was actually really wonderful and not super packed.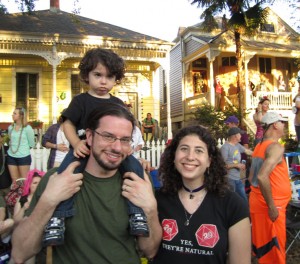 We had a great time at Bacchus. Darius told me it was his favorite parade. LP got a banana from Baby Kong. They had a light up hammer throw. LP wanted one really badly. There was one that landed at our feet, but it wasn't working properly, so we kept trying to go for another one. Finally there was a guy on a float that was moving slowly enough that Darius could make eye contact with a guy on it who was giving out hammers. The guy saw him, put down the hammers, and gave LP a plastic chicken instead! So I followed the float and the guy and finally got a hammer for LP. He was super happy. After the parade was over, we walked back to Tante's and I left the plastic chicken in her back door as a present.
On Monday we chilled in the morning. Then after lunch time, Darius and LP got time alone and the rest of my family went dress shopping for Tante's wedding dress. The first place we went had some pretty dresses, but the second place had the dress. Sorry, no pictures of it until the wedding next May :).
Tuesday morning was Mardi Gras morning. We got up early and got our costumes on. It was cold and rainy and miserable out so Grandma R decided to stay home. Pawpaw was already out with the Jefferson City Buzzards when we got up. So Darius, LP, Grandma A, and I headed out to catch the parades. We actually got a great parking spot near where we wanted to be. Spent the morning huddled in Pralines by Jean, a friend's mother's shop (also very good pralines. Go get some when you are next in New Orleans!). Soon after we got there, Tante and Bullit showed up too. We did group Wreck-It Ralph costumes, but it was way too cold to go walking up and down the Avenue showing them off.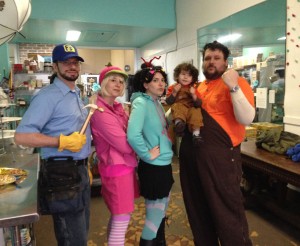 Fix-it Felix, Tafytta Muttonfudge, Vanellope Von Schweetz, and little and big Wreck-It Ralph
When Zulu came by, Little Prince didn't even want to go out for most of the floats. He did get himself a nice coconut and a very cool spear. As the parade rolled by, more and more peoples showed up at the shop. One woman was dressed like Batwoman. She was really excited that I recognized her costume (Nerdmommy FTW!).
After Zulu was over, the walking krewes came by and Pawpaw was with them.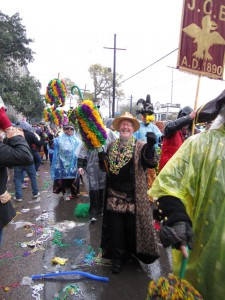 We pulled him out of the parade because it was seriously too cold and wet for him to keep going (we'd talked earlier and agreed on this plan). He wasn't the only one from a walking krewe that stopped at that point. LP liked that the guys gave out flowers and got kisses, so he started giving away all of the flowers I'd gotten to get kisses from everyone at the shop. We stayed through the first three floats of Rex and then left as we were all cold and wet and didn't have tons of layers to our costumes as none of us thought that Mardi Gras in March would be anything other than warm.
That afternoon we rested and baked cookies and hung out at Grandma R's sorting through our loot. The next morning Pawpaw and Grandma A left early. Then Darius and I packed up our car. We went out for lunch at Parkway for po'boys with Grandma R and Tante and then hit the road. Little Prince passed out pretty much as soon as we got on the highway and didn't wake up until Lake Charles (that's 3 hours or so). Then he passed out again soon after dinner and stayed asleep all the way home. When we got home he woke just enough for me to change his diaper and get him into pajamas and lay him down in his bed.
It was a great trip and we had a blast. Darius confirmed my thought that he wouldn't have enjoyed it before we had LP. We came back with so much stuff. LP gave beads to everyone in his class and beads and toys to some of our neighborhood friends and we still have tons of beads and toys and stuff in the closet. We plan on figuring out what we want to keep and giving the rest away to our local women's shelter.
In case you didn't get enough pictures, view more pictures from our carnival time.