Recently Little Prince has been trying out using the potty more often. He's also gotten much more squirmy during the diaper change, even though we've been doing standing diaper changes for a while now. So recently Darius and I decided to switch over to diapers that LP can step into.
At home we just pre-snapped the bottom snaps of our pocket diapers, which allows us to pull them up just fine (mostly). Sometimes I do unsnap them right at the last moment and put them on as I would have before. Sometimes when pulled up they kind of get bunched funny and need to be unsnapped and refastened. But overall that works.
Little Prince's daycare doesn't take cloth diapers (I think I've mentioned this before, and how it's really one of the only things that disappoints me about where he goes). So for there we had to switch from Pampers Cruisers, which we've been using very happily for a while now to either Huggies Pull-Ups or Pampers Easy-Ups. I'm sure there are other pull up style diapers from other brands, but we can get these two very easily. I looked online for comparisons, but I can only seem to find comparison blogs for the girls styles. And since the boys styles are different, I figured I'd write my own.
I'd like to make a quick note here that while I'm generally against the over-gendering of products that we have for children (why can't I just see ALL of the shoes for toddlers in one place?), I understand the need for this product to be differentiated by sex, as it allows for specialized leak protection. I just wish the designs weren't so gendered.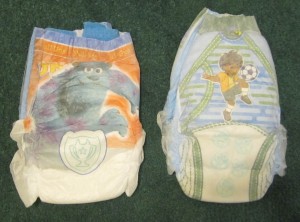 So here they are side by side. The Huggies is on the left and the Pampers is on the right. Huggies got in bed with Disney first and so the Pull-Ups are all Pixar characters: Sully & Mike, Lighting McQueen & Mater, and Buzz Lightyear & one of those alien guys from the arcade. Pampers Easy-Ups has Diego with a soccer ball and Diego with dragonflies (with LP keeps calling butterflies). So for visual characters I think that Huggies wins this round…unless you have a child who is terrified of monsters and refuses to wear the ones with Sully on them. Which did happen for a while in my house. We can all thank Darius for trying to show LP Monsters, Inc before he was ready for it for that. The other problem with a variety of characters instead of one character in different scenes is that your toddler might start to insist that he only wants to wear Buzz Lightyear.
Both of the diapers have wetness indicators. The Huggies have the trophy and the Pampers have something, maybe soccer balls? Whatever it is, it is printed lighter than the Huggies which makes it harder to tell/use.
Now let's look at size. These are Huggies 2T-3T and Pampers size 4, which claim to fit about the same sized child (18-34lbs/16-34 lbs). Looking at the pictures of one on top of the other, we an see that the Huggies are wider and shorter and the Pampers are taller and skinner.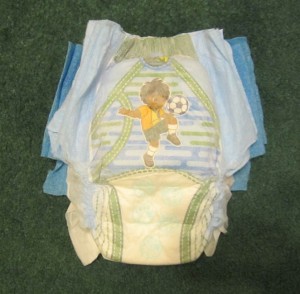 Even with the wings (sides) pulled out, the Huggies is wider than the Pampers.
Here is a side view of both diapers. Again, the hight difference is obvious, as the Pampers (on the right) comes all the way up to Cthlooloo's head and bunches there. These pictures also note to other differences. Pampers is longer from the bottom of the diaper to the leg opening (a little harder to tell on the white-on-white Huggies, but it's true) and Huggies have "easy-open" sides that work like velcro, where as Pampers do not.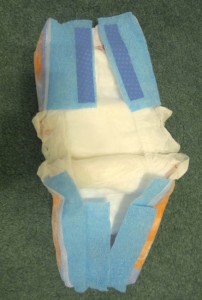 Huggies easy-open sides mean that you can open the diaper and close it back up again if you need to. Pampers you have to rip open to open them up and they do not go back together (unless you get out the glue…but with an active toddler you'd probably end up gluing the diaper to the toddler or your hand or a toy or…). While I thought I would like this feature in Huggies, I've found it often catching the side of Little Prince's pants, so the diaper comes half way open as I'm pulling his pants off. Not exactly something I want to happen. However, it does make it easier to quickly take off a soiled diaper.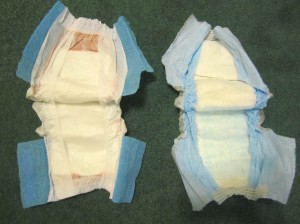 Here are the two diapers opened up. Not sure if you can see that the middle bit of the Pampers is folded over more cause it is deeper, but it is. Also not sure if you can see how the Huggies opens easily and the Pampers is ripped open. One of the things you can see when the diapers are open is that the Huggies design is more visible through the inside than the Pampers design, especially in the back. This is because Huggies has separate Pull-Ups for daytime and nighttime where as Pampers Easy-Ups are for both day and night use. I only have the day Huggies because we're still using Pampers Baby-Dry (not -Ups style) for nighttime. So daytime Pull-Ups are definitely more lightly padded than anytime Easy-Ups. Field tests confirm this as the only time in recent times that Little Prince has leaked through his diaper at daycare was when we sent a pack of Huggies daytime Pull-Ups. When we switched over to Pampers Easy-Ups, we haven't had any leaks. Then again, Little Prince runs on the tiny and skinny side of the scale, so maybe it was just the dimensions fitting him better instead of the amount of padding.
So overall, I'd say that while I'd like to like/use Huggies Pull-Ups, I think we'll stick with Pampers and use Easy-Ups. They fit Little Prince better, he doesn't leak in them as much, he doesn't show design preference as much, and so far they work well for us.