Over the winter we decided that we were going to take Little Prince to New Orleans to visit Grandma R and Tante and have his second birthday party there. This gave our families time to plan for the trip. Pawpaw and Grandma A from my side and Aunt B2 and Cousin T were also able to make it in.
We drove in on Thursday before Memorial Day weekend. I was a little (a lot) nervous about doing a road trip with a toddler. But it went pretty well. In order to keep Little Prince occupied, I went to Target and got a few things from the dollar section (a plastic ring, Batman stickers, etc) and I put them into plastic Easter eggs. Whenever he started to get restless, we gave him a new egg with a prize. I also got him a Thomas book that has buttons that make noise. I knew that book would drive us nuts in about 5 minutes, and it did, but it also kept him happy for over half an hour, so that was totally worth it. He also slept for a good long while after lunch. We made the drive in about 10 hours, which wasn't bad. Got in in time for a late dinner and then put Little Prince to bed.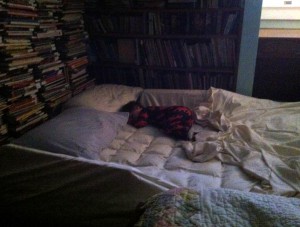 On Friday we went to Grandma R's school in the morning. Then we took Little Prince to Hansen's Sno-Bliz for Snoceaux Loceaux, were we met up with Tante and Bullet. Little Prince wasn't totally thrilled with the sno-bliz flavor, but he really liked nectar. And all the other flavors. And the tacos from Taceaux Loceaux were amazing too!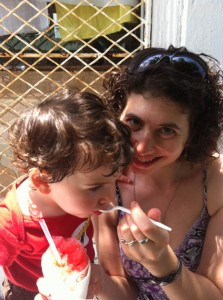 After nap time and baking the cake at Grandma R's, we headed over to Tante and Bullet's new beautiful apartment to play with her Squishables hang out with them and have dinner there. Then back to Grandma R's to put LP to sleep. That evening Pawpaw and Grandma A came into town. My sister and I got into a giggle fit with all inside jokes and it was totally awesome and hysterical and amazing.
Saturday was the day of the party. In the morning Little Prince went with Pawpaw, Daddy, Tante, and Bullet to get food while the Grandmas prepped the house and I started to work on icing the cake. They all got home before I was done so I was super stressed about it, but Little Prince fell asleep for nap super easily and let me go super easily also, so I was able to complete the cake with plenty of time to spare. The perspective of the train was a bit tricky for me, but I think I did a pretty good job overall. We actually had a debate about the number because while Thomas is number 1, LP was turning 2 and we didn't want people to get confused. We all came to the conclusion that it was better to make the cake accurate and the number 2 candle in the cake would help clarify everything.
The party went amazingly well. We gave it a bit of a Thomas theme. At first Little Prince was a bit clingy to me, but then he warmed up to people being there. My dear friend, Ashley, who runs Hansen's Sn0-Bliz came by with a bucket Sno-Bliz of cream of nectar, cream of chocolate, and cream of blueberry. It was fantastic and everyone loved it.
Then it was time for cake and presents. We told LP to tell "everybody Thomas Cake" which he did. Over and over again. We sang him "Happy Birthday," blew out the candles and ate cake.
After cake it was time for presents. At first Little Prince wanted to play with all of the presents he was getting, but then he realized there were more. So he'd open one, look at it, and then yell "'nother one" and go for the next one. He got a good haul. Lots of bubbles and books and fun toys.
All in all it was a great party.
The next morning, Darius, Little Prince, Pawpaw, Grandma A, and I headed down to the French Quarter and met up with Aunt B2 and T for beignets at Cafe Du Monde.
After loading up on beignets, we checked out the river and some of the French Quarter. Then we said good-bye to Aunt B2 and T and went to the Gumbo Shop for lunch where Little Prince charmed the pants off of everyone there.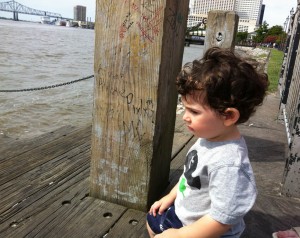 After that we came home for nap time. After nap time, Tante's friend who is a photographer came over and we took a whole bunch of family photos with both sides of our family. Some were nice and some were silly and for some we actually donned silly hats. It was great fun. We got a DVD of the pictures before we left and I'm excited to get some prints of the photos made soon.
Then my family left Little Prince with B2 and T, and my dad (Pawpaw) treated us all to a fantastic meal at Ralph's on the Park. ZOMG! I love New Orleans fine dining so much! The food was spectacular. And the bartender is my neighbor's sister, which is a cool coincidence and got us all free cocktails.
Monday morning we took it easy. Monday afternoon Darius, Little Prince, and I met up with Aunt B2 and T and went to the Riverwalk because Darius wanted fudge. I'm glad we went because apparently it's all closing down and becoming an outlet mall. Huge numbers of the stores were already closed and most of the rest had going out of business signs on them. I got to shop one last time at my favorite Greek clothing store and luckily the Fudgery was still open, so Darius was able to get his fudge. Then we wished B2 and T well on their trip back to MA and headed back to Grandma R's house for a family bbq.
Tuesday was Little Prince's actual birthday. Darius, Pawpaw, Grandma A, and I took him to the Audubon Zoo. While in line to get in, we ran into one of my old NOCCA theatre teachers who remembered me. It was so awesome to see him!
The zoo was a ton of fun. LP really liked the animals and so did we. We got to take him for a ride on the carousel; he wanted to sit on the elephant. It was interesting being back at the Zoo. They've made some changes, but I use to go there so often and I know it so well, that I always knew where we were and where I wanted to go. I think LP was a little overwhelmed at times. But he really liked the monkeys, the giraffes, and the other animals. We got to feed some turtles and pelicans and watch a pelican almost eat a turtle. LP also had fun walking up and down the climbing tree and playing around Monkey Hill. We got to the Swamp area around lunch time, so we ate lunch there. Then we could tell that LP was getting tired, so we ran through the South American section and headed out.
LP fell asleep in the car on the way back to Grandma R's house…but of course he woke open when we got him out of our car. But we rested for a while and then we headed out to Maple Street Bookstore for books and back over to Hansen's for more snoballs. Yeah, we got Little Prince hooked on Hansen's snoballs.
That night Tante showed us her new car, the CARDIS and we hung out a bit.
The next day Darius, LP, and I all drove back home. It took us about 9 hours. LP loved the stickers and his new Lightning McQueen car that we gave him to help keep him happy in the car.
It was such a good vacation. I'm really glad that we went and that we got to see so much family and to so many cool New Orleans things.
I know this post already has a ton of pictures, but if you want to see more from our trip, here you go: