Our Little Prince turned eighteen months old last week. That's a year and a half of this awesome little person being in our life. We had our 18 month check-up and while the pediatrician said he looks like he is "filling out," he's still a tiny guy: height 30¼", weight 19lbs 12oz. So in six months he's grown about 2 inches and put on almost 1.5lbs. Somehow it seems more reassuring that he is growing when I look at it like that.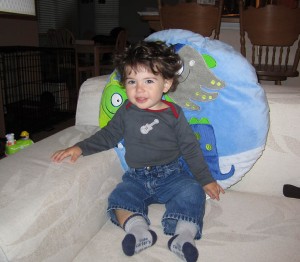 Here's a bullet list of 18 things about LP at 18 month, interspersed with a whole bunch of pictures and videos.
Lately he's been putting words together with alarming regularity. We have "cold outside", "school bus", "Ernie eat", "That's a kitty", and my favorite, "Mommy made apple pie." He's also hitting the "my/mine" stage full on.
At daycare they've started sitting him on the toilet twice a day. So we got a little potty and LP really loves to "sit on the potty." Hasn't "used" it yet, but we're getting the idea.
He loves to help around the house. He'll stir stuff in a pot, wash dishes, and sweep the floor.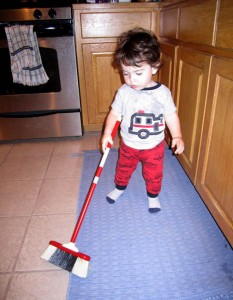 There were a ton of leaves in our front yard so I raked them into a pile and we played in the leaf pile for a while. Yes, he's wearing shorts and a t-shirt. I'll take my 100° summers to have 80° in December.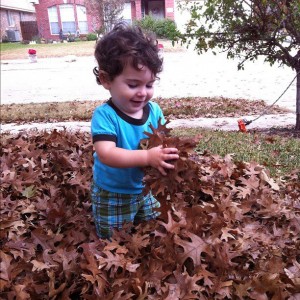 He loves books, Star Wars/R2D2, Elmo, Cookie Monster, and Ernie. He also went nuts when we showed him some of the Aristocats because he could identify the animals and had to tell us about them.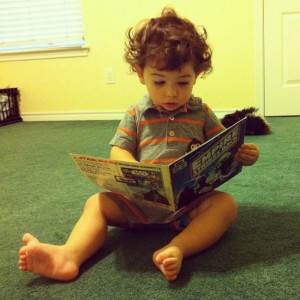 We are working on being the very best nerd-parents/totally messing LP up forever. He can say "die" and "dice" which is cute in general, but when he turns to me and says "mommy, die" it's a little weird out of context. Although when he said "tante, die" while we were Facetiming with my sister it totally made my night!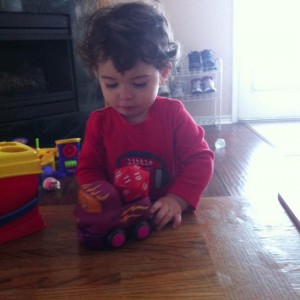 We've also taught him to clench his fists and yell "Khaaaaaaan" which is just super adorably cute. (Still working on getting video of that one).
He's still nursing a ton, although the "milk is asleep" from when he falls asleep until 2am is working out pretty well. Sometimes when he wakes up before 2am and I tell him that "milk is asleep" and he gives me this "No" wail that reminds me of Luke being told that Vader is his father.
He's also eating more. I try not to be worried when he's not interested in food at dinner time, but it can't always be helped. Then I remember that he eats well at daycare and he has a snack on the way home from daycare and also breastfeeds for a bit when we first get home.
He still loves apples more than just about anything. He also likes sweet potato fries, sweet potato puffs, crackers, turkey (but not chicken as much), pasta, blueberries, and strawberries.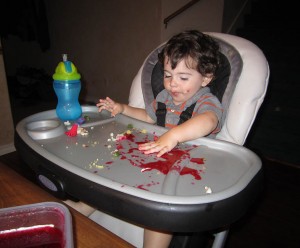 LP can go up and down stairs. When he says "up the stairs" it kind of sounds like "apple juice."
On that note, he had a big tumble down the stairs the other day. I thought he was at the bottom of the stairs, I turned around, turned back and he was half way up them. Then he turned around to see me, and lost his footing. He rolled down about four stairs sideways before I got to him. Picked him up and assured him he was fine. Breastfeed him for a bit, and then we went down and up the stairs again to make sure he wasn't afraid of them.
He currently has four top teeth, two bottom teeth, and a third bottom tooth is part way in.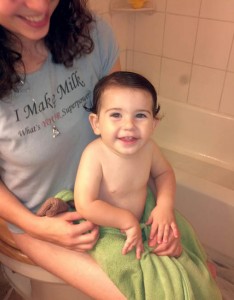 He loves slides. At the playgrounds he's figured out how to go up the stairs, over to the slide, and go down it.
Like his father, he's a "reaction junkie." If I react to something he does and he finds my reaction funny, he'll do it over and over again to try to get the same reaction. He loves to blow raspberries on my tummy. The other day he tickled my knee and when I squealed (I'm super ticklish) he did it again and again all night.
His favorite game to play with us is "boo/hi." He'll hide behind something, such as the couch or a wall, and then jump out and say "hi" or "boo." It's so cute!
We're trying out All-in-Ones/Pocket diapers again because a. I'm tired of using disposables when we go out and b. he doesn't need to be changed as often as when he was 3 months old and will tolerate a wet diaper more. So far so good. We've purchased a couple of the very nerdy diapers over on Seams Geeky, because who can resist Final Fantasy and glow-in-the-dark Tron diapers?
I currently have four baby carriers in the house, but one I don't use any more (the Moby) and one I'm borrowing from Austin Babywearers. There's another one I'm lusting over. I may have a small problem. But he likes to be worn and I still like to wear him.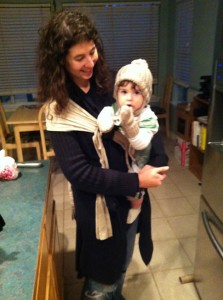 In closing, in case you are thinking about getting him anything for this holiday season, here's his Amazon wishlist. Clothing is also always appreciated. He's at that stage where he's in between the 12 and 18 month sizes.