Over the course of the first few weeks of our Little Prince's life two things became clear to us: 1. co-sleeping was 100% the way to go and 2. our Queen bed was too small for two grown-ups, one infant, a bumper on the side, a body pillow and the occasional cat or two. My mother made the suggestion of getting a twin bed for LP so that he will have it when he grows up and gets his own bed (we have the frame that Darius had when he was a child) and putting everything on the floor. The mattress arrived on Monday and after a day of airing out, it was good to go.
Our new bed setup: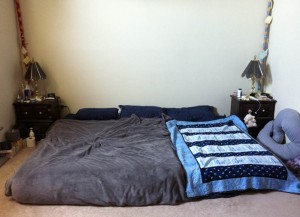 The first night all the beds were together, I got LP in a deep enough sleep that I was able to wiggle away from him onto the Queen and he was in the middle of his bed. The middle of his bed was apparently waaayyy too far away for me to deal with as a first-time-mom, and I spend ages staring at him to make sure he was breathing. I moved him closer to the edge of the twin when he partially woke up to nurse and I was much happier for the rest of the night.
The second night I started out with him on the twin, but he was in a light sleep and was twitching and woke himself up, so I decided to pull him onto the queen since it has more room now that I'm not using the bumper or the body pillow. The third night was more of that. I think that it's mostly a me thing. I'm sure LP is fine since night twitches are totally normal, but I miss him not being right up against me. Also, when he's against me, I can hold him when he twitches and that seems to calm him down and keep him asleep longer…and I can feel him breathing. I know that he's fine and technically he's still right there with us, but after 8 weeks of having him snuggled against me every night after 9 months of sleeping with him inside of me, it's kind of hard to let him go.
And now because it's too cute not to share, our LP rocking a fauxhawk: