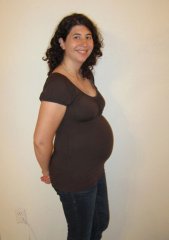 This weekend was our now twice monthly Centering appointment at the Birthing Center. Other than the "You almost but don't have gestational diabetes" talk, the private appointment part went well. My blood pressure is good and my uterus is measuring at 31 weeks, which is exactly on target. But the best news of all is that the midwife was pretty sure that Stree is currently head down. This would make a lot of sense as I've been feeling more kicking in my ribs and middle abdomen and more gurgling/hiccuping lower down just above my pelvis. It would also help to explain why I'm having some sciatic nerve pressure lately that I can feel on the sides of my hips.
The class part was good. We talked, were shown, and practiced some different positions for labor and talked about what makes good "support people." We were going to get into pain management techniques, but as often happens with this group we ran out of time.
After class was over, it was time for our Centering Shower. We went over to one of the couple's houses that was close by the Birthing Center and had food and chatted for a while. Then we had the cake that I had made the night before and decorated that morning. After that it was time for the White Elephant Baby Gift Exchange. Mostly everyone was very polite and there was almost no stealing that happened. We got an owl rattle and an orange pig that makes noise when you shake him. Thinking back on it, pretty much everyone got a gift that suited them well. Then we had a small clothing exchange, where I got a nice top and two cute skirts. Everything that didn't get taken will be given to a local womens shelter. We left soon after that, came home, and I fell asleep while we were watching Arthur on Netflix.