In the past two weeks I've started feeling Stree kick. At first I wasn't sure that that was what I was feeling. It felt like a little gas bubble popping, so I wasn't sure if it was just gas, the ability to feel my pulse in stomach (which I can do sometimes), or kicks. But they have been happening more and more frequently, especially in the last week, so now I know they are kicks/punches/movement.
Sometimes he is really active and I feel a bunch all at once, or within a few minutes of each other. Sometimes I just feel an odd one or two. Sometimes I just feel heavy in my pelvis, as if he's just settling down in there for a while. They still come to infrequently and are too light for me to determine any perceptible pattern. And nothing can be felt or seen on the outside yet, but I can't wait for the day when Darius can feel his son move.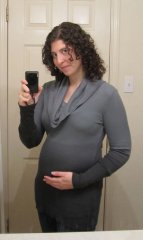 In belly news, none of my pre-pregnancy pants (other than yoga pants and leggings) fit anymore at all. I've been pretty much living in maternity pants/jeans, yoga pants, and Darius's pajama bottoms. While I don't look "to strangers" pregnant, I feel as though I'm finally moving out of the "ate too many cheeseburgers/pizzas" stage to the really looking pregnant stage (except for when wearing a large sweater…but it's been so cold out lately).
In symptom news, still burping all the time but the hemorrhoids have seem to have cleared up mostly (for now). Also I've been getting tired a lot lately again and my back has started hurting on and off. Scoliosis + pregnancy = back pains earlier in pregnancy than for most people. Doing yoga can help somewhat. I have an appointment with a chiropractor on Monday! I am so looking forward to it.
My sister is in town this weekend, loving the pregnant me. We went out yesterday to look at baby things. She bought Stree a couple of cute onesies from Once Upon A Child, which is really really close by. Then we went to Babies R Us to pick up my Dad's present to Stree. We have a Travel System (stroller/car seat/travel bassinet) now! This is really the only thing that we actually need need need when Stree is born, so yay! After that, my sister and I went a little crazy with the registry gun at Babies R Us, but it was kind of fun. There are a lot of cute things with monkeys on them out there if you want to go all ape over that kind of thing. We also checked out BabyEarth, since it just opened, but it was totally over my price range for just about everything.
Today we went out with my BF in Austin and hit up some thrift stores and Target to look for cute maternity clothing for me. Amongst some of the horrible and very questionable things, we actually found some stuff that was rather cute. It was really fun hanging out with the two of them in general.
I've been reading Ina May's Guide to Childbirth, which is even more hippy than Birthing from Within, but it is really nice to read positive stories about natural birth. She has some great points that I've been copying down since I'm just borrowing the book from the library, but that deserves its own post.